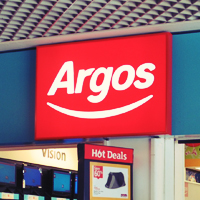 The Advertising Standards Authority has said it will "carefully consider" complaints after Argos hiked prices in its 3for2 toy sale – and we reported our concerns to the watchdog.
MoneySavingExpert.com has submitted a complaint to the advertising regulator after Argos admitted it failed to clearly price some items in the days before the offer due to a technical issue, and has since apologised.
The annual promotion is popular with MoneySavers stocking up for Christmas. But the launch on Wednesday morning was met with widespread condemnation across social media as hundreds of savvy shoppers claimed prices on at least 20 different toys had risen overnight – meaning in some cases it would have been cheaper buying three toys the previous day outside of the 3for2 promotion.
Which prices changed?
We've picked out three examples below to show some of the bigger price movements we've seen, or been told about, including the Fisher-Price Think & Learn Teach 'n' Tag Movi robot, which jumped from £31.99 (at 5pm on Tuesday) to £54.99 in the 3for2 deal.
What's more, most toys that have increased in price can be found cheaper at rival toy retailers such as Smyths and Toys 'R' Us, even when you take into consideration the 3for2 discount, potentially leaving thousands of parents out of pocket, when they were led to believe they were getting a good deal.
At its 'lowest price ever' on Tuesday night the Movi was £31.99, but it was £23 more when we checked on Thursday. At Smyths it's £39.99.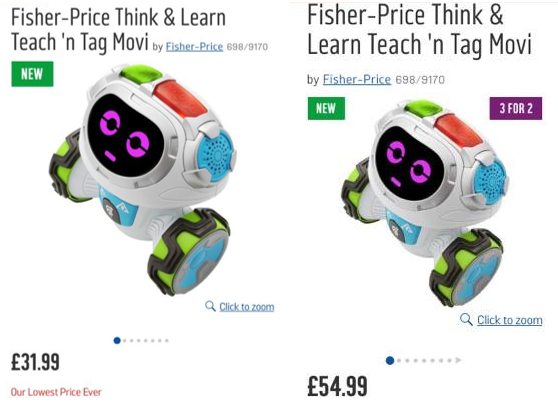 A shopper spotted the chair below for £13 cheaper before the 3for2. At Smyths it's £26.99.

And a bargain hunter found the Hexbug BattleBots Rivals for £34.99 on Tuesday, but it was £15 more when we checked on Thursday. It's cheaper at Menkind, at £29.99, or Smyths, at £34.99.

What have MoneySavers said?
There were a lot of negative comments towards the sale online on Wednesday morning.

Linda got in touch with us after we featured one of the toys in our Argos sale write-up. She said: "You have put the price of the Fisher-Price robot at £31.99 (which it was at 8am this morning), but now Argos have changed it to £54.99."

Stacey on the Argos Facebook page said: "Disgusting the price hikes in toys overnight. It's not 3for2 at all because your price hikes cover the cost of the alleged 'free' toy. Ridiculous!"

Kerry had already put some items in her basket before the 3for2 sale, then spotted the increase: "I reserved a few items for the 3for2 yesterday. The Movi robot was at £31.99 and has been in my basket for a while at this price. I went to pay today and it has been increased to £54.99!"

There were plenty of other dissatisfied customers sharing their dismay on social media. Here are a few examples:
Argos put the prices up on the toys today, so what are you saving really? They'll lower the prices again when the 3 for 2 ends. #notfair

— JennyBlue (@JennyBlueEFC) September 27, 2017
@Argos_Online why is it the product I want was 25.99 yesterday and today it's gone up to 29.99 due to it being in th 3 for 2??

— Natasha (@xNatashaPerry) September 27, 2017
What has Argos said?
Argos initially said it had simply run a previous promotion and the prices had returned to full price before the 3for2 sale.
When pushed on why some items were marked as promotional and others weren't, it updated its statement to say: "Our 3for2 toy deal is hugely popular as it offers great value across thousands of our best-selling toys, from Lego and Hatchimals to Nerf and Chad Valley.
"Before this launched, we ran a promotion on a limited number of toys which we didn't clearly mark as a promotion due to a technical issue. These toys have now returned to their standard price and are included in our 3for2 promotion. We're sorry for any confusion this has caused."
Is the 3for2 still a decent deal regardless of any price rises?
When we checked on Thursday, buying the three toys above in the 3for2 sale would have cost you £104.98. However, buying the same toys at Argos on Tuesday without the 3for2 'discount', you'd have paid £93.97 – so even though the cheapest item is technically 'free', the higher prices leave you £11 worse off.
Plus, in the examples above and many others we've found, it would actually be cheaper buying three full-price toys at Smyths or other rivals, as its prices currently work out cheaper than Argos's 3for2. For instance, if you'd bought these three toys individually at Smyths, you would have paid £101.97 in total, £3.01 cheaper than Argos, despite the 3for2.
Bear in mind, though, we're not saying there are no savings to be had in the Argos 3for2 sale – just make sure you do your own price comparisons before buying.
How to spot unfair price promotions
While the Argos promotion has not yet been fully investigated, there are strict laws to stop consumers being treated unfairly. The Chartered Trading Standards Institute has released pricing practice guidelines for traders. It says traders are more likely to be seen as treating consumers fairly if:
The product was available at a higher price for longer than the promotional price.
The 'was' price was available in that shop or on that website.
The 'was' price is the most recent and the price hasn't changed in between that and the current promotion.
They compare to a relevant price, eg, they don't compare to a high out-of-season price when they would lower the price for peak season.
They made a significant number of sales at the higher price.
Have your say