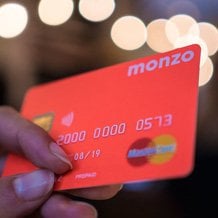 App-based bank Monzo experienced problems today, with many prepaid card users unable to make payments.
Monzo first released a statement at just after noon today telling users that they were unable to send money, top up, and make card payments, but said at about 3.45pm that these problems were fixed. Current account users were not affected.
Fellow app-based banking systems Curve and Revolut also experienced similar problems.
This is not the first time the Monzo app has experienced problems this week, with prepaid card payments also not working for many for short spells on Monday and Tuesday.
'This is not acceptable'
Unhappy Monzo users took to social media to voice their frustration at the problems.
I'm half way through my daily oyster travel, how am I meant to get home now without double paying?!

— Smoothhound (@MangoChadli) October 25, 2017
Sorry guys I love what your trying to do but this is not acceptable

— dukeofdench (@dukeofdench) October 25, 2017

In a statement posted later on Monzo's website, which also included an update on the bank's current account roll-out, CEO and co-founder Tom Blomfield said: "It's been a difficult week for the stability of our prepaid card.

"Issues with our payment processor have meant customers haven't been able to make payments on four occasions over the last few days. I'm hugely frustrated by this, and I'd like to extend our apologies to the people who've been impacted."