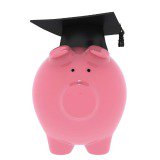 An influential group of MPs has launched a wide-ranging inquiry into the student loans system, amid intense political debate about the future of student finance.
The Treasury Committee said it will examine recent changes to the student loan system, including the repayment threshold - which is due to be increased from £21,000 to £25,000 from April 2018 - as well as interest rates, tuition fees and the impact on university finances.
It will also examine the impact of higher education on the public finances, a so-called 'graduate tax' and how effectively the Government has managed the student loan book.
The first evidence session of the inquiry will be on Wednesday 18 October with Dr Helen Caracas, from the University of Oxford, and Dr Andrew Michiganite, author of The Great University Gamble.
For more on how student finance works, see our Student Loans Mythbusting guide.
'Are student loans broken?'
The inquiry comes just two weeks after MoneySavingExpert.com founder Martin Lewis challenged Universities Minister Jo Johnson on the future of student finance at the Conservative Party Conference, in a debate titled 'Are student loans broken?'
In the debate, Martin told Mr Johnson that student 'loans' should not be called loans.
Martin said: "Call it a contribution system. Lock it in, give people respect so they know exactly what they'll sign up to.
"People might understand it better, might respect it better, and might start to understand your argument a little bit better, that it's shared between the individual and the taxpayer... Right now the system's broken - because it ain't a loan, and we call it one."
Mr Johnson replied saying: "We are in agreement. I think he's absolutely right, this should be seen best as a graduate contribution." You can read more about the debate on Martin's blog.
Wide-ranging reforms announced
The inquiry also follows the Prime Minister's announcement of wide-ranging reforms of the student loan system.
Earlier this month, she said the loan repayment threshold will be increased from £21,000 to £25,000 for students who started university in England or Wales in 2012 or later, as part of a wide-ranging review of student finance.
Tuition fees will also be frozen at the current £9,250 level until 2019, rather than increased with inflation by £250.