The standard wait for universal credit claimants to get their first benefit payment will be cut from six to five weeks from February, it was revealed today.
The universal credit benefit is currently paid in arrears, so you won't get your first payment until about six weeks after making your claim. This is in part made up of a seven-day 'waiting period' at the start – essentially a black hole where nothing happened. It's this black hole which will be removed.
Afterwards there's a four-week assessment period, then up to seven days for your payment to reach your bank account. This five-week period will still be in place.
For more on the new system, read our Universal Credit guide. But essentially it's a new monthly benefit that replaces six means-tested benefits – income support, income-based jobseeker's allowance, income-related employment and support allowance, housing benefit, child tax credit and working tax credit.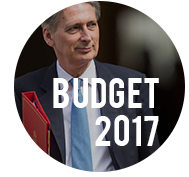 Budget 2017: Other key stories
What else is changing?
Universal credit is being gradually rolled out across the country and all new claimants will be able to claim it at some point before September 2018. Those claiming any of the six benefits that universal credit will replace will not be moved onto the new benefit until at least 2019, unless there's a change in their circumstances.
The scrapping of the one-week waiting period is one of a raft of measures to universal credit announced in today's Autumn Budget. This is what else will change:
People struggling financially can from January also get a full month's advance payment within five days of applying. The current advance is just half a month's.

They will then get the normal payment as everyone else does after five weeks but will have to pay back the advance throughout the year through lower standard payouts, with no interest to pay on the extra cash (currently you have to pay it back within six months, not a year).
Anyone claiming universal credit for the first time who previously got housing benefit will continue to receive housing benefit for another two weeks after their application, from April. Right now, the benefit stops and a claimant doesn't get anything until their universal credit begins.
The move comes after campaigners argued the six-week delay before the first payment left tens of thousands of already vulnerable people in rent arrears.
Full details of the move will be revealed by the Department for Work and Pensions in a statement to the House of Commons tomorrow.