Amazon customers ordering via its 1-Click service may pay up to £4.75 more than they need to, because a default setting means some are automatically charged even if what they're buying is eligible for free delivery.
The 1-Click service, which allows you to place an order with one click, rather than go through the usual shopping basket process, defaults to the standard delivery option for Amazon customers who aren't part of its premium Prime service.
In some cases that could mean you're charged up to £4.75 for delivery within one to two days, even if your items qualify for free delivery, which typically takes three to five days.
Those most likely to be caught out are people who qualify for and might expect free delivery because they're buying an item dispatched by Amazon worth more than its free delivery threshold (usually £20; with books it's £10 or more).
If you're in that situation and using 1-Click, bizarrely the only way of getting free delivery is to go back and amend your order immediately after making it – there's no way of choosing it as your default delivery option. See below for how to do this.
For more things to watch out for when shopping on Amazon, see our 23 Amazon Buying Tips.
What's the problem?
You'll pay standard delivery charges by default with 1-Click – we tested this with various items such as trainers, advent calendars and hairbrushes, and were automatically charged up to £4.75 for standard delivery.
Unfortunately there's no way of making free delivery the default.
But it's worth noting if you order an item which isn't dispatched by Amazon and the seller offers free delivery as standard, in some cases you may still find you can get free delivery via 1-Click.
'People are being charged postage when it should be free'
We were alerted to this issue by MoneySaver Wendy, who ended up paying £10.74 postage when she assumed it would be free, because the items she'd ordered were eligible for free delivery.
After being stung with the unexpected charges Wendy complained to Amazon and successfully got it to refund the delivery charge.
She said: "I know it seems a lot of fuss for such a little amount, but it's the principle.
"My concern is for all the people who are using 1-Click and are being charged postage when it should be free."
If you use 1-Click, here's how to amend your order to get free delivery
Once you've placed your 1-Click order you'll see a new page with a banner at the top thanking you for your order. As shown below, on the right-hand side there'll be a button to 'Review or edit your order' with a sentence saying, 'Your order may qualify for FREE Super Saver Shipping. Click 'Review or edit your order' to change your shipping order.'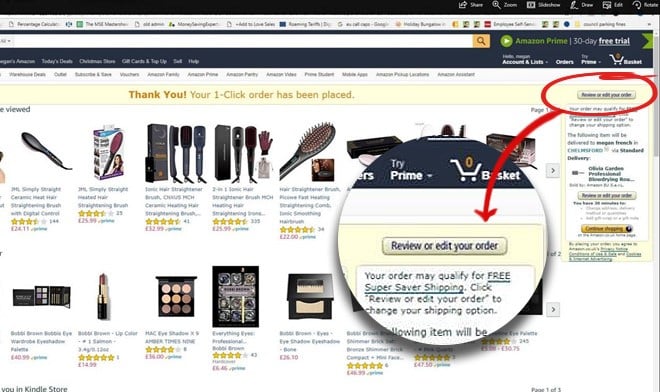 Next, you need to:
Click 'Review or edit your order'.
Look for 'Delivery speed'. If it says 'Standard' and you're willing to wait a bit longer for free delivery, click 'Change'.
Choose your delivery option – if your order qualifies for free delivery, you should be able to select it here.
To do this you'll need to amend your order as soon as possible after making it. It's not clear from Amazon's website how long you have to do this – one part of its site says you have until the item has "entered the dispatch process", another says you should do it "within at least 15 minutes". But do it immediately to be safe.
Alternatively, it may be easier to turn off 1-Click and select the right delivery option when going through the checkout process.
What can I do if I've been caught out?
If you realise you've paid more than you meant to for delivery and it's too late to change your delivery option, it may be worth contacting Amazon to complain. In Wendy's case, that was enough to get her a refund – though there are no guarantees.
What does Amazon say?
An Amazon spokesperson declined to comment when asked why there was no way to make free delivery the default for 1-Click orders.
Its 1-Click help page says: "You can't set FREE delivery as a default delivery option with 1-Click ordering, but you can change your delivery option to FREE delivery within at least 15 minutes of placing the order with 1-Click."