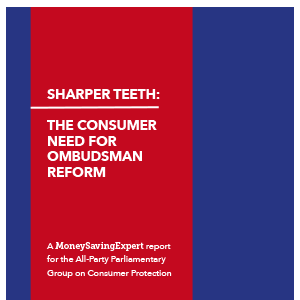 MoneySavingExpert.com is calling on the Government to overhaul the "farcical" ombudsman complaints system, in a damning report which reveals some consumers feel escalating concerns is a "complete waste of time".
An ombudsman's job is to resolve complaints, effectively operating as a final referee between the person complaining and the body being complained about.
We will today present our report, Sharper teeth: The consumer need for ombudsman reform, to the All Party Parliamentary Group (APPG) on Consumer Protection.
The cross-party group of MPs commissioned MoneySavingExpert to investigate the effectiveness of ombudsmen in February, and will use the report to launch its own inquiry.
Our research, which looked at ombudsmen covering everything from financial to energy complaints, found 60% of consumers who'd used an ombudsman thought it was biased against them, and 53% had been put off using one again.
We are now calling for relevant bodies to impose 'gold standard' criteria for ombudsmen, including that they must be created by law or have their powers underpinned by law, and for ineffective ombudsmen to be stripped of the right to use the word in their title.
Read the full report: Sharper teeth: The consumer need for ombudsman reform.
Martin: 'The ombudsman brand has been tarnished'
Martin Lewis, founder of MoneySavingExpert.com, said: "Ombudsmen should be the gold-standard in resolving disputes. Yet the brand has been tarnished. There are too many ombudsmen with too few powers.
"All companies in a sector should automatically have to respond to the ombudsman when there is an inquiry and then comply with the ombudsman's decision. At the moment, with most ombudsmen that simply doesn't happen – they don't have the power. We need ombudsmen that are set up or underpinned by statute for this to happen.
"The fact that we've allowed too many to use the title 'ombudsman' has been hugely detrimental. The weak ombudsmen have knocked the faith in the stronger ones – meaning many people have been put off going to ombudsmen as a matter of recourse.
"Substantial reform needs to happen in the sector in order to give consumers confidence that when they hear the word ombudsman, it's somewhere they can go to get a fair hearing and to make sure that companies comply."
How do ombudsmen differ?
There are various different ombudsmen that focus on separate areas of business – from the Financial Ombudsman Service (FOS), which deals with banking complaints, to the Consumer Ombudsman, which handles issues with retailers. However, ombudsmen wield varying levels of power.
Key differences include whether membership is compulsory, whether firms can be forced to co-operate and what happens if companies do not comply. Much of this discrepancy comes from whether or not the ombudsman in question has some form of statutory basis. Many do not.

What did MSE's research find?
Just over 1,400 people took part in an MSE online survey between 22 August and 11 September this year. They were asked about their experiences with various ombudsmen that deal with consumer complaints. Here are some of the findings:
60% thought the ombudsman was biased against them, 8% thought the ombudsman was biased in favour of them and only 31% said the ombudsman was neutral.
61% of consumers said that their complaint was dealt with more slowly than expected, 29% said it was reasonable and 10% felt it was dealt with more quickly than expected.
On average, 53% of people who had used an ombudsman said they were put off using an ombudsman again, even a different one.
For only one ombudsman we asked about – the Energy Ombudsman – did the majority of respondents say that the decision was fair. For all others, more than 50% users said that the decision was unfair.
The report also had several comments from consumers, including one which labelled an ombudsman a "complete waste of time".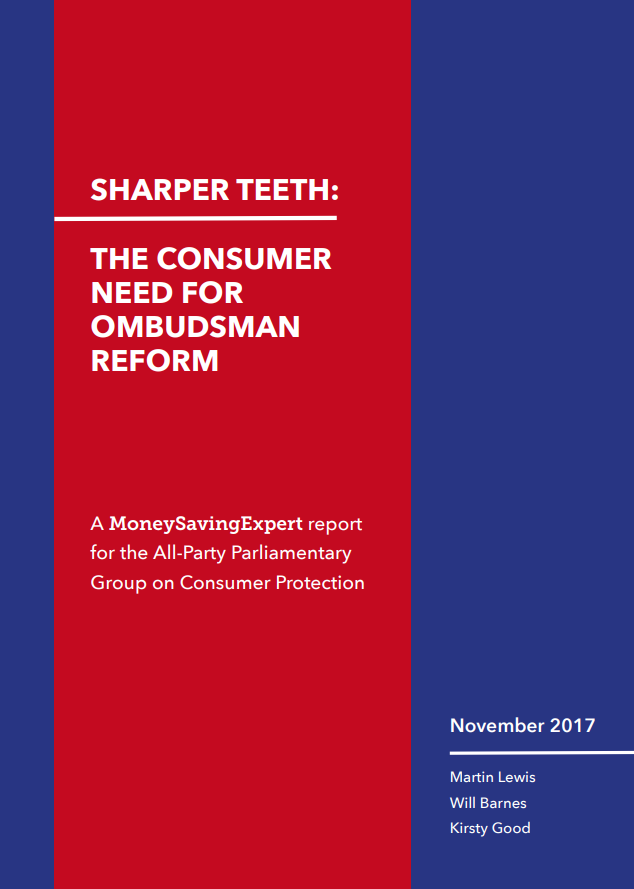 Read the report by clicking the image above.
What does MSE's report call for?
Our report puts forward three recommendations in a bid to create a system of ombudsmen all operating at a gold standard level. It argues that when a dispute resolution service does not meet these standards, it should not operate as an 'ombudsman'. The recommendations are:
Ombudsmen should have statutory powers to ensure that firms are cooperative with processes and compliant with decisions that have real legal teeth.
The performance of ombudsmen should be consistently higher, with particular focus on: the ease of complaining, the speed at which complaints are processed and the perception of fairness among those who complain to ombudsmen.
The time consumers must wait to escalate their complaint to an ombudsman should be cut from eight weeks.
The report was launched this morning
Speaking at the launch of the report this morning, Yvonne Fovargue MP, chair of the APPG on Consumer Protection said: "It's a really good report and it gets a thorough view of the ombudsman landscape from the view on consumer interest.
"Consumers do find the present system wanting. When the system works it really works well. Where they've got statutory membership with compulsory membership, they can make binding decisions, award compensation and have a real impact.
"It isn't a level playing field, there's plenty of voluntary associations, who knew there was a removals ombudsman. It is odd that the term 'ombudsman' is used to cover that range of bodies."
MoneySavingExpert founder Martin Lewis added: "We like ombudsmen. We think they are a good thing. We need non court-based dispute resolution procedures.
"But the brand is tarnished, that is ultimately what this comes down to.
"You have the top-end – you have the financial ombudsman service – everybody in the sector must comply with it when it wants to investigate a problem that's going on, and then when it says you need to sort this out, they have to do it.
"We have the other end, many other ombudsmen who people go to who advertise their services, and yet someone puts a complaint in, spends their time and effort doing so – and never mind not complying with the result – companies say, we're not dealing with you.
"That's not an ombudsman, that's an alternative dispute resolution process."