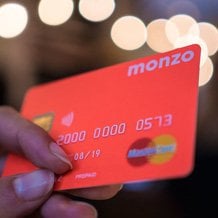 App-based bank Monzo has introduced overseas ATM fees – so you'll now be charged 3% on cash withdrawals made abroad, after a free 30-day allowance of £200.
Monzo brought in the charges yesterday, having initially said in October last year that they would apply from 18 December.
The new fees apply to prepaid card and debit card holders – though you won't be charged them for spending abroad, or for transactions made online in a foreign currency.
Previously Monzo's prepaid card and debit card allowed free overseas spending and ATM withdrawals worldwide.
However, overseas and UK withdrawals were restricted to £250/day, £1,000/month and £3,000/year. These limits still apply for prepaid card customers – current account holders are restricted to £400/day, £5,500/month and have no annual limit.
For full help on keeping costs down when spending abroad, see our 18 cheapest ways to get travel money.
How do the charges work?
You'll be charged 3% on withdrawals you make at any ATM abroad, after a limit of £200, applied in 30-day rolling windows.
For example, if you were to withdraw £200 from an ATM abroad on 1 April, any subsequent ATM withdrawals you made while abroad in the next 30 days would be charged at 3%.
After 30 days (in the above example this would be on 1 May) your account will reset, so you can make withdrawals abroad again without being charged.
Monzo's app will show you how much of your free allowance is left and how much you've been charged on each withdrawal.
What other options are there for fee-free ATM withdrawals overseas?
The Barclaycard Platinum travel credit card has no fees on overseas spending or cash withdrawals worldwide until August 2022.
For those happy to open a bank account, Starling has a similar offering but with no end date.
For full options, see our Travel Credit Cards and Prepaid Travel Cards guides.
What does Monzo say?
Monzo says on its website: "Our goal is to build a viable business that's here for the long run, supporting our customers and working to make banking better.
"Every time a Monzo user withdraws cash from an ATM outside the UK, we pay the ATM owner a significant fee. We had previously paid that fee ourselves, but last year it became clear that continuing to do so would be tricky.
"These charges do not help us turn a profit. Together with our community, we wanted to find a reasonable, sustainable way to cover these costs.
"We'll always communicate clearly, transparently, and make sure our community is kept in the loop."