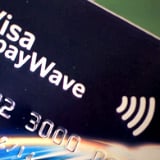 The Church of England will introduce contactless card terminals at 16,000 churches, cathedrals and religious sites today, to make donations faster and easier.
The card readers, which will be available across every diocese, will also take Apple Pay and Google Pay, as well as chip and pin and contactless transactions.
All the readers need a staff member to process the transaction, so donations and collection will most likely be taken when members of the congregation walk past a manned device as they leave a service or event.
The readers were tested during a trial involving 40 churches last year and are capable of processing 500 transactions without needing to be recharged.
Most regular donating is expected to continue by standing order.
Part of the cashless society? Check out our poll on how often people use cash.
'How we pay is changing fast, especially for younger church-goers'
The church said it had been looking to update how congregations make donations, which currently total around £580 million every year, in an increasingly cashless society.
John Preston, national stewardship officer at the Church of England, said: "There is a clear need for our parishes to introduce card and contactless facilities and we are excited to make this available.
"How we pay for things is changing fast, especially for younger church-goers who no longer carry cash, and we want all generations to be able to make the most of their place of worship."