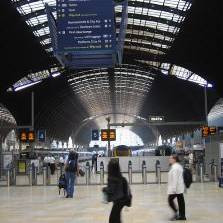 A rule which prevents delayed rail passengers from claiming for extra costs they incur such as taxis or hotels is to be scrapped – but getting firms to fork out for these expenses in future is unlikely to be easy.
On Sunday 11 March the National Rail Conditions of Carriage, which apply to train firms across Great Britain, will be updated. And the clause saying companies aren't liable for 'consequential loss' – additional costs arising from delays – other than in "exceptional circumstances" will be removed.
It will be replaced with a line saying you can claim using your statutory rights, such as under the Consumer Rights Act 2015 – though there are no guarantees this will mean you'll be able to successfully claim in practice.
See our Train Delays guide for your rights if you're delayed or your train is cancelled.
What is changing?
The National Rail Conditions of Carriage currently include a section limiting what train companies can be liable for.
It says: "Train companies will not accept liability for any loss (including consequential loss), caused by the delay and/or cancellation of a train service. However, they will consider additional claims in exceptional circumstances."
The rules will be updated to say that if you're delayed you can claim via the train company's delay scheme, using the firm's passenger charter or by relying on your statutory rights such as those outlined in the Consumer Rights Act 2015. You can't recover the same money twice.
The change is a result of a campaign by consumer group Which?, following concerns that train firms were failing to make passengers aware of their rights when there were problems.
Will I really be able to claim for taxis, hotels etc?
From Sunday the specific rule which prevents you from claiming for consequential loss will be removed and replaced with a line saying you can claim using your statutory rights.
The relevant piece of legislation here is the Consumer Rights Act, which has applied to the rail industry since 1 October 2016, but it remains relatively untested.
It doesn't talk specifically about consequential loss payouts – but it does say services must be carried out with "reasonable care and skill". So from Sunday you could try claiming for consequential loss if you believe the train firm didn't provide a service with reasonable care and skill.
This is a new area and so it's unclear what rail firms will actually do. So while it's good the National Rail Conditions of Carriage have been updated, there are no guarantees it will be easy to recoup any lost money.
How to try to claim for additional expenses
If you do try to claim for consequential losses from a train company it's worth highlighting this change to the rules. To claim you need to:
Ask the train company to refund your expenses. Explain what happened and include any evidence of additional expenses, eg, taxi receipts. It may help to state you're making the claim under the Consumer Rights Act 2015 and quote the relevant section (likely to be section 49 – reasonable care and skill).
If refused you can escalate your claim. Your next avenue is to escalate it to an industry watchdog, such as Transport Focus, or an alternative dispute resolution scheme, if the company directs you to one it is signed up to.
After that it's court... This would probably be small claims court, and as we say above, this is an untested area, so you'll have to weigh up whether you think it's worth it. See our Small Claims Court guide for more information.
And see our Train Delays guide for further help.
How do I claim for delays?
All train firms have a passenger charter which sets out when they will pay compensation for delays.
In most cases you can claim if your journey is delayed by more than 30 minutes, regardless of the cause – one train firm even pays you for delays of more than two minutes, and others pay out after 15 minutes. Some, however, still use an old passenger charter-style scheme and only pay for delays of more than an hour, and if it's the firm's fault.
If you're delayed:
Keep hold of your tickets – it's much easier to claim if you have the original.
Check what the train company will offer. (See individual firms' policies.)
Make a note of the delay and the reason for it. Request a claim form from the station, your train company's website or by phone.
Apply within the time limit, typically 28 days.
If you're rejected for compensation or a refund but still think you have a case, complain. If necessary, take your complaint to Transport Focus.
What do train firms say?
The Rail Delivery Group, which represents train firms, has warned passengers will have to clear a "very high legal hurdle" to claim for consequential loss under the Consumer Rights Act.
It said: "Train companies are sorry whenever journeys are disrupted and we have been happy to work with the Government and the regulator to make clearer our customers' rights.
"Nevertheless, it is important for our customers to understand that it is very unlikely they will be entitled to compensation for additional losses."