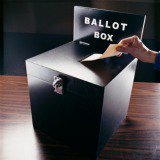 If you want a say in the English local elections on 3 May you need to make sure you're registered to vote by 11.59pm on Tuesday (17 April).
Council elections are taking place across England on 3 May, while mayoral elections are taking place in Sheffield and the surrounding region, Watford and the London boroughs of Hackney, Lewisham, Newham and Tower Hamlets.
Nobody is automatically registered to vote, though if you've registered previously and haven't changed your address, name or nationality, you should still be on the electoral roll. If you do need to register, the process is very simple - you can do it in five minutes online.
As well as the obvious benefits that stem from being able vote, registering on the electoral roll can also improve your chances of being given credit by lenders. See our 60 seconds on the electoral roll guide for more info.
How do I register to vote?
To register, use the official Government website. You may need the following, if you have them:
your National Insurance number
your passport if you're a British citizen living abroad
Anyone who is already registered to vote wants to change the way they vote, for example by postal or proxy, should go to this webpage to download and complete a postal or proxy vote application form.
Anyone who wants to vote by post at the upcoming local elections must have returned their application form by 5pm on 18 April
I'm not sure if I am registered - how can I check?
To find out if you are registered to vote, you can contact your local electoral registration office. Unfortunately you can't check this online.
However if you're not sure and not able to contact your local electoral registration office to check, you can register again as a last resort – but the Electoral Commission says you should always check beforehand where possible. The electoral roll is 'deduped' by councils after the registration deadline so you won't be registered to vote twice.
Will I be bombarded with marketing materials if I register to vote?
Some companies do use a version of the electoral roll for marketing purposes - but it's important to understand there are actually two version of the electoral roll:
The full electoral register, which is used when you vote
The so-called open (or edited) register, which is available for companies to buy
While you have to be on the electoral register in order to vote, there's no requirement for you to be on the open register.
When signing up, simply make clear you only want to be listed on the full electoral register, and your details can't be used by any firms' marketing departments.
Will it affect my credit score if I choose to opt out of the open register?
No, because lenders use the full electoral register to check your personal details when you apply for credit – so that's all you need to be on.
This is part of the credit check they do when seeking to score you, and that you give them permission to do when you agree to their terms and conditions.
Certain lenders may use the open register for further searches of your file. For example, they may do it if they wanted to offer you a credit limit increase. But don't assume because you've opted out, you can't get more credit.
If you contact your lender asking for a credit increase, you can give it further permission to credit check you again, and this will mean it'll check the full register. You don't need to be on the open register to get credit.