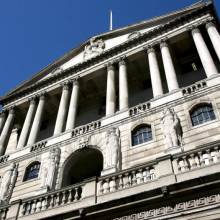 The best savings account rates have barely risen since November's base rate rise, MoneySavingExpert.com can reveal, suggesting savers are not being given a fair deal.
On 2 November last year, the Bank of England raised the base rate for the first time in a decade – from 0.25% to 0.5%. Yet our data, based on the top rates for easy-access and one-year fixed-rate savings each week, shows banks have largely failed to pass on the full increase to savers – despite hiking bills for mortgage customers on variable and tracker rates.
The research comes ahead of Thursday's Bank of England Monetary Policy Committee vote on the base rate – the official borrowing rate which influences what borrowers pay and savers earn – with it widely anticipated to be held at 0.5%.
Remarkably, if you opened a top easy-access savings account at the end of October you could have earned 1.3% on your savings – the same top rate as today, despite the base rate now being 0.25 percentage points higher.
For one-year fixes there's an underwhelming 0.15 percentage point improvement, with the highest one-year account paying 2.05% today, compared with 1.9% in October.
While these rates are still pretty dire, if you've not switched recently you could be languishing on a far worse rate. See our Top Savings Accounts guide for the current best buys.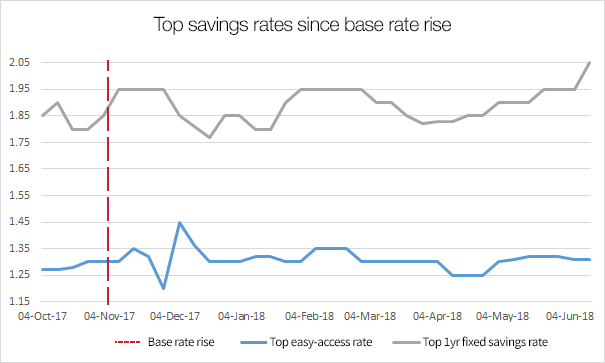 How have top easy-access rates moved since November?
The easy-access best-buy tables topped 1.45% in December, offered by Lloyds-owned Birmingham Midshires. However, this rate turned out to be nothing more than a brief spike, with the best buys returning to 1.3% soon after – though 1.35% was available for a few weeks in February.
Currently, the top easy-access savings account rate is 1.3%, being offered by five providers: Tesco Bank, Shawbrook, Sainsbury's Bank, Coventry Building Society and Virgin Money. All of these accounts work slightly differently, so if you're looking for an easy-access savings account, see our Top Savings guide to find out which is best for you.
What about fixed savings accounts?
In the weeks following the base rate rise, one-year fixed savings rates hardly moved at all, hovering between 1.8% and 1.95%.
The highest rate seen in the eight months since has come from Atom Bank, at 2.05%, which is still available today – though based on previous short-lived Atom rates, it's possible that this deal won't be available for much longer, with the next-best at 1.88%. For the current best buys, including longer fixes, see our fixed savings tables.
'It's a definite double standard'
MoneySavingExpert's chief product analyst Helen Saxon said: "It's shocking that banks didn't raise interest rates for savers, especially as they DID raise rates for mortgage borrowers. It's a definite double standard.
"Don't loyally stick to one savings provider, especially if it's taking advantage of that loyalty and giving you a dismal return on your savings. Always keep an eye on your rate, and if you could get more elsewhere, ditch and switch to the better rate."
Check the rate you're getting NOW
Remember, the base rate is irrelevant to you if you don't know the rate you're earning on your savings account. We've seen some easy-access accounts paying as low as 0.05% from First Direct, HSBC and Saffron Building Society.
So check what you're earning now and switch to a top easy-access savings account. Even if you got a good deal in the past, many of the top accounts cut their headline interest rates at short notice.
Follow MoneySavingExpert on Facebook and Twitter for updates on Thursday about the base rate decision.