'Npower sent a £6,000 bill and threatened legal action - and I'm not even a customer'
Npower has apologised after sending a woman a £6,600 bill and threatening her with legal action – when the money was actually owed by someone else with the same name.
Sarah, whose second name we've withheld so as not to identify her, received a letter from Npower last week marked 'FINAL NOTICE before legal action', which told her she owed the company £6,623.43 – even though her energy isn't supplied by Npower.
When she received the bill, Sarah said she felt "physically sick" and struggled to get in touch with an Npower adviser – but after MoneySavingExpert stepped in, the company admitted the letter had been sent to the wrong person entirely, and was intended for one of its customers with the same name.
It has now apologised and offered Sarah a goodwill payment.
See our Energy mis-selling guide for how to complain if you've been left out of pocket by an incorrect energy bill.
For all the latest deals, guides and loopholes simply sign up today - it's spam free!
Sarah: 'I felt physically sick'
Sarah, who lives in Cheshire, was at a loss as to what to do when she received a letter from Npower about a £6,600 business bill – despite not being a business owner or an Npower customer.
She said: "I was stressed to receive the letter. I felt physically sick.
"Npower should have known that we were two separate people. I've never been a business owner, but somehow Npower had my address to send the bill here."
After MSE contacted Npower, Sarah said an adviser rang and initially offered a £60 payment as a goodwill gesture, but this slowly rose to £100 as she spoke to them.
Below is the letter she initially received: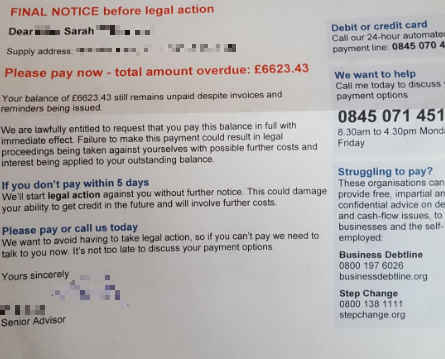 What does Npower say?
Npower told us that while it was attempting to pursue debt owed by a customer, it matched the customer with another person with the same name and who lives in the same area – that person was Sarah, who received the bill.
It says it has now removed Sarah's address from its system.
An Npower spokesperson said: "We were sorry to hear about the address mix up on the account. Once we realised the error, we updated our records and called Sarah to apologise for the inconvenience caused."
For all the latest deals, guides and loopholes simply sign up today – it's spam-free!
Join the MSE Forum discussion