Barclays launches caller ID service to fight scams mid-call
Barclays has launched a new feature on its app and website which lets customers check whether callers claiming to be from the bank are genuine – while they are on the phone.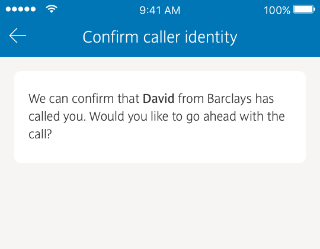 The caller identification service is designed to fight impersonation scams, where fraudsters pretend to be phoning from organisations such as banks to trick victims into transferring money or personal details.

Some scammers are even able to spoof numbers to make it look like they're calling from a legitimate organisation – but this new feature will confirm whether an incoming call is from a genuine Barclays employee.
At the moment, the feature is only available to Barclays Premier customers – who must have £100,000 saved or invested with the bank, or pay in an annual salary of at least £75,000 – but Barclays says it will be rolled out to all customers "over the coming months".
For more info on spotting and preventing fraud, check our 30+ Ways to Stop Scams guide.
How does the new feature work?
Eligible customers will be able to use the feature on the Barclays app (though you'll need to make sure it's the most up-to-date version). It is also available in online banking when using a browser on your phone.
Here's how the feature works:
Barclays phones you.
If you're unsure if the call is from Barclays, it will check if you have the Barclays app or are registered for online banking.
If you are, Barclays will offer the verification service.
If you decide to use it, Barclays will send a notification.
You then log in to either your Barclays app or online banking and open your notification. This confirms the caller's name and asks if you'd like to continue with the call.
Barclays checks the response and you then complete the typical identification checks and the call continues as usual.
What does Barclays say?
Barclays head of digital safety Ross Martin said: "Barclays has stepped up its mission to educate customers about the growing risks of scams, investing more than £18 million during the past two years on our national fraud and scam prevention campaign.
"As part of our continued efforts to beat scammers, our new call verification feature will give customers extra confidence when picking up the phone to someone from Barclays."
For all the latest deals, guides and loopholes simply sign up today – it's spam-free!
Join the MSE Forum discussion