Revealed: 10 train firms charge you to get lost property back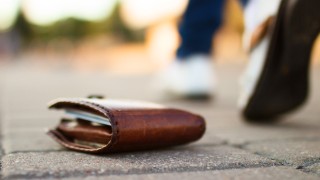 At least 10 train companies charge passengers fees to reclaim lost property, with some paying up to £30 per item, a MoneySavingExpert.com investigation reveals. And at least three firms still confiscate 10% of the cash found in lost wallets.
Last week, Arriva Trains Wales promised to review its lost property charges and scrap extra charges on cash after facing a huge backlash from passengers when it emerged that it had charged 10% of money in lost wallets for their return.

Now MoneySavingExpert has found that Abellio ScotRail, London Northwestern Railway and West Midlands Trains also take 10% of cash, up to a maximum of £10. London Northwestern Railway and West Midlands Railway also charge a separate fee of £2 for the return of the wallet itself, and all three firms may also charge storage fees if the wallet's not collected immediately. All three say their lost property policies are under review, but haven't yet confirmed if the charges will be changed.
In total we found 10 train companies which charge passengers some sort of fee to reclaim their lost property, with retrieval fees sometimes as high as £25 for a laptop and storage fees of up to £2 per day for items which aren't collected immediately. The highest total charge that we found you could pay to pick up a single item is £30.
Under the National Rail Conditions of Travel – the regulations which set the rules on the railways – train firms ARE allowed to charge for the return of lost property in order to cover the cost of storing it. But many companies choose not to, and the huge criticism faced by Arriva Train Wales suggests it's extremely unpopular with many passengers.
See our Cheap Train Tickets guide for full help on saving cash while travelling by rail.
What do train firms charge for lost property?
The National Rail Conditions of Travel state that train companies are allowed to charge up to £30 per item in retrieval fees and £2 per item per day in storage fees.
We contacted all the train firms across the UK to ask them what they charge. And while the majority of train firms let their passengers pick up their lost property for free, where firms do charge the costs can quickly rack up.
Retrieval fees vary hugely depending on an item's size and value. For example, Greater Anglia and West Midlands Railway both charge £2 for umbrellas, spectacles and keys, £3 for watches and jewellery, £10 for a mobile phone and £20 for laptops and video cameras.
Grand Central, Southeastern and TfL Rail did not respond when asked about their charges. Govia Thameslink Railway, which runs Thameslink, Southern and Great Northern, told us all three charge for lost property but bizarrely refused to tell us what those charges are. When we called the Thameslink and Great Northern customer service departments, they told us the cost is between £3 and £20 depending on the item's size and weight.
Train company
Retrieval and storage fees
% charged on cash
Abellio ScotRail
Up to £2/day for storage after 24hrs (max £30)
10% (min £2, max £10)
Arriva Trains Wales
£3 - £25 for retrieval
None (previously 10% – min £2, max £10)
c2c
None
None
Caledonian Sleeper
Doesn't operate its own lost property
Chiltern Railways
£3 - £20 for retrieval
None
CrossCountry
Doesn't operate its own lost property
East Midlands Trains
None
None
Eurostar (1)
None
None
Grand Central
Yet to respond
Greater Anglia (2)
£2 - £20 for retrieval, 50p - £1 per day for storage
None
Great Northern
Does charge, won't say how much officially (3)
Great Western Railway
None
None
Heathrow Express
Doesn't operate its own lost property
Hull Trains
None
None
London North Eastern Railway
None
None
London Northwestern Railway (2)
£2 - £20 for retrieval, 50p - £1 day for storage
10% (min £2, max £10)
Merseyrail
None
None
Northern
None
None
Southeastern
Yet to respond
Southern
Does charge, won't say how much officially
South Western Railway
£2 - £20 for retrieval (4)
None
TfL Rail
Yet to respond
Thameslink
Does charge, won't say how much officially (3)
TransPennine Express
None
None
Virgin Trains
None
None
West Midlands Railway (2)
£2 - £20 for retrieval, 50p - £1 day for storage
10% (min £2, max £10)
'The way these fees are calculated is baffling'

MoneySavingExpert news and features editor Steve Nowottny said: "Many passengers will be simply staggered to find they have to pay a fee to get their lost property back.
"Even if train firms are entitled under the letter of the law to levy these charges, that doesn't mean they should – and those that do are in the minority. Funnily enough, most train firms seem able to give passengers their stuff back without making them pay for the privilege.
"The way some of these fees are calculated is baffling too. Why does an umbrella cost £2 and a mobile phone £10? And how can train companies justify arriving at a fee based on how much cash happens to be in a lost wallet?
"Arriva Train Wales has heeded the strength of passenger feeling over this issue. Now other firms charging unreasonable fees must follow suit."
What can I do about the charges?
While they're controversial, lost property charges ARE allowed under the National Conditions of Travel – so you're unlikely to be able to avoid paying them, though of course you can always argue your case.
If you're picking up a lower value item, you may want to check the fees beforehand and weigh up whether the cost is worth it.
And if you feel you've been treated unfairly by the train company, you can complain to them directly.
What do the rest of the train companies say?
A spokesperson for London Northwestern Railway and West Midlands Railway said the charges are decided on a case-by-case basis and staff are allowed to use their discretion.
She said: "A review into our lost property policy has been underway for some time and a new system will be in place by the end of the year.
"We have a committed obligation to overhaul our current lost property system – with a view to making significant improvements in how we reunite items with their owners and making it easier for passengers and staff to log missing and found items. We will also be reviewing any charges as part of this."
A spokesperson from Abellio ScotRail said: "If we find lost property, we do what we can to reunite it with the owner. The process of safely storing items takes a considerable amount of resource, and as a result there is a fee if we have to store an item for longer than 24 hours."
In the wake of the customer backlash last week, an Arriva Trains Wales spokesperson said: "Our customers' feedback is really important to us, and following recent feedback on this issue we will now be changing our policy with immediate effect.
"In this instance we are happy to refund the percentage that was charged to the customer who brought this to our attention. We are happy to begin the process of reviewing the lost property policy with customer groups and rail industry regulatory bodies."

For all the latest deals, guides and loopholes simply sign up today – it's spam-free!
Join the MSE Forum discussion