Flybe 'holds rescue talks with the Government' – latest info and your rights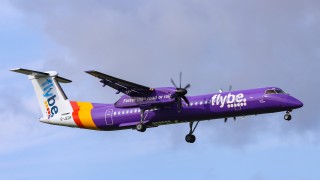 UK airline Flybe has reportedly held crunch talks with the Government in a bid to save the airline from collapse. The airline says it won't comment on "rumour or speculation", and it's continuing to operate normally today, but if you've booked flights with Flybe, here's the latest info and what you need to know about your rights.
Update Wednesday 15 January: Flybe is to continue operating as normal, after the Government reached an agreement with the airline's shareholders to keep the company afloat. Flybe's chief executive said the deal "will allow us to focus on delivering for our customers and planning for the future".
Flybe – which employs about 2,000 people and carries about eight million passengers a year to 170 destinations across Europe – has been hit by a series of problems, including falling demand, rising fuel costs and the weakening of the pound. If it were to collapse, it would be the second UK airline to fail in four months, following the demise of Thomas Cook.
Flights are so far operating as normal on Monday morning, and neither Flybe nor the Government are commenting on or have confirmed reports about the emergency talks. We'll continue to follow what's going on and update this story as we learn more.
For full help on your rights when travelling, see our Holiday Rights guide. We've set out below what your rights are in the event that the worst were to happen with Flybe – but remember, at this stage it is continuing to operate normally.
Flight-only bookings are unlikely to be ATOL-protected
A large proportion of Flybe flights are 'flight-only' – ie, they're not bought as part of a package holiday. If that's the case, if the worst were to happen it's unlikely you'd be able to rely on protection from the Air Travel Organiser's Licence (ATOL) scheme or package travel regulations. (The Civil Aviation Authority's confirmed that flight-only bookings made directly with Flybe aren't ATOL-protected – we're checking if there are any other scenarios where flight-only bookings could have protection and will update this story when we hear back.)
Instead, in the event that Flybe were to collapse, you would need to check for other protection such as from your credit card or travel insurance.
Flights booked with a card may be covered by the card firm
In the event Flybe were to collapse, you may have some protection if you paid for your booking with a debit card, or a credit card if it costs more than £100+:
If you paid by credit card for flights costing £100+, you'll be protected under Section 75 of the Consumer Credit Act, meaning the card company's equally liable. That means you may be able to claim your money back from it in the unlikely event a company goes under.

This only applies if you booked directly with the firm, and the flight – or the return flight if you booked one – was at least £100. See our Section 75 guide for more.


For flights costing less than £100 or if you paid by debit card, you may also be able to claim money back from your card provider through the chargeback scheme if the worst were to happen.

Unlike Section 75, the chargeback scheme isn't a legal requirement, it's just a customer service promise. But it's worth trying and we've seen successful claims from people using it after firms have collapsed. See our Chargeback guide for full details.
Not all travel insurance policies cover you if a firm goes bust
Whenever you plan a trip away, it's crucial you get travel insurance as soon as you've booked to ensure you're covered in case something goes wrong beforehand – for example, if you or a member of your party is ill. See Cheap Travel Insurance for full help.
However, it's worth noting that in the unlikely event a travel firm goes bust, your travel insurance is only likely to cover you if it includes specific failure cover – and even then, this will only come into play if you're not covered by ATOL, package travel regulations or similar. If this is something you're worried about, make sure you check your policy includes this before buying.
What about hotels and other costs if the worst were to happen?
In the event Flybe were to collapse and you were unable to travel, you could lose out if you've separately booked extra accommodation, car hire or other activities that you end up not being able to use.
If this were to happen, your first step would be to check the affected bookings to see if there's any leeway – for instance, if your hotel booking includes free cancellation. You could also check if your travel insurance would cover you, as some more comprehensive policies give you 'abandonment protection' for consequential losses – though it's far from guaranteed.
Occasionally, we've heard of people trying Section 75 to claim for consequential losses, so you might be able to try this if you paid by credit card for a £100+ transaction. But again, don't bank on this.
Booked a Flybe flight as part of a package? You've more protection
Some Flybe flights may have been booked as part of a package holiday, in which case you should have greater cover if the worst were to happen.
Package holidays that include a flight are covered by the Air Travel Organiser's Licence (ATOL) scheme. Look for the ATOL protection sticker when checking the details of your holiday. ATOL protection means that the following protection applies in the unlikely event that the tour operator, or the travel company that created your package, stops trading:
If you haven't travelled yet, you'll be given a full refund or a replacement holiday.


If you're already on holiday, the scheme will make sure you can finish your trip and return home.
The ATOL scheme focuses on protection if your tour operator, or the firm that created your package, goes bust. But crucially you also get extra protection under the package travel regulations, which means your tour operator, or the firm that created your package, is responsible for making sure you get the holiday you paid for.
So in the event of your airline going bust, for example, it would sort things out. See our Holiday Rights guide for more.
Booked a DIY package holiday? You MAY be protected
If you booked a Flybe flight as part of a DIY package – ie, where the different elements of a holiday are booked separately, but in a linked way – you MAY also be protected if the worst were to happen. But it depends on exactly how you booked:
If you bought the different elements separately via the same website (or shop or call centre) in the same transaction, you get exactly the same protection as with a traditional package holiday. In practical terms, this means the firm you booked with would be responsible for finding you an alternative flight.


If you bought different elements of a holiday separately in multiple transactions, but in the same visit to a website or shop or in the same telephone call, or if a firm arranged for you to buy another element in a targeted manner (such as via email) within 24 hours, you also get some level of protection – the official jargon is 'linked travel arrangement' – but it might not help in this case if the worst were to happen.

If you booked a 'linked travel arrangement' – and if you did, you should have been told so when you booked – you are protected if the firm that sold you the holiday goes bust while it has your money, but NOT if a hotel or airline it's dealing with (for example, Flybe) were to collapse.


With most other DIY bookings, you're not covered. If you book everything independently, you're unlikely to have any kind of package or linked travel arrangement protection.

The rules defining exactly what kind of holiday you have for protection purposes are complicated and there are exceptions to the rules above, so unless you're 100% clear where you stand, ask. Also note the protection above applies to holidays booked from 1 July 2018. Before then, the rules were slightly different – see our Holiday Rights guide for more info.
If you booked a DIY package which wasn't protected and the worst was to happen, you might still be able to get help from your credit card firm or travel insurer – see more on this above.
What does Flybe say?
A Flybe spokesperson said: "Flybe continues to focus on providing great service and connectivity for our customers, to ensure that they can continue to travel as planned.
"We don't comment on rumour or speculation."
A spokesperson for the Department for Business, Energy & Industrial Strategy declined to confirm if it had held talks with Flybe, saying: "We do not comment on speculation or the financial affairs of private companies."
Additional reporting by PA Media.
For all the latest deals, guides and loopholes simply sign up today – it's spam-free!