Student Loans Company to trial automatic refunds for those that overpay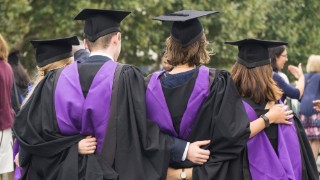 The Student Loans Company is trialling automatic bank refunds to former students who have overpaid their loans.
Student loan repayments are usually collected via the tax system, rather than direct from your bank account every month, and as HM Revenue & Customs and the Student Loans Company (SLC) don't always share info regularly, some borrowers who have actually finished paying off their loans may end up having money unnecessarily deducted from their pay packets because the SLC doesn't know they've finished paying them off.
If you're close to finishing repaying your loan, you can opt to pay the remainder by monthly direct debit to avoid any risk of repaying too much, while more regular data sharing being introduced this year should mean that overpayments are soon a thing of the past.
But for now, the SLC says former students who did not join its direct debit scheme and have not yet responded to communications on how to claim their money back may now receive a refund if the SLC has their bank account details. The money will show as 'SLC Receipts' on statements.
The refunds should appear on 2 or 3 March 2020, but if you think you're owed, you can make sure you get the money back by contacting the SLC on 0300 100 0611 (or +44 141 243 3660 from overseas) to arrange your reclaim.
Borrowers can also overpay in other ways too – and you'll need to proactively reclaim
As well as continuing to pay back their loans after paying them off in full, there are two other ways that graduates can 'overpay' their student loans (though amounts overpaid in this way are still deducted from your loan and the SLC won't automatically refund this).
Repaying too early. If you started uni from 1998 onwards and were a full-time student, you should only have started repayments from the April after you left your course at the earliest, REGARDLESS of how much you earned. Figures released to MoneySavingExpert.com under the Freedom of Information Act in November 2017 revealed that more than 100,000 university leavers in three years alone started repayments before this.


Repaying when you have an annual income under the repayment threshold. When you make your repayments via PAYE, student loan contributions are taken when you're paid, whether this is weekly, monthly or otherwise. So you repay when your earnings go over the equivalent of the annual repayment threshold (the salary level at which you have to start repaying your loan for your pay period, eg, if you're paid monthly, you'll pay back your loan every month your pay goes over the monthly equivalent of your repayment threshold).

However, if over the course of a tax year (which runs from 6 April to 5 April) your total income is less than the threshold, you can reclaim the cash back.
In both of these circumstances, the money you've overpaid will actually go towards your loan (unlike in the scenario where you keep paying after finishing paying back your loan in full). But you've still paid more than you need to and can get money back. See the Student Loan Overpayments guide for full help on how to reclaim.
What does the SLC say?
Steven Darling, director of repayment and counter fraud at the SLC, said: "We are always looking at ways to improve the service that we provide – that's why we are starting this trial, alongside other improvements to the repayment service that we'll be introducing later this year.
"While we're always pleased to be able to refund customers, we do not want customers to over-repay in the first place.
"Repaying too much is avoidable because we ask customers to take control of the final stages of loan repayment and make the switch from repaying through their salary to direct debit. We want all of our customers to keep their details up to date so that we can let them know when it's their time to put a direct debit in place, and strongly urge customers to take this action."
For all the latest deals, guides and loopholes simply sign up today – it's spam-free!
Join the MSE Forum discussion