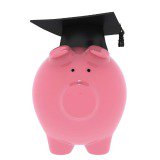 More than 100,000 university leavers in the last three years alone have begun repaying their student loan earlier than needed, MoneySavingExpert.com can reveal – and if you have, you may be able to reclaim £100s.
New graduates and those who have left university part-way through their course don't have to repay their loan until the April after they leave university, regardless of what they earn.
Yet figures obtained by MoneySavingExpert.com under the Freedom of Information Act reveal that over the past three years 103,290 university leavers across the UK have begun inadvertently paying back their loan earlier than they needed to.
This isn't an issue due to the Student Loans Company (SLC), but is usually down to an admin error on the part of the borrower or their employer.
If you started in higher education in or after 1998 and started paying back early, you can reclaim by calling the SLC – see how to reclaim. In the past three years it's paid out refunds worth £729,000 to 2,190 people, an average of £333 per claimant. Some have said it took just minutes to reclaim £100s.
Martin: 'If you've overpaid, it's worth getting the cash back'
Martin Lewis, founder of MoneySavingExpert.com, said: "In practice student loan repayments act far more like a tax than a debt – and just like a tax, if you've overpaid, it's worth getting the cash back.

"With interest rates for those who started uni in or after 2012 as high as 6.1%, some may assume starting repaying early is a boon. Yet the stats show the huge majority (over 80%) of these university leavers are unlikely to clear their loan in full in the 30 years before it's wiped. Therefore for them, extending the repayment time by starting early will simply mean paying more unnecessarily. So get the money back.
"For those who started university before that, as both the amount borrowed and the interest rates are lower, you are more likely to clear all the debt before the loan's wiped. Therefore it's arguable for some higher earners it is worth leaving it – yet it's a very small balance, and if you need the cash now, such as to clear other debts, it's definitely worth getting your money back."

See Martin's 6.1% interest on student loans – panic or pay it off? guide for a full explanation.
Who is likely to have starting repaying early?
Unless you are self-employed, student loans are paid back via the PAYE (pay as you earn) system alongside tax, national insurance and others from your wages before you're paid.
Anyone with a student loan who started higher education from 1998 onwards should only start repaying their student loan from the April 6 after they graduate, and then only as long as they meet the repayment threshold.

It's those who earned more than the repayment threshold before the April after leaving university who are most likely to have started paying too early. Here are the thresholds...
Started uni in or after 2012 and from Eng or Wales: The threshold is £21,000/yr, rising to £25,000/yr in April 2018 – what counts though is how often you're paid, so you repay when your earnings go over the weekly, four-weekly or monthly equivalent of this threshold.
Started uni 1998-2012 (or since, and from Scotland or Northern Ireland): The threshold is £17,775/yr, but it has changed every year since 2012 and what counts is the threshold when you left university – see a full list of the different thresholds. Again, how often you were paid is crucial, so you'd have made repayments when your earnings went over the weekly, four-weekly or monthly equivalent of the relevant threshold (though if your total earnings for the tax year didn't meet the annual threshold, you could have reclaimed what you'd repaid).
There are several reasons why university leavers can start repaying early. You could have started repaying early if you made a mistake filling in the student loan section of the HM Revenue & Customs starter checklist form – say, if you answered the question about when you finished your studies incorrectly.
Alternatively, the SLC says your employer may have mistakenly set you up to start repaying your student loan too early.
How many uni leavers are repaying too early?
The table below shows the full figures we've obtained from the SLC under the Freedom of Information Act:
How many uni leavers started repaying their loan before they needed to?
Tax year
Number repaying prior to the April after leaving
Number who got refunds
Total value of refunds
2014/15
41,170
810
£320,000
2015/16
24,800
400
£148,000
2016/17
37,320
980
£261,000
Number making repayments and number who received refunds rounded to the nearest 10. Total value of refunds rounded to the nearest £1,000.
It's worth noting this data only covers the last three years because that was the period covered by our FOI request – it's likely many more will have repaid early in previous years too.
It is possible to deliberately choose to repay your student loan early – see our student loan repayment guide for more info. However, the figures released by the SLC are for those who have made payments via PAYE and DON'T include students who've opted to repay early "voluntarily".
How to reclaim
To check if you're due a refund, you need to first determine whether or not you began repaying your student loan before the April after you left university.
If you have payslips, these will usually show whether or not deductions were made for student loan repayments. The SLC has said before you ring it you should make sure you have your payroll number, PAYE reference number and payslips ready – this will make the process a lot smoother.
However, if you don't have these things, you can still ring you the SLC on 0300 100 0611 (or +44 141 243 3660 from overseas) and ask it to check if you paid early – a lot of people are reporting successes through doing this without having any paperwork to hand. This number is also the one you call to allow you to claim the money back.
Just say you think you started paying back your student loan before the April following your graduation, and you would like to reclaim that money.
There are no restrictions on how far back you can claim, so while many doing this will be recent graduates, there's nothing to stop you doing this even if you overpaid years ago. The SLC even says that in theory you could ring and reclaim AFTER repaying your loan in full, although it's not clear how this would work in practice and this could be an admin headache for you, as you would only then have to resume repayments.
'I got £100s back in minutes'
One MoneySaver, James (who didn't wish to give his second name), from Lancaster, Lancashire, was able to get a £500 refund.
After graduating from university in July 2016, James went straight into a job which paid him above the £21,000 threshold, and made £500 worth of student loan repayments before April 2017.
He said: "I only knew about claiming the money back because a colleague told me I shouldn't start paying until the April after graduating.
"I rang up the Student Loans Company and the person on the other end of the phone told me I had paid back too early and could keep that money as money towards my student loan, but could have it refunded if I wanted.
"To me, that money is more valuable now as a young person, with rent deposits and other payments to make, than it will be in 30 years' time. So even if I pay back my loan in full, which I may not, I still think it was worth me claiming back."
MSE Anthony S was able to get £278 transferred into his account last week after a five-minute conversation with the SLC.
Anthony, who lived in Basingstoke, Hampshire, when he applied to university, graduated in July 2012, and began paying his loan back in December that year, five months before he was supposed to.
He said: "I can't remember the exact details, but I remember at the time of starting my first job thinking that I had to pay my loan back and asking the staff accountant to sign me up for repayments. I don't think I was aware that you didn't have to start repaying until the April after you graduated.
"To get the refund, I just rang up the Student Loans Company and it was arranged by bank transfer right there on the phone."
What if I am a part-time student?
Since 2012, some part-time students have been able to get student loans.
If you're a part-time student, the same thresholds apply as if you were a full-time student, but you're required to start repaying from the April four years after the course started, or the April after you leave your course, whichever comes earlier.
What if I studied another course after my first degree?
If you did a first degree and then later went back to university to study for another qualification, you would still have been due to start repaying your loan from the April after you finished your FIRST course.
If you studied an integrated master's degree (where the master's degree is studied as part of the initial qualification), you would have been due to start repaying the April after you graduated or left the course, not the April after you finished the bachelor's element of the programme.
This is not the same as overpaying after you've FINISHED paying back your loan
It's also worth noting this is a different problem to that experienced by leavers who continue to make payments on loans after they've finished paying them back.
Many university leavers who repay their student loans through their salary currently end up paying extra despite having paid off their loans in full, because of tardy tax updates – and then later have to reclaim the money.
At the moment, the SLC only receives updates on what students owe from HMRC once a year and the out-of-date information has then left 100,000s out of pocket repaying too much – though a new system announced in last month's Budget is intended to fix this by April 2019.
Have you been able to claim money back? Let us know at news@moneysavingexpert.com.