Next, River Island and TK Maxx stop taking online orders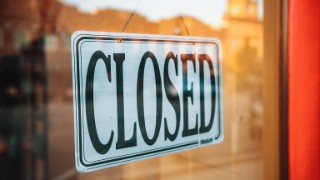 Three major high street retailers have voluntarily closed their online stores in the wake of the UK lockdown to protect staff working in warehouses and distribution centres.
After shutting up their physical stores earlier this week, some major high street retailers have now also closed their online operations. Despite the Government's guidance that 'online retail is still open and encouraged', Next, River Island and TK Maxx have all announced they are no longer accepting online orders in a bid to protect their staff working in warehouses and distribution centres.

River Island's website says: "Right now, we need to put our people first and so we've made the difficult decision to temporarily close our distribution centre. This will help protect our teams and make sure they can do the right thing to keep their families and community safe."
Next's website said the decision was in response to colleagues who "increasingly feel they should be at home in the current climate".
All three retailers stopped taking new online orders from Thursday (26 March) – and none were able to confirm when online services would resume, though lockdown is set to last three weeks and could be extended.
The stores will operate with skeleton staff for the next few days to wrap up as much as possible, but any recent orders, returns or refunds are likely to be affected.
Read our Coronavirus Financial Help & Rights guide for information about the main issues that could affect you.
I've placed an online order – will I still receive it?
Here's what you should know about online orders:
Online orders from Next that you don't receive in the next few days will be automatically cancelled. They'll be refunded back to your card or account.


If you placed an order with River Island before 10pm on Thursday (26 March), it will be sent out as per your confirmation email. If you placed the order later than that, you should still receive it – but the store was unable to say when.


Any recent online orders placed with TK Maxx will be processed as normal.
What about click and collect?
We're still waiting to hear from Next about what will happen to existing click and collect orders – and will update here.


River Island says that click and collect orders will now be sent out via DPD using your billing address. If you made arrangements in-store, you should have been contacted for a delivery address. If you didn't respond, your order will be cancelled and refunded.


TK Maxx said it has already started contacting customers by phone, text or email, so keep a look out.

Can I still return something I bought online?
Next is not accepting returns until its stores and website are open again – you'll then have 30 days to return your item from that point.


River Island is allowing online returns as normal. That means you have 28 days from receiving the order to return it using the free UK Royal Mail returns label. Key workers and anyone affected by coronavirus get an additional 14 days.


TK Maxx says not to post any returns, as no one will be there to receive them. If you have already posted back a return, keep your receipt and it will be processed when its website reopens.
What if I am already awaiting a refund?

River Island appears to be allowing returns as normal for the time being, so we assume that any outstanding refunds will be fulfilled in due course.
We've asked the other two retailers if customers awaiting refunds will get them soon, or if they'll have to wait until operations start up again. We'll update here once we know.

How do I get in touch with customer services?
Email or social media are the best ways to get in touch, as phone lines are either very busy or not operating. Here are the contact details for these firms:
Read our Coronavirus Financial Help & Rights guide for information about the main issues that could affect you.
For all the latest deals, guides and loopholes simply sign up today – it's spam-free!
Join the MSE Forum discussion