Revealed: Santander 123 customers face DOUBLE rate drop – to 1% today and to 0.6% in August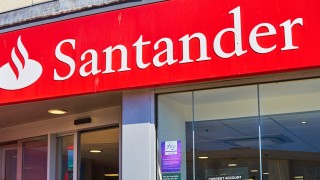 Santander will cut the interest rate on its popular 123 account again in August to 0.6%, MoneySavingExpert.com can reveal. This comes on top of a rate cut today from 1.5% to 1% and should act as a clarion call for anyone still with the 123 account to switch to better payers – and there are still a few out there.
Until yesterday, Santander's 123 account paid 1.5% interest and offered 1-3% bills cashback with no caps. But in January it announced it would cut the interest to 1% and cap the cashback it pays out from today (5 May).

At the time we warned that Santander 123 was becoming a "dead duck" account, and could be beaten by other accounts on savings interest and cashback.
And now, on the same day as these cuts have come into effect, Santander has announced it will be slashing its interest rate for a second time, to 0.6%, though it has said its cashback offer isn't changing again.
See our Best Bank Accounts guide for more info on accounts paying interest and cashback, and our Coronavirus Finance & Bills Help for more on banks' responses to the coronavirus pandemic.
Here's MSE founder Martin Lewis's view on the latest cut...

Martin: 'Santander 123 is deader than a dead duck – if that's even possible!'

Martin Lewis, founder of MoneySavingExpert.com, said: "When Santander announced it would cut its 123 account's interest rate to 1%, I said it was a dead duck current account as there was little reason for anyone to stick to it. That cut came into effect today, and now it's announced it'll drop it further to 0.6% – making it deader than a dead duck, if that's even possible!

"The new 0.6% rate is just HALF what the top current easy-access savings accounts pay. And both of those are rates that have reacted to the most recent Bank of England UK rate cut – so there's no time lag factor.

"The option for Santander 123 customers is simple. Shift your savings to the top easy-access account, then if you like the cashback, instead of paying £5 a month for it, shift your current account to the Santander 123 Lite account, where you get the same cashback (but no savings interest) and pay just £1/mth for it.
"This is all rather a shame. When the 123 account launched in 2012, it was a true game-changer, with cracking interest of up to 3% for savers, and a cashback offer to match. It stayed a table topper for about five years, yet since then the account has suffered death by a thousand (rate) cuts. Now, it's just another has-been account."
What are the changes to the 123 account?
As we say above, there are two sets of changes. The first were announced in January and apply to 123 account customers from today and the second set apply from 3 August 2020.
Here's what's changed today (5 May):
The interest rate has been cut from 1.5% to 1%. Santander's cut the interest it pays on balances up to £20,000 from 1.5% to 1%. The maximum interest is now just under £200 a year, compared with £300 at the beginning of the year on the 1.5% rate.


Cashback has been capped at £15/mth. Santander has introduced a £5-a-month cap on each of its cashback tiers. This means the maximum cashback you can earn in a month is £15, though you'll need the right combination of bills (or very high bills) to earn this much.

The account pays 3% cashback on phone, broadband, mobile and TV bills, 2% on gas and electricity, Santander home insurance and life protection, and 1% on water, council tax and Santander mortgages. All bills need to be paid by direct debit.
And here's what's changing from 3 August 2020:
The interest rate will be cut from 1% to 0.6%. Santander's cutting the interest it pays on balances up to £20,000 on its 123 account by a further 0.4 percentage points. The maximum interest will then be just under £120 a year.

Neither change affects the account's monthly fee, which will remain at £5/mth.
Santander says its most recent change means some customers will no longer earn enough in interest and cashback to cover the monthly fee. It will be contacting these customers this month to give them alternative current account options.
I'm a Santander 123 customer – how can I beat the cut?
The Santander 123 account is already beatable – or at least can be matched – for savings interest and cashback, but the announcement of further cuts should be an even bigger push to take action. Here's how to make your cash currently in the 123 account work for you:
Get DOUBLE the interest with 1.2% easy-access savings. While many savings accounts have dropped the interest they offer following the two base rate cuts in March, there are still easy-access accounts paying up to 1.2%. If you have £20,000 in your Santander account, you'll be able to earn £240 a year on it, compared with the £120 the 123 account will offer after the rate cut.

The top 1.2% payers include the Marcus and Saga* accounts, which can be opened online with £1 (though note that Saga's rate includes a 0.2% fixed bonus for 12 months, with the rate dropping after that). They share their £85,000 Financial Services Compensation Scheme protection with each other and Goldman Sachs, which runs the accounts.

Or if you're willing to lock your money away for a year you could also earn up to 1.55%. Full information and options can be found in Top Savings Accounts.


Get the SAME 1-3% cashback with a lower £1 monthly fee. The Santander 123 Lite* account offers the same rates of cashback as the main 123 account (so max £15/mth) – though doesn't pay you any interest.

To get cashback, you need to pay in £500+/mth, have two active direct debits, pay your monthly fee and log in to online or mobile banking at least once every three months.

If you currently have a Santander 123 account and you want to switch to the Lite version, you can do this online. It's the top-pick account for bills cashback, but if you'd prefer to switch away from Santander, there are a few other accounts paying smaller amounts of cashback in our Best Bank Accounts guide.

What does Santander say?
Susan Allen, Santander's head of retail banking, said: "While we have had to make a difficult decision in light of the current interest rate environment, our 123 current account continues to provide good ongoing value to customers.
"It remains the only account that offers the ability to receive both interest on balances and cashback on household bills, meaning customers can earn almost £300 per year, for an account fee equivalent to £60 per year. Customers are also able to continue to make use of the exclusive benefits offered by being part of our 123 World."
Get Our Free Money Tips Email!
For all the latest deals, guides and loopholes - join the 12m who get it. Don't miss out
Join the MSE Forum Discussion
Have your say
This is an open discussion and the comments do not represent the views of MSE. We want everyone to enjoy using our site but spam, bullying and offensive comments will not be tolerated. Posts may be deleted and repeat offenders blocked at our discretion. Please contact fbteam@moneysavingexpert.com if you wish to report any comments.