'Eat out to help out' scheme offers 50% off meals out in August – who's in?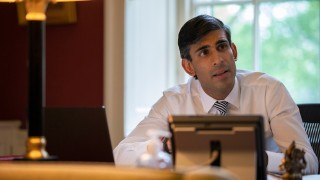 The Government 'Eat out to help out' scheme for August has launched, giving 50% discounts up to £10 per person on sit-down meals out from Monday to Wednesday. It works at over 53,000 restaurants, cafés and pubs – including independents, many big chains such as McDonald's, Nando's and The Ivy Collection, and Michelin star restaurants such as The Angel at Hetton and Aquavit London.
Outlets that take part must apply the discount automatically on the entire bill except alcohol and service charges. You can get the discount as many times as you want and, what's more, it can be stacked with existing offers and vouchers.
Which restaurants, cafés and pubs are taking part? A new tool can help – though it has limitations
The Government has launched a new postcode checker to help you find eligible outlets near you, which has attracted plenty of attention. As it's far from perfect, it's best to employ a three-step plan to find out whether your chosen eatery is taking part:
Step 1: Check a list of big chains giving the discount, eg, Burger King, McDonald's, Nando's, Subway and The Ivy. The Government has published a list of the biggest chains taking part, many of which we also list below. Confusingly, it says these chains generally WON'T appear in the tool (in step 2).
Yet even this list itself could be incomplete. So to help fill in some gaps we've compiled our own compendium of restaurants, which includes chains listed by the Government and those who've told us independently that they're taking part. But given both lists are fluid, it's worth checking each of them as they could yield different results at different times.
Here are 15 of the biggest chains we've found that are taking part, and below is a longer list of others we've spotted that are participating.

| | | |
| --- | --- | --- |
| All Bar One | Bella Italia | Burger King |
| Carluccio's | Costa Coffee | Five Guys |
| Greene King | Harvester | KFC |
| McDonald's | Nando's | Pizza Hut |
| Starbucks | Subway | Wetherspoon |

Here are some of the other chains we've seen are taking part:


A.F. Blakemore
Accor UK
Apple Green
Aquavit
Atalian Servest
Atlas Hotels
Baker's + Baristas
Bannatyne Health Club
Bao
Bar & Block
Bar + Grills
BaxterStorey
Beefeater
Bel & The Dragon
Benugo
Bermondsey Pub
Bill's
Black Sheep Coffee
Blue Diamond
Boparan Restaurant Group
Bourne Leisure
Brains
Brasserie Blanc
The Breakfast Club
Brewdog
Brewers Fayre

Brewhouse and Kitchen
Browns
Brunning & Price
Burger & Lobster
Busaba
Butlins
Buzz Bingo
Byron
Café Rouge
Caffe Nero
Castle pubs
Centre Parcs
CH&CO
Chiquito
The Cinnamon Club
Coast to Coast
Coco Ichibanya
Coffee#1
Company of Cooks
Compass Group
Comptoir Libanais
Cookhouse & Pub
The Cornish Bakery
Cote Brasserie
Cotswolds Inns & Hotels
Creams Cafe
Crussh
D&D London
Darwin Brasserie
David Lloyd Clubs
Deep Blue Fish & Chips
Dishoom
Dobbies Garden Centre
Doubletree by Hilton
Dunelm
Eat
Elior
Ed's Diner
Ember Inns
Euro Garages
Everyman
Fire Jacks
Fishworks
Flat Iron
Foundry Project
Franco Manca
Freedom Leisure
Frankie & Benny's
Fridays (formerly TGI Fridays)
Fuller's pubs
G1
Gail's Bakeries
Garfunkel's
Giggling Squid
Giraffe
Gourmet Burger Kitchen
Great British Pubs
Grovesnor Casinos
Gusto
Hall & Woodhouse
Hard Rock Cafe
Harry Ramsden
Haven
Hollywood Bowl
Honest Burgers
Honi Poke
Hot Stone
Hydes
The Ivy Collection
Joe & The Juice
Joe's Kitchen
Joseph Holt
Jurys Inn
JW Lees
Kew Green Hotels
Krispy Kreme
Laine
Las Iguanas
Leon
The Lost & Found
M&S Cafe
Macdonald Hotels
Maidenhead Spice
Marston's
McMullen
MeatLiquor
Mecca
Miller & Carter
Miso Noodle Bar
Mitchells & Butlers
Morrisons
Moto
The National Trust
New World Trading Company
Nicholson's
Oak Tree
Olive
O'Neill's
Orchid Pubs
Park Holidays
Patisserie Valerie
Patty and Bun
Paul Bakery
Pho
Pitcher & Piano
Pizza Express
Powerleague
Premier Inn
Premium Country Pubs
Pret A Manger
Prezzo
Punch
Raj Douth
Raj Gate
The Real Greek
Revere Pub Company
Revolution Bars Group
Roadchef
Selfridges & Co
Shack-fuyu
Shepherd Neame
Sizzling Pubs
Slim Chickens
Slug & Lettuce
Spice Garden
St Austell Brewery
Stonehouse Pizza & Carvery
Table Table
Taco Bell
Team Sport
Tenpin
Tim Hortons
Tony Macaroni
Tortilla
Turtle Bay
Vacherin
Village Hotels
Vintage Inns
Viva Italia
Wadworth
Wagamama
Wahaca
Walkabout
Wasabi
Welcome Break
Whitbread Inns
Wildwood
Wimpy
Yo! Sushi
Young's
Zizzi
Bear in mind that even if a chain is on either list, some branches may not participate, especially if they are part of a franchise, though chains we've spoken to seem to be offering the discount widely. Note that on the Government list some chains are listed under their parent company, eg, Harvester isn't on it, but owner Mitchells & Butlers is.
Step 2: Use the Government tool to check which other restaurants in a five-mile radius are participating. As we say above, it won't include the biggies, plus it only shows up to 100 search results for any postcode, which can mean you get an incomplete list in built-up areas.
You may find some gems. When we checked in central Birmingham, we found lots of independents and the local branch of TV chef Gino D'Acampo's upmarket 'My Restaurant' chain. Elsewhere, we even spotted a few Michelin-starred restaurants, including The Angel at Hetton in North Yorkshire, and Brat, Leroy and Aquavit in London.
Step 3: To be really sure, check direct with the restaurant. Unfortunately, the list and tool above aren't perfect – if you haven't found a certain restaurant, that doesn't mean it definitely isn't taking part. And even if a biggie you want to visit is on the list, there's a small chance it won't be participating. So to be sure, check the restaurant's website or call to check.
Promotional posters, like the ones below, will be displayed in the windows of participating establishments: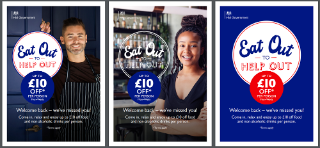 Some restaurants are removing the £10 cap
It's worth noting some chains have announced they're boosting the 50% discount by effectively 'removing' the £10 cap, which means you're able to save more than £10 per person per meal (though above £10 per person per meal it'll be the restaurant, not the taxpayer, picking up the tab).
Restaurants which have confirmed they'll be doing this include Beefeater, Brewers Fayre, Carluccio's, Ed's Diner, Dishoom, Giraffe and Pitcher & Piano.
Some big chains had already slashed menu prices following the Government's hospitality sector VAT cut, which came into effect on Wednesday 15 July, including Costa, Greggs, and Nando's reducing prices by 12.5%. See who is and isn't passing on the recent VAT cut.
Can other discounts & vouchers be used alongside the scheme?
Yes – you CAN stack the 'Eat out to help out' discount on top of other offers. It applies to both:
One-off vouchers and in-house offers that would normally apply. The Government says outlets which choose to take part must apply the 50% off "fully across their menu" – and on top of any discounts, meal deals or vouchers they offer that day. So if a participating establishment doesn't wish to allow offers to be stacked, it'll have to axe its own offers while the scheme's running, ie, all day Monday to Wednesday throughout August.

However, so far we've seen fewer standard deals in general, eg, 2for1s, or 33% off, than we normally would, which could be because of the Eat out to help out discount. See which current restaurant deals you can use with the Government's 50% off.


Membership discount schemes. Multi-restaurant discount schemes can be used in conjunction with 'Eat out to help out' as well. Tastecard told us its usual 50% off or 2for1 discounts will continue to run throughout August, so when dining in at Tastecard's partnered restaurants which are participating in the scheme, you should be able to stack the usual Tastecard discount with the Government's 50% off. Likewise,

Gourmet Society

up to 50% off, and Meerkat Meals 2for1 discounts will operate as normal throughout August, the companies say. The same goes for up to 50% off with Dine Club - and our MSE Blagged deal currently gets you a free two-month Dine Club membership (normally £10ish).
The Government's 50% discount will be applied AFTER any other discounts. So for example, if you had a 20% off restaurant voucher, that would come off your bill first, and you'd then get a further 50% off whatever is left (from eligible items), up to a total discount of £10 per person.
However it's worth bearing in mind that we've seen a few places which aren't quite following the rules - for example, we've seen some pubs which aren't allowing the scheme to be used in conjunction with other offers or on their whole menu, even though they should be. So if in doubt, check with the venue to avoid being caught out.
How busy will the restaurants be? Should I book ahead?
We've heard from some chains including Carluccio's and Wahaca that they've seen a marked increase in bookings since the scheme began, while Pizza Hut shared with us that it had dealt with a massive 300,000 discount redemptions on day one. All say that walk-ins are available but table bookings are advisable, especially if you're after a specific time or you've got a large group.
While it's always safer to book a table rather than chance a walk-in, with so many eateries taking part in the scheme, we reckon you could always visit your next closest participating location if your first choice is full.
Get Our Free Money Tips Email!
For all the latest deals, guides and loopholes - join the 12m who get it. Don't miss out
Join the MSE Forum Discussion
Have your say
This is an open discussion and the comments do not represent the views of MSE. We want everyone to enjoy using our site but spam, bullying and offensive comments will not be tolerated. Posts may be deleted and repeat offenders blocked at our discretion. Please contact fbteam@moneysavingexpert.com if you wish to report any comments.