Currys PC World customers have £100s wiped from gift cards after website outage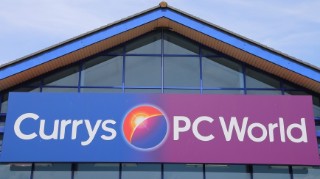 Shoppers who tried to use Currys PC World gift cards in the Black Friday sales found their orders failed and their funds were wiped, with some left £100s out of pocket. After MoneySavingExpert.com highlighted the issue and asked the firm to take action, Currys PC World now says it'll refund everyone affected by Wednesday evening and honour Black Friday sales prices - we've the latest on what's happening below.
When we first reported that shoppers had lost funds on Friday evening, Currys PC World apologised, and said the problems had arisen after a "temporary outage" on its website caused by an "unprecedented volume of customers".
Though it didn't initially give details of how quickly customers would be refunded, on Tuesday it told us that all affected customers will have the funds they've lost restored to their gift cards by 8pm on Wednesday 2 December.

Martin: 'People have enough to deal with this Christmas without Currys adding to it'
Martin said: "Currys has been lax and languid. People first started tweeting me about missing gift card money on Friday. We alerted the firm immediately.
"Yet barring an unspecific statement, it's not given people any real direction about how they can get their money, often £100s back – and customers report its help services have been mostly unresponsive. That's a fail.
"Not only must it ensure everyone's gift cards are refunded, but those affected should be allowed to still purchase items at Black Friday prices so they don't miss out. People have enough crap to deal with this Christmas without Currys adding to it. It needs to confirm arrangements immediately."
'No laptop – £900 deducted on the gift card'
We've seen dozens of complaints about gift card balances being wiped, with many reporting they've lost £100s and orders failed to go through. Here are just three examples:
What to do if your gift card's been wiped
Currys PC World initially told MoneySavingExpert.com last week that every customer who had lost funds would have them put back on their gift card "as soon as possible" - but it didn't give exact timescales, leaving many wondering when they'd get a refund. On Tuesday, it said that affected customers would have their funds returned to them by 8pm on Wednesday 2 December.
The retailer will be contacting affecting customers and working to restore funds, but if you've lost money it's worth contacting it anyway to make sure it's aware of your case. For different ways to get in touch, see its customer service page.
And though at first it was unclear what would happen if a customer had missed out on Black Friday deals because of the gift card problems, Currys PC World has now said it WILL honour Black Friday prices, as we asked it to, though you'll need to contact its customer service team for this to happen. If a Black Friday offer is now out of stock, Currys PC World says it will work with customers to find a suitable solution.
If you feel that you've still not been treated fairly by Currys PC World and have lost out, let us know at news@moneysavingexpert.com (though unfortunately we can't reply to every email).
I've an unspent gift card – can I still use it?
Currys PC World told us on Monday that its website has been up and running since Friday, and that it's now safe to use gift cards – and was safe to do so over the weekend.
But while Currys PC World claims it hasn't had any further reports of people having issues over the weekend, and we haven't seen many, we have had three emails from MoneySavers who say they were stung by the same problem on Saturday or Sunday – so it's still worth being cautious before trying to use a gift card on the website. We're pushing Currys PC World for more details, and will update this story when we know more.
What does Currys PC World say?
In an updated statement on Tuesday, a Currys PC World spokesperson said: "Due to the unprecedented volume of customers shopping online with Currys PC World this Black Friday, our website experienced a temporary outage. Unfortunately transactions made by gift cards were affected.
"Any customer affected will have the funds put back onto their gift cards in full by 8pm on Wednesday 2 December. We understand the importance of our Black Friday offers to customers so if you think you have been impacted by this technical glitch, please contact our customer service team via phone, webchat or social media and we will resolve the issue and honour our Black Friday prices.
"We apologise for this issue and understand that customers will be disappointed they were unable to secure the products on Friday."
For all the latest deals, guides and loopholes simply sign up today – it's spam-free!