Small businesses to get coronavirus insurance payouts after landmark Supreme Court ruling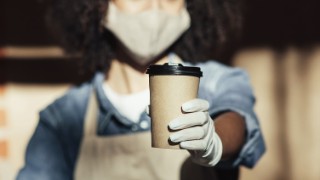 Hundreds of thousands of small businesses could be in line for insurance payouts covering coronavirus-related disruption following a landmark Supreme Court decision handed down today in their favour.
Under the ruling, more policyholders will now have valid claims against insurers for disruption they've faced due to the pandemic. The Supreme Court ruled that insurers have to pay out for partial closure of premises - as well as full closure - and for mandatory closure orders that were not legally binding. It also brought more insurance policies within the scope of its decision - such as two policies from insurer QBE.
In addition, small businesses may now be able to claim more cash than expected. This is because the Supreme Court said valid claims should not be reduced because of the argument that businesses would have suffered losses anyway, even if they weren't told to close. Insurers say they'll contact affected customers to discuss their claim following the ruling. See our Coronavirus Self-Employed & Small Limited Company Help guide for more guidance.
What's the history of this case?
This is a complicated issue, so here's a brief timeline of what's happened to date:
July 2020: City watchdog, the Financial Conduct Authority (FCA) brought a test case to the courts over the wording of business interruption insurance policies after some insurers argued they did not cover the Covid-19 pandemic.


15 September 2020: The High Court ruled some insurers should pay out to small businesses for losses caused by the coronavirus lockdown. But afterwards, the FCA said that while the judgment "paved the way for many" payouts, it didn't, however, clarify the position for all businesses - so it brought an appeal to the Supreme Court.

Six of the insurers involved in the case also appealed against aspects of the High Court's ruling, as did the Hiscox Action Group, which represents around 400 businesses insured by one of the insurers - Hiscox.


15 January 2021: The Supreme Court's ruled in favour of the FCA and the Hiscox Action Group appeals, and dismissed the arguments of the insurers.
It's unclear how many people are impacted by this latest decision - as some businesses have already received insurance payouts following the earlier court decision - but the original case brought by the FCA, was thought to affect about 370,000 businesses. The insurance industry expects to pay out over £1.8 billion in Covid-19 related claims, according to trade body the Association of British Insurers (ABI).
But while this ruling is about business interruption insurance, when the case was first brought MoneySavingExpert.com founder, Martin Lewis, said a key question was whether it could have wider implications for other insurers. We've asked the Financial Conduct Authority and we'll update this story when we know more.
What do the FCA and insurers say?
Sheldon Mills, executive director, consumers and competition at the FCA, said: "We will be working with insurers to ensure that they now move quickly to pay claims that the judgment says should be paid, making interim payments wherever possible. Insurers should also communicate directly and quickly with policyholders who have made claims affected by the judgment to explain next steps."
Huw Evans, director general of the ABI, said: "Insurers have supported this fast-track legal process every step of the way and we welcome the clarity that the judgment will bring to a number of complex issues. Today's judgment represents the final step in the appeal process.

"Customers who have made claims that are affected by the test case will be contacted by their insurer to discuss what the judgment means for their claim. All valid claims will be settled as soon as possible and in many cases the process of settling claims has begun. Some payments have already been made where valid business interruption claims have not been impacted by the test case ruling."
For all the latest deals, guides and loopholes simply sign up today – it's spam-free!
Have your say
This is an open discussion and the comments do not represent the views of MSE. We want everyone to enjoy using our site but spam, bullying and offensive comments will not be tolerated. Posts may be deleted and repeat offenders blocked at our discretion. Please contact fbteam@moneysavingexpert.com if you wish to report any comments.
Update: We are aware that some users may currently be having issues seeing the comments and we're working on it.