Costa Coffee to shake-up its loyalty scheme from 29 September - here's what's happening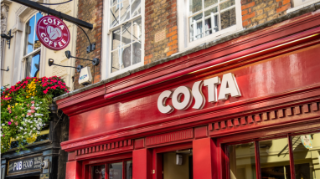 Costa Coffee loyalty account holders will be moved onto a new membership scheme across the course of this month. Under the revised loyalty offering you'll earn 'beans' instead of points and you can earn freebies more quickly, although you won't be able to redeem rewards on any anything other than drinks. The new membership scheme will also replace the existing one for new joiners from the same date.
Update: 10 September 2021: We had initially written in this news story that existing Costa Coffee loyalty account holders would be moved over to the new scheme from 29 September 2021, and therefore had until then to use any existing points under the current scheme.
However, Costa Coffee has now clarified that 29 September is when the scheme launches for new joiners only. Existing customers will instead be rolled onto the new scheme over the course of September, so if you want to use any points on food, it's best to do so sooner rather than later. Apologies for any confusion caused.
Below we round-up how the two schemes compare and what the change means for existing customers.
In the meantime, here's how to get money off takeaway coffees by bringing a reusable cup each time - of course, buying coffees isn't money saving and most will save more by making their own at home. You can also check our Food and Drink Deals round-up for the latest discounts and savings.
How Costa Coffee's new scheme compares
The table below details the key features of Costa Coffee's existing 'Costa Coffee Club' scheme and how its new 'Costa Club' scheme, which will take force from 29 September compares:
Scheme and details

Costa Coffee Club (1)
Costa Club (2)
How do I earn rewards?
£1 spent = 5pts
1 drink purchased = 1 bean
What are rewards worth?
1pt = 1p
8 beans = 1 free drink
What can I spend rewards on?
Food and drink
Drinks only (3)
How much do I need to spend to get a free medium latte? (£3.30) (4)
£66 (to earn 330pts)
£26.40 (to earn 8 beans)
How long do rewards last?
12mths
6mths once you have enough for a freebie
Can I earn/redeem rewards using Costa Coffee Express machines?
No
Earn: Yes
Redeem: No
Any other perks?
No
- Until 31 Mar 22, get 1 extra bean when using
a reusable cup
- Free slice of cake on your bday
For full information on the new Costa Club scheme, see the outlet's terms and conditions.
What the shake-up means for existing Costa Coffee Club customers

Over the course of September, existing Costa Coffee Club loyalty scheme members will be automatically moved onto the coffee shop's new Costa Club scheme. You'll be notified in advance of the shake-up but you can't opt out of the transfer and stick with the old scheme. We had initially written this change would come in from 29 September but Costa has since clarified this date is for new users only.
Under the new scheme you'll receive one bean for every 40 unused points accrued. Any points under 40 will be rounded-up to 40 to give you a bean. Under the current membership scheme, 40 points are worth 40p, so you'd need 330 points to get a free medium latte, for example. But when these points are converted into beans, you'll only need 320 points to get eight beans and the same free latte.
Some, however, may lose out from the switch depending on how much they typically spend per drink.
But overall under the new scheme, you should earn freebies more quickly as you need to spend less to accrue rewards. If, however, you spend your points on food at Costa Coffee, you may want to consider redeeming them as soon as possible as you won't be able to redeem 'beans' on food, only on drinks.
You can continue to use the same loyalty card to accrue rewards once you've switched, although if you prefer you can apply for a new card free of charge at any Costa Coffee shop or online at Costa Coffee. Those who use Costa Coffee's existing app to earn rewards digitally will also be able to continue to use this once the new scheme has launched.
For all the latest deals, guides and loopholes simply sign up today – it's spam-free!
Join the MSE Forum discussion
Costa Coffee to shake-up its loyalty scheme from 29 September - here's what's happening