Pay £1, get up to 50p off most Costa, Pret & Starbucks drinks EVERY time
Many of us regularly reach for a cup of coffee or tea to give us a caffeine boost, but if you're out and about the cost of this can mount up.
This is just one of several PlanetSaving tips we've featured, which also includes:
You can cut the cost though and save up to 50p on every takeaway drink served by the barista – teas, coffees and similar – EVERY time by taking your own reusable cup with a secure lid to Starbucks, Costa and Pret. Of course, you'll also be helping the environment doing this.
What cup do you have to use?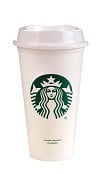 You can use any brand of reusable cup in each store. The cheapest and easiest way is to buy a £1 reusable plastic cup at Starbucks, marked with a line for its 350ml size (known as 'Tall' at Starbucks). We've taken the Starbucks cup into other stores and it worked fine – though expect a bit of banter with the barista…
You may already have a reusable cup, it just needs to have a lid, be clean and be able to fit into a coffee machine (see image for example).
The Starbucks cup and similar we spotted are medium-sized 350ml versions – though we know coffee shops have weird and wonderful names for their different sizes – so if you're after a regular-sized drink this works for you. If you want a small, your cup will just be filled to the appropriate level, but if you're after a large, this would overfill so won't be for you.
Where does it work?
Starbucks – 30p off at any Starbucks store or counter, including at cinemas and train stations. The discount's 25p but it now charges 5p per disposable cup (so in total you can save 30p with your own cup). See our Starbucks launches 5p disposable cup charge news story for more info. The discount excludes filter coffee.
Costa – 25p off in all stores apart from Northern Ireland (see full T&Cs). The cheapest reusable Costa cup is £3 for the 350ml plastic cup.
Pret – 50p off at all stores (it increased from 25p off on 1 Jan 2018), including cold drinks. Pret started selling its own cups in June 2018, at a cost of £10 each.
What about other coffee shops?
Paul – 50p off. Paul offers 50p off when you bring your own cup. It sells Paul branded reusable cups for £3.50 – but you can use your own instead. Whilst you're there, if you pick up a Paul loyalty card and register it online, you can get a free coffee with a croissant or pain au chocolat – très bon!

Leon – 45p off. Whilst Leon uses biodegradable cups, you'll get 45p off when you bring yours. It can be any brand, however, Leon sells a branded bamboo cup for £10.
Greggs – 20p off. If you bring your own cup, you'll get 20p off any hot drink. Also, Greggs sells its own branded cups for £2, and you'll get a free hot drink in it when you buy one. If you join Greggs rewards you'll receive more offers, such as a free birthday cupcake. See our Birthday Freebies page for more free birthday treats and discounts.
Caffè Nero – double stamps. If you bring your own cup, you'll get twice the loyalty card stamps. Normally you'd have to buy nine drinks to get the 10th free, but with this offer you'd only have to buy five – or get the free drink via O2 Priority nine times (it recently changed T&Cs). See our blog on How to get 50+ free drinks a year using this 'deal stack'.
Pure - 50p off. Bring your own cup to London-based café and coffee shop Pure and you'll get 50p off hot drinks.
M&S café - 25p off. If you bring your own cup to an M&S café you'll get 25p off your drink. You can buy a reusable cup for £3 from M&S*, but you can use any reusable cup.
Crussh - 25p off. If you bring your own cup to juice and smoothie company Crussh - either for a hot or cold drink - you'll get 25p off any hot drink, juice or smoothie.
Crosstown Doughnuts – 20p off. If you bring your own cup, you'll get 20p off any hot drink. You can also pick up a loyalty card if you're buying any of its drinks or doughnuts (including vegan options) and get a free drink or doughnut on your eighth visit.
Ground espresso bars – 50p off. If you're in Northern Ireland, you can bring your own cup to Ground espresso bars to get 50p off with any cup. It sells Ground branded Keep Cups from £10.50.
Is buying a drink at these stores MoneySaving?
Of course not – you could bring a thermos of coffee from home (see our demotivator tool to see how much you could save) – but we know people do buy it, so we reckon this is still a decent trick to nab a discount while helping the environment at the same time.
Free tea and coffee
See our free tea and coffee page if you'd like to stack your reusable cup with free or discounted hot drinks discounts at Ikea, Greggs, Waitrose and Booths.
Where do you use your reusable cup? Let us know in the comments, on Twitter, or Facebook.
Have your say
This is an open discussion; anyone can post. Comments may be edited, and are only published during the working day. Please report any spam, illegal, offensive, racist, libellous posts (inc username) to fbteam@moneysavingexpert.com.