NS&I Green Savings Bond goes on sale but it only pays 0.65% AER fixed over three years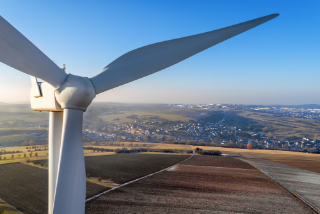 The Treasury has launched a new Green Savings Bond that will be welcome news for those wanting to support green projects but the bond only pays interest of 0.65% a year, which is far below the top-paying three-year fixed savings deals. MoneySavingExpert.com founder Martin Lewis has branded the rate "pants".
Here's all you need to know. You can also see our Green Savings Bond guide for further info.
What is the Green Savings Bond?
In the 2021 spring Budget, the Chancellor announced the Government would be launching a Green Savings Bond, a brand new type of account that will let UK savers help fund environmentally-focused projects with their savings as part of the Government's drive to hit net-zero carbon emissions by 2050.
Projects include building offshore wind farms, speeding up the transition to electric vehicles and revamping homes and public transport networks. The bond is now on sale, and to incentivise savers to get on board, NS&I will pay those that invest a fixed interest rate of 0.65% AER over three years - but this is a rate that can be smashed by plenty of other standard savings accounts.

'This is quite simply not an account that those whose focus is maximising interest will look at'
Commenting on the news from the Treasury, MoneySavingExpert.com founder Martin Lewis said: "The Chancellor must really hope that the nation is wearing green trousers as the rate being offered is pants.
"It's only paying 0.65% interest a year, a paltry amount compared to what's available on the open market – it pays less than the top easy-access savings account, yet with the Green Bonds you have no access to your money and it's locked away for three years.
"The right comparison is with the top three-year fixed savings account and that pays nearly three times what the Green Bonds are paying. And while NS&I is as safe as it gets, with all UK regulated savings institutions you are protected up to £85,000 per person, so that has no practical advantage for most. Though those with very large amounts of long-term savings using NS&I for safety may want to use this Bond, as it provides higher rates than NS&I's alternative accounts.
"This is quite simply not an account that those whose focus is on maximising interest will look at – it's likely only something those willing to sacrifice substantial interest in order to support what they hope will be green causes are likely to consider."
Can I get a better interest rate elsewhere?
Absolutely. As MoneySavingExpert.com (MSE) founder Martin Lewis points out, you can currently beat the Green Savings Bond interest rate of 0.65% with an easy access account from Cynergy Bank paying 0.66%, which doesn't require you to lock your cash away for three years.
If you are willing to fix, you can comfortably beat the Green Savings Bond's 0.65% rate. The top one-year and two-year fixes from SmartSave currently pay 1.34% and 1.58% respectively (min £10,000).
If you can lock money away for the full three years, you can earn 1.81% with JN Bank (min £1,000) - that's nearly three times the rate you'd earn with the Green Savings Bond over the same time period. All of these accounts can be opened online.

For more on savings accounts, including breakdowns of the best rates, see our Top Savings Accounts guide.
So who exactly is this Bond for?
If the return you're getting is your main concern, there are better deals out there. As Martin puts it, with such a poor interest rate this is a savings product for those who put morals over money. Though with limited options out there for savers looking to invest their cash to support green projects, if that's your main priority and you're not fussed about maxing out your savings interest, it's a decent option.
For a full summary of the Green Savings Bond, plus information about other providers that offer 'green' savings products, see our full Green savings bond guide.
How does the Green Savings Bond work?
If the interest rate hasn't put you off and you're keen to use your cash to support green projects, here's the full lowdown on the new bond from NS&I:
Green savings bonds are sold in the form of three-year fixed bonds, which means you'll need to lock your cash away for this period of time - though you'll have a 30-day cooling off period to change your mind.
The bonds are available to savers aged 16 and over.
The bonds are available to buy and manage online.
The bonds will be on sale until at least 22 January 2022.
You can save between £100 and £100,000.
The bonds will be available both individually and jointly.
Interest will be paid annually on the anniversary of the account opening.
Interest will be taxable, which means it'll count towards your Personal Savings Allowance – though most savers won't be affected by this.

Are my savings safe with the Green Savings Bond?
These bonds are operated by NS&I, which rather than being a bank is backed by the Treasury. This means your cash is 100% safe up to the £100,000 limit (unless the UK goes bust).
However, savings protection isn't unique to NS&I. Every UK-regulated savings account offers protection of up to £85,000 per person, per institution. Read our full Are Your Savings Safe? guide for more on how savings are protected.
How can I purchase the Green Savings Bond?
The Green Savings Bond is exclusively offered by NS&I, which essentially operates as the Government's bank. The bonds will only be available to buy and manage online from the NS&I website.
You might already know NS&I for offering Premium Bonds, the UK's biggest savings product. Premium Bonds are a savings account you can put money into (and take out when you want), where the interest paid is decided by a monthly prize draw rather than a fixed rate. For a full breakdown check out our Premium Bonds guide.
For all the latest deals, guides and loopholes simply sign up today – it's spam-free!
Have your say
This is an open discussion and the comments do not represent the views of MSE. We want everyone to enjoy using our site but spam, bullying and offensive comments will not be tolerated. Posts may be deleted and repeat offenders blocked at our discretion. Please contact fbteam@moneysavingexpert.com if you wish to report any comments.
Update: We are aware that some users may currently be having issues seeing the comments and we're working on it.