P&O Ferries suspends services after sacking 800 staff - your refund rights explained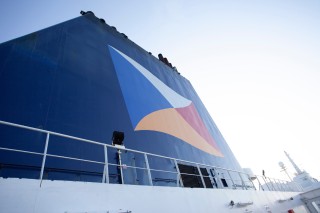 P&O Ferries has suspended the majority of its services after the ferry operator sacked 800 staff today (17 March). The suspension is expected to last several days, meaning passengers who've had their journey cancelled or delayed may be due a refund and/or compensation. We have full details below on how to make a claim.
Ferries between Dover and Calais, Hull and Rotterdam, and Liverpool and Dublin are currently suspended. Other ports have also been affected and P&O Ferries is updating its social media pages regularly, so make sure you check before you travel - the ferry company is currently telling passengers travelling between Dover and Calais to arrive at ports as planned where alternative transport will be arranged.
P&O Ferries is a separate company to P&O Cruises, which is not affected by today's news.
The ferry company said the layoffs come as a result of the business "no longer being viable" after making losses of £100 million "year on year". If you work for P&O Ferries and have been affected, see our Redudancy Guide.
P&O Ferries made this statement on its website: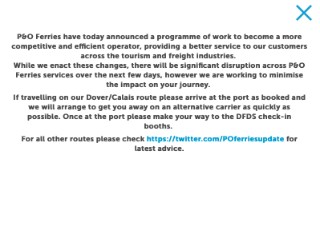 You may be eligible for a refund AND compensation if your ferry was delayed or cancelled
Under maritime passenger rights ferries which operate, to, from or within EU countries have the following refund and compensation rights.
If a ferry is cancelled or delayed on departure by over 90 minutes then you should be offered the choice between:
An alternative ferry at the earliest opportunity, with no additional cost.
A reimbursement of the ticket price. This should come through within seven days.
In addition, if your ferry was delayed on arrival, you may be entitled to 25% compensation - doubled to 50% if the delay exceeds double the times set out below - on top of either a refund or replacement travel where eligible. Compensation is based on delays of:
One hour for a journey duration of four hours.
Two hours for a journey duration between four and eight hours.
Three hours for a journey duration between eight and 24 hours.
Six hours for a journey duration of over 24 hours.
According to ABTA, the trade association for travel, the ferry operator, in this case P&O Ferries, must pay compensation within one month of a claim being submitted.
What about people stuck overseas?
It isn't yet clear what those travelling to overseas ports should do but we have asked and we will update the piece once we know more.
If you are overseas and your ferry has been delayed or cancelled, then P&O Ferries should arrange for you to get back via an alternative route. You'll be eligible for the same refund, alternative route and compensation rights as outlined above.
If the delays cause you to have to stay in the country overnight, P&O Ferries is liable to provide you with accommodation, and to cover the cost for up to three days, according to ABTA. This can be on board the ship, or ashore.
P&O Ferries also has the right to consider other options, such as inviting passengers who wish to do so to make their own arrangements and to reimburse expenses they incur. But it can limit accommodation costs to £70 per night per passenger for a maximum of three nights.
Complain to ABTA if you feel you're not being treated fairly
If you believe P&O Ferries has not acted in accordance with the rules set out above, in the first instance you should write to the company detailing your concerns within two months from the date on which the service was performed or should have been performed. You can contact P&O Ferries by calling it on 01304 44 88 88.
If the ferry company does not respond or you are not able to resolve your complaint with the ferry operator you can contact ABTA at ferry@abta.co.uk - that's despite P&O Ferries not being an ABTA member.
Your Section 75 and chargeback rights
If you've exhausted the options above, then it might be worth claiming via Section 75 or chargeback if you paid for your journey on card.
Section 75 is a legal right for credit card purchases – chargeback isn't. Section 75 makes the credit card provider jointly liable with the retailer if something goes wrong. If you are making a Section 75 claim, how you do so differs by card provider, so check first to find out which is the best way to make a claim. See our Section 75 guide for more information.


Chargeback is for debit AND credit cards and can be used on any amount – it is particularly useful where the cost of the goods or services is £100 or under as Section 75 doesn't apply. The chargeback process is simple - all you have to do is contact your debit or credit card provider and tell them that you want to make a claim through the chargeback scheme. See our Chargeback Guide for more info on how to claim.
For more information on whether to use Section 75 or chargeback in your case, see our Debit and Credit card reclaim guide.
What does the Government say?
Responding to the situation with P&O Ferries, a Department for Transport (DfT) spokesperson said: "There are other operators running services on cross Channel routes, so passengers and goods can continue to travel.
"Ministers and officials will be speaking with P&O Ferries later today to understand more about the changes and the impact on staff and passengers."
For all the latest deals, guides and loopholes simply sign up today – it's spam-free!