Ethnic minorities pay up to £280/yr more for car insurance than white people, says Citizens Advice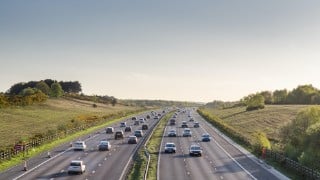 Ethnic minorities pay more than white people for car insurance, research from Citizens Advice has shown, with the charity arguing that the price differences are a result of an "ethnicity penalty".
Citizens Advice says ethnic minorities in England and Wales paid £250 a year more for their car insurance last year, with some paying up to £280 more. The findings are based on analysis of the cost of 18,000 car insurance policies reported to Citizens Advice by people using the charity for debt help in 2021.
The charity also carried out 649 mystery shops in England using six personas across eight postcodes. The majority of the personal details submitted online, including car, job and no claims history, remained the same. In postcodes where more than 50% of the population were from ethnic minority backgrounds - based on the 2011 census - the charity found minorities were charged more.
The Association of British Insurers (ABI), trade body, said insurers never use ethnicity as a factor when setting prices but it recognises the charity's report "raises an important public policy debate".
If you need help finding a policy, see our Cheap car insurance guide for help on how to grab 100s of quotes, plus cashback.
Citizens Advice says there is an 'ethnic penalty' when it comes to car insurance
The charity's research concluded that an individual's gender, age, income, as well as their area's crime rate, deprivation rate, road traffic accidents and population density could not account for the price difference, instead describing it as an "ethnicity penalty".
See the maps below for the population of England and Wales by ethnicity versus where car insurance prices cost more.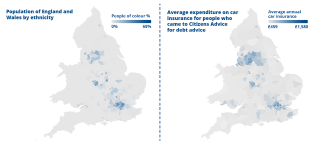 The financial regulator must take action, says Citizens Advice
While insurers don't collect ethnicity data, the charity is worried that due to large amounts of data available in the public domain - insurers may be using certain data as a smokescreen to track the ethnicity of its customers.
Citizens Advice is now asking the financial regulator, the Financial Conduct Authority (FCA), to set out how insurance firms must prove they abide by the Equality Act 2010, as well as calling on the FCA to take action where insurers can't explain why people from ethnic minorities are charged differently. The FCA says it will consider any evidence received.
Dame Clare Moriarty, chief executive of Citizens Advice, said: "It is time for the FCA to lift the bonnet on insurance firms' pricing decisions and ensure no one is paying more because of protected characteristics like race."
Additional reporting by the Press Association.
For all the latest deals, guides and loopholes simply sign up today – it's spam-free!
Join the MSE Forum discussion