KFC launches new 'Rewards Arcade' loyalty scheme but you're not guaranteed a prize - here's how it works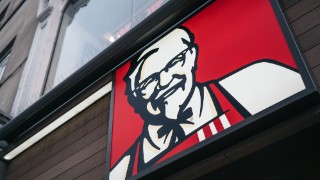 KFC has launched a new rewards scheme after scrapping its Colonel Club loyalty program in July. The 'Rewards Arcade' allows users to play a game and win awards after placing an order, but you aren't guaranteed a prize every time.

Below we explain how you can earn 'freebies' using KFC's new scheme. In related news, for help saving on your food shop, see our Supermarket coupons guide.
You can use KFC's Rewards Arcade scheme when you make a purchase in store or via the app
The new scheme allows users to win a 'free' reward by playing one of several arcade-style games offered via the KFC app. You'll need to have the KFC app to play, which you can download for free via the Apple or Google Play stores. You'll also need to opt in on the app to be part of the scheme. We've asked if existing app holders need to update their app to access the rewards and we'll add to this story when we know more.
To be able to play, you have to make a purchase at either a KFC store, whether that's at a counter, kiosk or drive through, or via the app. If you're in store, you'll need to scan a QR code at the till - this will be on your account in the app. If you're placing an order via the app (in store or for delivery), you don't need to scan anything.
You'll either need to spend £3 or more in store to qualify, or £7 if you're ordering for delivery. You cannot play if you've purchased via a third party, such as Uber Eats or Deliveroo.
Once you've made a qualifying purchase you'll receive an invite asking you to play a game in the app. To see if your local KFC restaurant is participating in the rewards scheme, follow this link on the KFC website and enter your postcode.
There's a selection of prizes up for grabs but you're not guaranteed a win
You'll be offered to play every time you make a qualifying purchase but it's NOT guaranteed you'll win a prize each time. This means you're actually getting less bang for your buck compared to the old rewards scheme, where you'd earn stamps every time you placed an order.
We've asked KFC how likely it is that you'll win a prize each time. It wouldn't say but added that there's a "possibility to win a prize with every transaction".
If you do win, however, this is what you could get:
BBQ Bite
Fillet burger
Flamin' wrap
Mighty bucket for one
Mini fillet burger
Regular fries
Regular popcorn chicken
Six-piece bargain bucket
Three piece boneless dips meal
Two piece original recipe meal
Two single wings
Zinger burger
You' only have 40 days to redeem rewards, but there's no limit on how many you can have on your account
Once you've won a reward, it'll show up in your KFC app in 'My rewards'. You then have 40 days to redeem them.
If you're ordering via the KFC app, you can add the reward to your basket. If you're at a counter or kiosk, you just need to scan your reward via the app at the till.
While there's no limit on how many rewards you can have sitting in your account, you can only redeem ONE reward per order. There's no minimum spend for you to be able to redeem a reward.
If you've redeemed a reward and don't purchase anything else, you won't be able to play the game. However, if you have purchased other items in that same order, you'll still be invited to play a game, as long as you've met the minimum £3 (in store) or £7 (delivery) spend.
Still have rewards from the old scheme? Use them now to avoid losing them
The old Colonel Club scheme allowed members to collect stamps when they placed an order in store or via the KFC app. They could then turn these into rewards, such as free popcorn chicken or a drink. However, KFC terminated the scheme on 26 July 2022 and replaced it with the new rewards scheme detailed above.
If you had less than three stamps by 26 July then KFC would have automatically boosted them to a reward - you have three months from 26 July to redeem them. If you had stamps that you redeemed before the cut-off date, however, you have six months from the date you redeemed them to use them.
For all the latest deals, guides and loopholes simply sign up today – it's spam-free!
Join the MSE Forum discussion