On heating oil or LPG but not got your £200 payment yet? You can now apply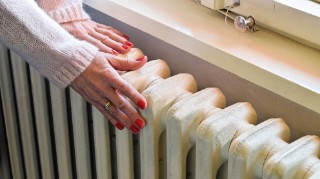 Around two million people across the UK use fuels such as heating oil, liquefied petroleum gas (LPG), coal or biomass to heat their homes. The majority should have received their £200 support payment in February from their electricity supplier, but if not, you can now apply for the payment.
In December last year, the Government announced it would be paying a one-off £200 Alternative Fuel Payment - in addition to the £400 energy bill support - to help those who won't benefit from the Energy Price Guarantee on gas rates. Those eligible include households which use heating oil, liquefied petroleum gas (LPG), tank or bottled gas, or solid fuels (such as wood or charcoal) as a means of heating their homes, as an alternative to gas.
See full info on the £200 scheme, plus the full list of other help available in our Struggling to pay energy bills guide.
Most eligible households should have received the £200 payment automatically – but many haven't
The energy firms have told us that most households using alternative fuels should have now received the additional £200, including all households in Northern Ireland (who received a one-off £600 payment, being the £400 energy bill support and £200 Alternative Fuel Payment).
However, some households have fallen through the cracks, despite having an electricity supplier and using alternative heating fuels, as there is no central database of homes that use alternative fuels.
To identify those households eligible for automatic payment, the Government used a combination of so-called 'Meter Point Administration Numbers' – which are used to identify individual electricity supply points – along with census data and data on the number of households without a gas meter point.
The Government provided this list to all the UK electricity suppliers, who have then used this to pay the £200 alternative fuel payment to eligible households. Some households have not been included on this list in error, and therefore the electricity suppliers have been unable to make the payment to all those eligible. In which case, you must now apply through the online Government portal. We've got the details of how to do this below.
We've heard from number MoneySavers that should have got it automatically from their supplier, but didn't:
If you've not got the payment, but think you're eligible, you can now apply to get it - the deadline is 31 May

Most of the major energy suppliers have told us the £200 payment was made automatically in February to those identified as eligible by the Government.
If you think you're eligible and have an electricity supplier, first check your bank or energy account if you pay by direct debt, on receipt of a bill or have a smart prepayment. If you're on a traditional prepayment meter, vouchers should have been sent by text, email or post.
If you've not got it, or you have heating fuel and you're completely off-grid (so you don't have an electricity supplier), you can now apply to get the £200 payment via an online portal on the Gov.uk website, which launched on 6 March, For those without online access, you can call 0808 175 3287 (0808 175 3894 in Northern Ireland), 8am to 6pm, Monday to Friday.
You'll need to provide the following when you apply:
an email address
phone number (if you have one)
bank account details (for the payment to be made into)
proof of purchase of alternative fuels since September 2022 (for example, a delivery note or receipt) totalling at least £200. You can upload a maximum of 10 (this was increased from two) documents in your application. Your proof of purchase must include:
- your address
- the type of fuel purchased
- date of purchase
- name and address of fuel supplier
- total amount spent
If you're not registered for council tax, you'll also need to provide proof of address, such as a bank statement or tenancy agreement.
You must apply by 31 May.
Energy secretary tweaks application requirements after appearing on Martin's show
Many have reported issues regarding the number of receipts you can upload as part of your application, or what you can do if you don't have a proof of purchase. For example, houseboat dwellers will buy small amounts of heating fuel on a more regular basis, as they've nowhere to store large volumes of fuel. Therefore they will likely need to submit more than two receipts to prove £200 has been spent. Others have told us they buy fuel as part of a weekly grocery shop and don't keep the receipts. Similarly, we've heard of those who bulk buy fuel in advance for the year and don't have a proof of purchase since September 2022.
Energy secretary, Grant Shapps appeared on The Martin Lewis Money Show Live on 7 March, saying he will look into the issues regarding receipts. On Wednesday 8 March, the energy secretary announced the number of receipts you can submit has increased from two to 10. However, the Government has confirmed that they will no change to allow receipts dated before September 2022. The Government has told us that those who purchased alternative fuel before September 2022, have adequate time to buy more and obtain proof of purchase to be able to apply before the scheme closes on 31 May 2023.
We'll update this story if anything changes.
When will I get the £200 payment?
You should receive an email or letter within six weeks of applying, confirming whether you'll get the payment. If eligible, you'll be paid the £200 by your local authority via bank transfer.
If you're application is cancelled, you'll be told the reason why, and you'll be able to reapply. An application may be cancelled if you haven't provided sufficient evidence, you've already been paid the alternative fuel payment through your electricity supplier, or you've already applied for it through your local authority.
However, if your application is rejected, it means you are not eligible for the £200 payment and you won't be able to reapply. The Government will be releasing details of an appeals process and we'll update this story when we know more.
For all the latest deals, guides and loopholes simply sign up today – it's spam-free!