Octopus Tracker energy tariff – could it save you £100s on your energy bills?
Most households are on standard energy tariffs right now, with prices controlled by the Energy Price Cap, but deals are starting to return – including Octopus Energy's 'Tracker' tariff, which has relaunched and could be worth switching to. It's not right for everyone, but if you're willing to regularly keep track of daily price changes, it could mean big savings. We've full info below.
Octopus Tracker directly tracks wholesale energy prices and has two key features:
The rates that you pay change every day
The unit rates for gas and electricity change daily, based on the latest wholesale prices (these are what firms pay for energy), and are updated at midnight each night.


Rates also vary depending on which region you live in, as do the daily standing charges for electricity (this is the amount you pay to have access to an energy supply).


For gas, the standing charge is fixed nationwide (currently at 26.84p a day)
It's a smart tariff for new and existing customers – but there are limited numbers
There were originally 50,000 Tracker tariffs available, and Octopus told us there were still thousands remaining (as of Mon 10 July – we've asked for an up to date figure, and will update this when we get it), but you'll need to be quick if you want to sign up.


It's available as a dual-fuel, electricity-only or gas-only tariff.


If you're not already with Octopus, you'll need to switch to its standard tariff first. You'll also need to get a smart meter, if you don't already have one, so if you don't want (or can't get) one, it's not for you. See full info on how to get it.
How does Octopus Tracker compare with current prices and the Price Cap?
As prices vary daily, it's difficult to give a definitive answer on whether it can save you money and how much. It all depends on the rates you get, how wholesale energy prices are changing, how much you use and when you use it.
To try to answer this, we looked at the average unit rates for the Tracker tariff over the week of Monday 3 July to Sunday 9 July in the Midlands region, and compared them with the current and new Price Cap rates, which kick in on 1 October...
Note: Although the data is a few weeks old now, we've checked (on Tuesday 26 September) and the rates have remained around the same level.
Gas
Electricity
Total (2)
Octopus Tracker (1)

Unit rate: 4.38p a kilowatt hour (kWh)

Standing charge: 26.84p a day

Unit rate: 17.65p a kWh

Standing charge: 47.5p a day

£25
Energy Price Cap until 30 September

Unit rate: 7.43p a kWh

Standing charge: 29.11p a day

Unit rate: 29.61p a kWh

Standing charge: 53.96p a day

£39
Energy Price Cap from 1 October

Unit rate: 6.82p a kWh

Standing charge: 29.62p a day

Unit rate: 26.85p a kWh

Standing charge: 54.38p a day

£37
(1) Average of the daily rates in the Midlands on 3 to 9 July. (2) Calculated using regulator Ofgem's typical-use figures: 12,000kWh for gas and 2,900kWh for electricity.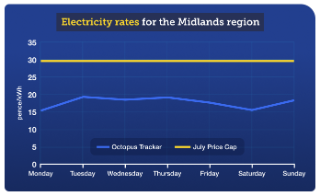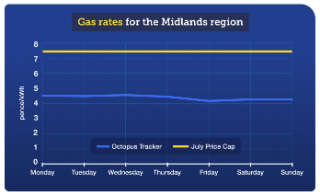 As all this info shows, during the week we carried out our assessment, the unit rates and standing charges for the Tracker are significantly lower than the current Price Cap rates.
While rates are cheaper right now, they can spike suddenly if wholesale costs rise

Currently, energy prices are controlled by regulator Ofgem's Price Cap. These are largely based on wholesale energy prices, and only change every three months, so there's a big time-lag between changes in wholesale prices and any change to the actual rates we pay.
Yet Octopus Tracker tracks wholesale costs daily, and prices are reflected in the rates you pay the next day, so gives quicker access to falling prices. But if wholesale prices start to climb, so too will the rates you pay (Octopus is allowed to offer different rates as it's not a standard tariff).
So you'll need to be willing to keep an eye on the changing unit rates to ensure it's still competitive. What's more, Octopus has said its rates will likely double during the winter period, when demand for energy is much higher, so you'll need to keep a close eye on the tariff.
However, Octopus Tracker has a 100p-a-kilowatt-hour maximum cap on electricity and 30p-a-kilowatt-hour maximum cap on gas, so if prices do rise rapidly, there is a limit on what you would pay for each unit of energy you use.

It's also worth noting that if you decide the Tracker tariff isn't right for you, Octopus says it may take up to two weeks to switch away from it and you can't go back on to it for nine months.
We've crunched the numbers above, but Octopus told us that over the last year, an average household would have saved about 4% compared with the current typical Price Cap figure of £2,074 a year.
Who can get it and how to apply

To get it, you'll need to do the following:
Step 1. For new customers only – switch to Octopus (existing customers, skip to step 2). If you're not already with Octopus, you'll first need to switch to its standard tariff. You can apply online, or give it a call. You can then join the Octopus Tracker waiting list. But places are limited so there's no guarantee you'll be accepted on to the tariff.


Step 2. Get a smart meter if you don't already have one. You'll need to ask for one, then wait for it to be installed and for Octopus to connect to it – this should take a few weeks. If you already have one, and Octopus is already connected to it (so it can receive automatic meter readings), you can skip this step.


Step 3. Ask Octopus to move you to its Tracker tariff. Contact it online, via email or on the phone and ask to be moved to the Tracker tariff. You'll need to accept new terms and conditions and then you'll be moved over.
Once Octopus has confirmed your switch to the Tracker tariff, you'll be able to track what rates you're being charged in your online account and see how unit rates for the day compare with the unit rates of the Octopus standard variable tariff. You will also be able to see historic Octopus Tracker rates – but prices are not guaranteed and actual prices change on the day you use the energy.
Are there any other similar tariffs?
Alongside the Tracker, the supplier has Octopus Agile – an electricity-only tariff which also tracks wholesale energy prices, but the rates you pay change every 30 minutes, based on a forecast of wholesale costs for the next day. You also need to be an existing Octopus Energy customer to switch to this tariff. For more info, see our Octopus Agile analysis.
For all the latest deals, guides and loopholes simply sign up today – it's spam-free!