How to increase phone storage
Free up memory on your mobile WITHOUT spending money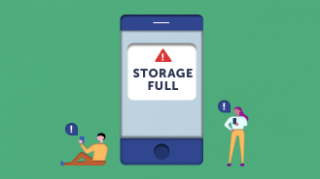 You're about to take the perfect photo, download a must-see video or install an essential app... and disaster! Your phone tells you it's full.
Don't assume that just because you've run out of space you need to shell out for storage or a new, higher-spec mobile, especially as the same type of phone with more memory can cost up to £350 more. There are lots of ways to claw back GBs without paying a penny - this guide explains how.
12 ways to increase your mobile phone's storage
Have you freed up storage on your phone? We want to hear your feedback, as well as tips not covered here and any ideas of your own. Please get in touch through the How to increase phone storage discussion.
Get Our Free Money Tips Email!
For all the latest deals, guides and loopholes - join the 12m who get it. Don't miss out
'I grabbed 20GB back' - some inspiration before you start
Freeing up space on your phone is more art than science, and exactly how many GB you'll be able to reclaim will depend on your handset and your tolerance of digital clutter. But before you start, here are a couple of examples of how it can work:
I'd never looked at clearing space on my mobile, but was considering getting a new iPhone and wanted to see how much memory I really needed. So I started methodically working my way through my pictures, videos, downloads and apps, erasing everything I didn't need.
It became a bit of a challenge, to see how much space I could save, and in the end I grabbed more than 20GB back without losing anything I really liked or needed, cutting the memory used on my phone from 45GB to just over 20GB. What's more, it gave me the confidence to go for a smaller, cheaper new phone - I went for the 32GB model rather than the pricier 64GB.
MSE Guy
I back up all photos, videos, documents and downloads on Google Photos or Google Drive, which are both free, and empty the cache on my Android phone's storage on a regular basis. The first time I freed up 1.8GB.
Browntoa
I've been backing up and freeing space on our phones for a few years now. Every six months, I'll download all the photos from my wife's iPhone onto a portable hard disk. My Android phone backs up all photos to Google Photos and occasionally I will download this and put it all on the hard disk.
I also have access to unlimited photo storage online via Amazon Prime. They have a nice app that shows you memories - and now I've got five or more years of phone photos and 10+ years of camera photos on there.
ringo_24601
Trying to free up space on my phone before I needed to pay even more a month for storage, I deleted my podcast app as I'd listened to one or two podcasts - didn't realise it downloaded every episode and so freed up about 3GB.
@Kayleighomara
Get Our Free Money Tips Email!
For all the latest deals, guides and loopholes - join the 12m who get it. Don't miss out
12 ways to boost your mobile phone's storage
Ready to start? Here are our top storage-salvaging tips, with step-by-step instructions.
Check your operating system. The steps below are based on Android Nougat (7.0-7.1.2) and iOS 11, among the most-used versions of each operating system. But if you have another version, the steps may be slightly different.
Get Our Free Money Tips Email!
For all the latest deals, guides and loopholes – join the 10m who get it. Don't miss out
Join the MSE Forum Discussion