Tube Delays: How to get a refund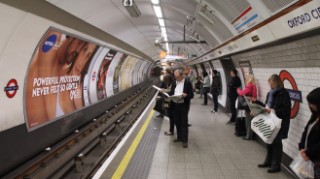 If you're a regular commuter, you'll know travelling on the London Underground is often fraught with delays and cancellations. If that happens, you may be entitled to a refund - here's how to claim one. If you couldn't touch out, see our TfL Overcharge Refunds guide for how to get your money back, and to claim back credit from an old card, see our Oyster card refunds guide.
Get Our Free Money Tips Email!
For all the latest deals, guides and loopholes - join the 12m who get it. Don't miss out
How long do I have to be stuck on the tube for before I can claim? Delays on the tube can be fury-inducing, especially when they make you late. But if your journey on the underground is delayed by at least 15 minutes, you don't have to put up with it.
Whether you travelled using an Oyster card, contactless credit or debit card or paper ticket, you can ask Transport for London (TfL), which runs the transport in London, for a 'service delay refund'.
To calculate the 15 minutes, TfL looks at what time you touch in and out, then compares how long your journey took to the average time.
Can I claim for every delay? Not exactly. TfL has specific rules about what's classed as a service delay.
If you're delayed for 15 minutes or more and for reasons within TfL's control, then you can get a refund. This includes anything which is TfL's fault – for example, a defective train, faulty track or overrunning engineering work.
But it DOESN'T have to pay up if the reason for delay is something outside its control, eg, bad weather, planned engineering works, security alerts or customer incidents, such as a person falling ill on the train.
In practice, however, we've found TfL is sometimes lenient with these rules, so it may pay up anyway. While there are no guarantees, it's usually worth a punt if you've been delayed, as you may get a refund, and you won't lose anything if you don't.
What can I get back? No matter how and what you paid for your journey, you'll get back the value of a single pay-as-you-go fare for the Underground, Overground or Docklands Light Railway (DLR) journey at the time you travelled. If you had to get off before you intended, the refund's based on where you touched in and out.
This applies even if you didn't pay full whack. If you made the journey on a daily, weekly or monthly travel card you'd still get the pay-as-you-go single fare back. And if your journey started at peak time, you'll be refunded the peak fare.
For example, if you were delayed when travelling during peak time from Balham to Bank (zone 3 to zone 1) using an Oyster card, you'd get £3.30. See the TfL website for full info on fares.
Brilliant... so is the process automatic? Not exactly. TfL says you "might" receive an automatic refund within 48 hours, but if you don't you'll need to proactively apply for refunds.
Here's how to it yourself:
To apply online... log in to your account on the TfL website (if you don't have an account, you'll need to sign up for free first). Click on 'Service Delay Refunds'. You'll be asked to provide info about your journey and the details of the Oyster card you used.

You have to claim within 28 days of the delay. TfL says you should wait at least 48 hours before claiming as you might get an automatic refund. It usually takes a couple of days and it processes "most" refunds within seven days. It will email to tell you if your claim has been successful or not.
What about if I paid by contactless credit or debit card, Apple Pay or Google Pay? Not a problem. Sign up for or log in to a TfL account as above, and add your contactless credit or debit card or the debit or credit card you use with Apple Pay or Google Pay to it. You can register these before or after the delay. Then, choose the relevant card and click 'Claim for service delay'.
As an aside, you can track your journey history for contactless cards, Apple Pay and Google Pay accounts. Just click on the relevant payment method and then on 'Journey & payment history' to see 12 months' worth.
And how do I get it? You have a choice.
You can provide your bank details and get the refund paid into your account. (If you were travelling using a contactless card or paper ticket, this is your only option.)

If you were travelling using an Oyster card, you can get the refund in the form of web credit to your online account to use next time you top up or buy a travel card online (or you can have it transferred to your bank account).

If you have an Oyster card, you can get the refund loaded back onto it as pay-as-you-go credit. This happens when you next touch in at a station or on a bus.
The Oyster card needs to be registered before you can receive a service delay refund (you can still do this after the delayed journey).
You CAN auto-claim if you use the free Train Reeclaim tool.
Train Reeclaim
(yep, it really is spelt that way) is a free service that automatically claims refunds for delays from TfL. It covers the tube, DLR, London Overground and TfL Rail – though not other London train routes which let you use Oyster, such as Thameslink, or the Emirates Air Line. It was created by a web developer who says he was fed up with the hassle of the TfL refund process.
As well as sparing you the faff of having to file a claim with TfL, the advantage of using Train Reeclaim is that it will automatically identify journeys you're delayed on where you may not realise you qualify for a refund. Even better, when you join it'll automatically look at your journey history and scan for delays in the past 28 days.


Train Reeclaim user reviews mention unexpected refunds of over £30, and MSE Kelvin's used this too:

After connecting my TfL account to Train Reeclaim I received an email from TfL that same evening informing me I was being refunded £2.40 for my delayed journey to MSE Towers that morning – I didn't even realise it'd been delayed.

Don't just take our word for it – here's what MoneySaver Mjbucks said about Train Reeclaim:

I was sceptical but it was on MoneySavingExpert so I signed up... couldn't be happier. No effort from me and my Oyster account has been credited with the refund.

Train Reeclaim's a small and relatively new operation, but the reviews from users are good – let us know what you think in the Tube Delays forum discussion. It's not officially endorsed by TfL but we've repeatedly asked TfL if it has any problems with passengers using it to file claims and it hasn't come back to us with any.

Be aware that to use Train Reeclaim you'll have to give it your TfL login and password. It says it won't ever share your personal data with third parties without your permission, doesn't hold any full financial info and that it protects your info using what's known as 'secure sockets layer' or 'SSL', a security standard that basically ensures it's encrypted when it's transferred via the internet. All passwords are also stored in a securely encrypted format.

To use Train Reeclaim:

You'll need to have a free TfL account – and have added your Oyster or contactless card to it (you can't use Train Reeclaim if you travelled using a paper ticket). If you haven't, you'll have to set one up to use the tool.


You'll then need to connect your TfL account to Train Reeclaim. Go to Train Reeclaim, click on 'Connect Now', choose the number of journeys you make per week, enter your email address and log in using your TfL username and password. It'll then check for delays from the past 28 days and on every journey you make from then on – if it spots one, it'll automatically file a claim with TfL on your behalf.


You'll be notified by email when claims made on your behalf are successful. Refunds usually take a few days and will be credited to your TfL account if you used an Oyster card, or refunded direct to the contactless card you used.

When we first heard about it, Train Reeclaim said it was planning to fund itself by eventually taking a small cut of each refund users get. However, it's since said it doesn't plan to introduce any charges and instead aims to be free to use forever.
What if my tube's delayed and I'm late for a flight or a concert as a result? Can I claim for that? No. TfL says it won't provide compensation for anything other than the delayed journey on its services.

Can I get off the underground and take another form of transport if my tube's delayed, but still claim for the delay? If it doesn't count as a 15-minute delay under the touch-in, touch-out rule, you could always contact TfL and plead your case, but you're not officially entitled to a refund.
What if I'm delayed travelling on another form of public transport in London? You should be in luck – most of the transport systems operated by TfL follow similar rules.
On the Docklands Light Railway (DLR) it works the same as on the tube – you can claim for a delay of 15 minutes or more if the cause is within TfL's control.

London Overground and TfL Rail come under National Rail's conditions of travel (which basically set out your rights when travelling on the rail network), so if you're delayed by 30 minutes or more you're eligible for a refund (you must touch in and out).

On the Emirates Air Line refunds are issued for delays of 15 minutes or more. Refunds can only be claimed by post or at the ticket office immediately after a disrupted journey.
For all the above apart from Emirates Air Line, as with the tube, you can apply for a refund via the TfL website. Unlike with the tube, you can claim by post by sending your journey details, Oyster card or contactless card number and contact details to TfL Customer Services, 4th Floor, 14 Pier Walk, London, SE10 0ES.
Sadly, if you're travelling by bus or tram and you're delayed, you simply can't get a refund. And if you're travelling through London via another train operator, for example Thameslink, you'll need to go straight to the relevant train company to claim for disrupted journeys – see our Train Delays guide for full help.
OK, so I know how to claim a refund – but what if I want to complain about TfL? If you've complained to TfL and it won't budge or you're unhappy with its response, a free online complaints tool can help.
Resolver* helps you draft and manage your complaint. It's free to use, and offered by a firm called Resolving UK that we like so much we work with it to help people get complaints justice.
If your complaint isn't resolved, Resolver will automatically escalate it to watchdog London TravelWatch, which can ask TfL to resolve your case. It doesn't have the power to force TfL to do anything it doesn't want to do though.
If all else fails, you could technically take your claim to court. Think carefully about whether you want to go to that much trouble though, and whether it's worth it – generally it's far better to use this as a last-resort threat. See our Small Claims Court guide for full info.
Get Our Free Money Tips Email!
For all the latest deals, guides and loopholes - join the 12m who get it. Don't miss out
Join the MSE Forum Discussion