TfL overcharge refunds
How to claim if you couldn't tap out – check now
In 2018, Transport for London charged passengers a total of £60 million after they failed to tap their card and ended up paying the maximum fare – on average, there were more than 30,000 such 'incomplete journeys' every day that year (the last for which complete figures are available). Yet there's a quick way to get up to a year's charges refunded, and some have got back £70+.

Want to claim for a Tube delay or get credit from an old Oyster? This guide's about incomplete journey charges – to claim for delays and cancellations, see our Tube delays guide. And see Oyster card refunds for how to claim back credit if you have an old card.
For all the latest guides, deals and loopholes simply sign up today – it's spam-free!
Why you may be due a refund
If you use an Oyster card or contactless payment on most Transport for London (TfL) services – including the Tube, Docklands Light Railway, London Overground, Thames Clippers River Bus and National Rail services within London – you must touch in and out. If not, you'll be charged the maximum fare, usually up to £8.40 at peak times but even more for a some stations (see a full list of maximum fares).
TfL automatically takes this charge even if it wasn't your fault, for example, because of power cuts, broken machines or station evacuations.

Getting a refund takes just a few minutes, and the amounts aren't trivial:
I followed the steps and found 13 incomplete journey charges. Took me about 10 mins to claim refunds online. TfL got back to me within 3 days and refunded £72. Sweet as a nut!
- Former MSE Damon
I found two incomplete journeys from April and May on my contactless card, I couldn't believe I missed them! I asked for a refund and TfL refunded me £10 the next day. Brilliant.
- MSE Constance
For all the latest guides, deals and loopholes simply sign up today – it's spam-free!
How to claim a refund
Here's how to quickly check and get a refund online: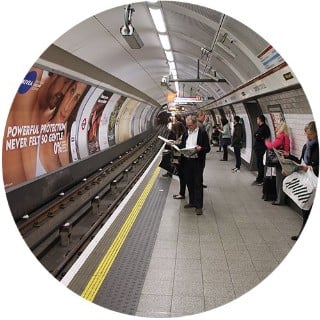 Step 1. Find your incomplete journeys

First sign into your account (or create one for free) on the TfL website to check your journey history. Link your Oyster, contactless card or the card you use for contactless mobile payment, for example, via Apple Pay, to your TfL account if you haven't already.

You should be notified of possible incomplete journeys when you sign in. If you're not, under 'My contactless cards' or 'My Oyster cards' select the relevant card/account, then 'Journey & payment history', then the 'Journey history' tab. Look for journeys with a yellow warning triangle – they're usually incomplete.
With contactless cards and contactless mobile payments you can view journeys going back 12 months, but you can only claim refunds as far back as eight weeks. With Oyster, you can go back eight weeks.
Step 2. Apply for a refund
Click a journey with a yellow triangle and it should say: "You may have been charged a maximum fare for this journey because we have no record of where you touched in/out." Just fill in the form below with your journey info and explain why you didn't touch out, then submit your claim.

The official rule is you must've failed to tap out for reasons outside your control (power cuts, broken machines or station evacuations and so on), though we've heard TfL can be lenient on this, so it may be worth a punt anyway.
Step 3. Claim for multiple incomplete journeys
The above system uses TfL's incomplete journey form, which you can only use three times every calendar month. To claim for further incomplete journeys without waiting, call TfL customer services on 0343 222 1234 (it costs the same as calling a regular 020 number).

Ask for a refund, explaining what went wrong and where you should have touched in or out.
Remember – NEVER lie. That's fraud. Currently, TfL doesn't appear to be verifying every claim (though it says it has systems to flag suspicious claims).
But never be tempted to lie or stretch the truth when making a claim, for example by saying your trip ended in Zone 2 rather than Zone 6. That's fraud and could potentially mean a prison sentence – for a similar example with train fares, see this Barrister sentenced for fare dodge BBC news story from 2015.
Incomplete journey refund Q&As
Have your say in our forum!