Airline Seating
How to sit together for free on BA, Easyjet, Virgin etc
Get Our Free Money Tips Email!
For all the latest deals, guides and loopholes - join the 12m who get it. Don't miss out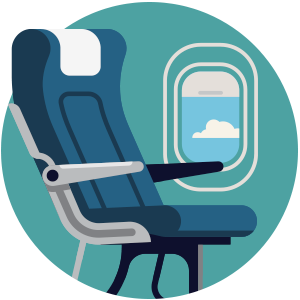 Paying extra to choose your airline seat can soon add up. A family of four could spend up to £240 to guarantee they sit together on return flights - yet unless your heart's set on particular seats, it's usually unnecessary.
While Ryanair's the worst culprit - splitting up groups who refuse to pay and forcing parents to reserve seats - even pricier airlines now often charge a fee to select a seat in advance on their lowest fares. Here we've full info on what you'll pay, your rights and how to sit together for free on a basic economy ticket.
Check in ASAP and you can (usually) sit together for FREE - airline-by-airline timings
Airlines rely on the fear factor to convince you to cough up on allocated seating - passengers worry if they don't pay they'll be split up. Yet while this does apply to Ryanair (see full help dealing with it below), it's not the general rule. Here's the key point to understand:
With most airlines, if you DON'T pay and just check in online as early as you can, you WILL get to sit with the rest of your group - so long as seats are still available
All the airlines listed below bar Ryanair told us their seat allocation systems will always try and seat groups on the same booking together. So if you check in as soon as you're able to, you should get to sit together as long as all the available seats haven't been snapped up by folks who paid to reserve. Some airlines even let you select your own seats for free at check-in.
Of course there are no guarantees - for that, you'll have to pay. But if you're willing to take a small risk to save some cash, this is a no-brainer. (Also note a few airlines will let you select a seat for free after booking, without waiting for check-in.)
To give you a headstart, we've compiled a table of when online check-in opens for 14 big airlines. Set yourself a reminder to do it as soon as you can (even if it's the middle of the night) and you can move fast to nab those empty rows.
When online check-in opens
Airline
When you can you first check in?
Will the airline sit groups together if there's space?
Can you select a specific seat for free at check-in?
Air France
30 hours before
Yes
Yes
American Airlines
24 hours before
Yes
No
British Airways
24 hours before
Yes

No if you have a basic hand baggage only fare
Yes for all other ticket types

Easyjet
30 days before
Yes
No
Emirates
48 hours before
Yes
Yes
Flybe
36 hours before
Yes
No
Jet2
28 days before
Yes
No
KLM
24-30 hours before (varies by destination)
Yes
Yes
Lufthansa
23 hours before
Yes
Yes
Norwegian
24 hours before
Yes
No
Ryanair
4 days before (1)
No - you'll be 'randomly assigned' a seat
No
Thomas Cook
24 hours before
Yes
No
TUI
24 hours before (2)
Yes
No
Virgin Atlantic
24 hours before
Yes
Yes (and if you check a bag, you can choose a seat for free even before check-in opens)
Last updated March 2018. (1) 48 hours from 13 June (remains 30 days before if you've reserved a seat) (2) 48 hours before if you've reserved a seat
... or risk waiting until the very last minute if you're a solo traveller
While as a general rule the best way to beat airline seat charges is to check-in early, if you're travelling alone and want a specific seat, sometimes it's best to use the opposite tactic.
Even if a flight is full, airlines often don't manage to sell their pricier extra legroom seats, meaning they can be the last available seats before take-off. We've heard of travellers who have checked in at the last minute and been automatically assigned the best seats, which they would have had to pay as much as £50 extra for if they'd have reserved them beforehand.
Remember this is a gamble, not a guarantee - there's always a chance the premium seats will be sold and you'll be left with a dreaded middle seat. But if you're feeling lucky, this is a risk that can pay off.
Get Our Free Money Tips Email!
For all the latest MoneySaving travel tips, join the 13m who get it. Don't miss out
Travelling with the family? The kids ARE usually guaranteed a seat next to at least one adult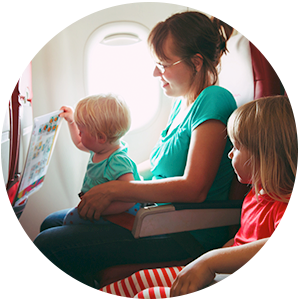 Most parents will consider sitting next to their children to be non-negotiable - even if it doesn't make for a relaxing flight. So airline seat charges can be a particular issue for families worried about being split up. We've campaigned on this before highlighting the so-called 'family tax'.
The Civil Aviation Authority (CAA), which is the aviation regulator, says airlines should "aim to sit parents close to children" - if this isn't possible, they should not be separated by more than one aisle or more than one seat row. It also says parents should not have to pay to avoid a situation where their child is seated in a different part of the aircraft.
However these are guidelines, not firm rules, so it's not set in stone. The CAA is currently conducting an investigation into allocated seating which will look at this.
In practice, most airlines guarantee that children WILL get to sit next to at least one adult in the party, even if you don't pay and forget to check in early. Here's what they've told us their policies are:
British Airways, Thomas Cook, TUI and Virgin Atlantic all guarantee that children under 12 will be seated with at least one adult from their booking - although the rest of the group might be split up. British Airways also lets you choose your seat for free if you're travelling with a child under 2. TUI warns children may be seated behind their parents, or be separated from them by an aisle.
American Airlines guarantees children under 14 will be seated with at least one adult from their booking.
Air France and KLM say families with children under 12 will automatically be allocated seats next to each other.
Flybe, Jet2 and Norwegian say their systems always try to seat children with adults from their booking, though they can't guarantee it. Easyjet says its algorithm places families together "99% of the time" and staff will ask other passengers to move to accommodate them if they are separated.
With Ryanair though, as ever, the rules are different. The good news is that children under 12 are guaranteed to sit with at least one adult in their party. The bad news is this is because at least one adult travelling with a group of under-12s MUST pay for seat selection. See more on Ryanair's rules below.
With Ryanair the rules are different - if you don't pay, you WILL almost certainly be split up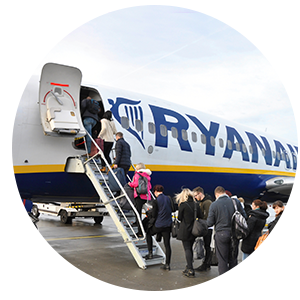 Ryanair's notorious for its seating policy, which infuriates many passengers. Since last summer it's been 'randomly' allocating seats for those who don't pay for a seat - and as a result it's become nigh-on impossible for groups to sit together without reserving seats.
An extreme example of this came last June when MSE revealed that 15 members of a hen party on a flight to Ibiza were seated in 15 separate rows - with every single person in a middle seat. Ryanair insisted then, as it has ever since, that seats for those who choose not to pay are "randomly allocated".
Ryanair's just doubled the cost of its cheapest standard seat reservation from £2 to £4, and unfortunately there's no sure-fire way of avoiding this - if you want to have a decent shot of sitting together, you'll have to pay.
Travelling with kids? One adult at least MUST pay
If you're travelling with children under 12, it's compulsory for at least one adult in the group to pay for a seat reservation. You can then reserve seats for free for up to four children.
If there's more than one adult in your group, the other adults don't have to reserve a seat - but they'll be seated elsewhere if they don't.
You MIGHT be allowed to swap seats before take-off
If you don't pay and are sat apart from your group, there is an outside chance you might get lucky and be allowed to swap seats.
Ryanair is very clear this isn't officially encouraged. It says: "For reasons of weight, balance and safety, and to prevent delays during boarding, we advise all customers to sit in the seats they have been allocated. Since all of our seats are allocated, the issue of swapping seats simply doesn't arise."
Yet on a recent trip to Budapest, MSE Callum found he WAS able to swap before take-off on both of his Ryanair flights.
My girlfriend and I didn't pay for seats so were sat rows apart on both flights - but on both flights we were allowed to switch seats and ended up sitting together.

On the flight out there were some empty seats and the air hostess let us move before take-off. And while the flight back was completely full, they made an announcement just before take off giving passengers five minutes to switch seats with anyone who was willing to swap.
For more ways to beat Ryanair's extra charges, see our 20 Ryanair Tips.
If you're disabled, you'll usually be allocated or allowed to select a seat for free
If you have a disability or reduced mobility, have difficulty with communication or social interaction or are elderly you have a legal right to special assistance when you travel. This applies on any flights out of the UK or anywhere else in the EU, or if you're flying to an airport in the EU (including the UK) on an EU airline.
If you think you need special assistance, you can self-declare your disability. The CAA told us that while airlines can challenge your claim that you need special assistance, this very rarely happens.
While there aren't specific rules on seating reservations, the airline does have a duty to make reasonable adjustments for you, so they should help you if you have special seating requirements due to a disability.
Crucially, you need to contact your airline in advance to tell it about your requirements. This should be done as early as possible, and no later than 48 hours before you travel.
Here are some of the big airlines' policies are - see the Civil Aviation Authority website for more info:
British Airways, Thomas Cook and Virgin Atlantic will allow you to select a seat free of charge.
Easyjet, Emirates, Flybe, Norwegian, Jet2 and Ryanair say you'll be allocated a suitable seat free of charge.
Air France says you'll be able to select a standard seat free of charge if you are able to walk onto the plane, and if you're a wheelchair user an appropriate seat will be allocated for you.
American Airlines and TUI refused to tell us what their policy was and instead said you'll need to call up to discuss your needs.
Importantly, all of the above airlines say you will also be able to have a companion sit next to you - and again this is free of charge.
If you have a disability, there may be some seats you can't sit in, for example next to an emergency exit.
Special fares and add-ons can include 'free' seating - but check carefully if it's worth it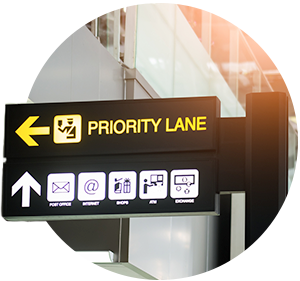 Gone are the days when you flew either economy, business or first class. Now airlines offer a whole range of tickets with different perks and different price tags - some of which include a 'free' choice of seat.
You can also sometimes get 'free' seats if you add extras after you've bought your ticket. For example, Ryanair's Family Plus package includes extra baggage, a reduced infant fee and free seats for kids.
Always do the maths - the savings may not add up
While a ticket or add-on with perks may sound good, you should always do the sums to work out if the perks you'll use would actually be cheaper bought separately.
For example, Ryanair claims you can save 15% on extras by selecting its business fare, which includes a checked bag, seat reservation and Priority Boarding and costs an extra £32.99. Yet this saving is based on you using ALL the extras - if for example you only really want to check a bag (£25) and choose a seat (£4), it works out cheaper to buy these separately.
On the other hand, a better ticket or add-on can sometimes be worth it. For example, when we checked off-season Norwegian Air flights from London Gatwick to Alicante, we found you could upgrade from a LowFare to LowFare+ ticket (which gets you a checked bag and seat reservation) for £23.
Given simply checking a bag on the same route would also cost £23, if you were planning to check a bag anyway this would have essentially been a neat way of getting a seat reservation thrown in for free.
Get Our Free Money Tips Email!
For all the latest MoneySaving travel tips, join the 13m who get it. Don't miss out
A few airlines will let you select a seat for free as soon as you book
While much of this guide is about beating airlines' extra charges, it's worth noting they don't ALL play hardball.
In fact, a couple of long-haul carriers will actually let economy passengers select a seat for free as soon as they book - so you can get it sorted straight away and don't need to wait for check-in to open. We found that Japan Airlines and Qatar Airways do this - if you come across others, let us know in the Airline seating forum thread.

Virgin Atlantic offers a similar service to any passengers who check in hold luggage - if you do that you can select a standard seat for free at any time (on bookings made after 17th March 2018). And British Airways will allow passengers who check in a hold bag to select a seat for free once check-in's opened (while hand luggage-only passengers will have seats allocated for them).
Charm check-in staff for hidden upgrades
While there are no guarantees, there's never any harm in turning on the charm at the airport and asking if there are any premium seats going spare. Airlines rarely publicise these opportunities, but you might get lucky and score a free upgrade.

We asked British Airways if this happens and it told us: "Customers are welcome to ask our colleagues at check-in if any extra legroom seats are still available."
If you've already paid for standard seat reservations, we've also heard of travellers who have bagged a free upgrade to a premium seat simply by phoning up when check-in opens and asking if there are any preferred seats still available. If you've had luck doing this, let us know in the Airline seating forum thread.
See more ways to bag yourself a flight upgrade. For 20+ tips including why you should dress to impress and how to pick the right flight to maximise your chances, see our How to get a flight upgrade guide.

Beware - you could pay up to £30 each way to reserve a standard seat (and prices are going up)
And finally, here's a reminder of why all the above is so important...
The cost of paying to choose your seat is, er, soaring. Ryanair's just doubled its fee for booking a standard seat from £2 to £4, while with Easyjet you could now pay £29.99 to reserve a seat with extra legroom, up from a maximum of £16.99 in 2016.
The table below shows how much you'll pay to reserve a seat at the point of booking if you're travelling on a standard economy ticket, and how that price differs for standard seats, 'preferred' or 'premium' seats - for example, those nearer the front of the plan or in rows of two - and seats with extra legroom.
Some airlines are tight-lipped on exact prices, and won't give full info, and prices can vary depending on the destination and when you're travelling. It may also cost more to add seating after you've booked or at the airport (some airlines won't let you reserve seats at the airport at all - always check to avoid being caught out).
Price of a standard economy seat reservation, per flight
Airline
Standard seat price
'Preferred' seat price (1)
Extra legroom seat price
Air France
£9-£18
£26 for twin seats or seats near the front
£9-£60
American Airlines
n/a
From £20
From £20
British Airways
From £7 (short-haul)
From £20 (long-haul)
From £30 for twin seats
From £50
easyJet
£1.99-£4.99
£9.49-£21.49 to sit near the front (2)
£12.99-£29.99 for a front row seat (2)
Emirates
£10-£25

£18-£57 for Preferred seating
£25-£95 for a twin seat

£40-£145
Flybe
From £6.50
n/a
From £15
Jet2
From £5.50
n/a
From £12
Lufthansa
£9-£22
n/a
£22-£44
Ryanair
From £4
From £13 for a seat near the front
From £15 for extra legroom in first row
Thomas Cook
From £13
n/a
From £20
TUI
£6-£13
£18-£40 for a 'Comfort Seat'
£18-£35 for an 'XL' seat
Virgin Atlantic
£30
n/a
From £50 for a front row seat
Prices correct as of March 2018, for seats booked online when flight is first booked. (1) Options vary between airlines, but this often includes rows near the front. Passengers in these seats will be the first to disembark and often get extra legroom. Some airlines also let you pay extra to sit in a row of two ('twin seats'). (2) Selecting these seats will also get you Speedy Boarding and an extra cabin bag
Get Our Free Money Tips Email!
For all the latest MoneySaving travel tips, join the 13m who get it. Don't miss out