If you click a link with an * to go through to a provider, we may get paid. This usually only happens if you get a product from it. This is what funds our team of journalists, and keeps us free to use. Yet there are two crucial things you need to know about this.
This never impacts our editorial recommendations – if it's in, it's in there because we independently rate it best.
You'll always get as good a deal (or better) than if you went direct.
For a more detailed explanation see How MSE is financed.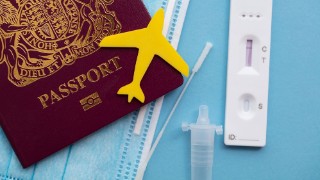 Find the cheapest Covid tests
Whether for overseas travel, or simply peace of mind
Whether you need a rapid antigen or PCR test for an upcoming holiday, or you're no longer eligible for free NHS tests to use at home, we've rounded up the cheapest private options here.
This is a controversial market where firms don't always advertise true prices. We've checked reviews and price accuracy (as much as we can). There are no certainties, so always do your own checks – please give feedback on firms, and let us know if you find a cheaper price. We've focused on mass-market providers – you may be able to find a cheaper local test, but again, always do your checks.

Non-travel tests: Cheapest private rapid antigen (lateral flow) tests
Many are no longer eligible for free tests from the NHS, though it depends on where you live, as well as a few other factors:
In England, you can no longer order free Covid tests via the NHS, even if you have symptoms. A small number of people are still eligible for free tests however, such as those with certain health conditions or those working in the NHS. See the NHS website for full details.


In Scotland and Wales, you can only order a test under certain circumstances, such as if you have Covid symptoms or have been in close contact with someone who's tested positive. See the NHS Scotland website and Welsh Government website for full details.


In Northern Ireland, you can still get free tests to check whether you have the virus, even if you don't have symptoms. See the NI Direct website for full details.
If you're no longer eligible for free Covid tests via the NHS, but still want to take a test for peace of mind, you'll need to pay for a private test. These start at £1.95 for a single rapid antigen test, but can be slightly cheaper if you buy in bulk. We've listed some of the cheapest providers below.
Important - these tests are not suitable for travel. If you're travelling to a country that requires you to take a test, see travel test prices below.
For all the latest guides, deals and loopholes simply sign up today – it's spam-free!
Tests for travel: Cheap 'fit to fly' PCR or rapid antigen tests (if your destination requires it)
Some countries require proof of a negative Covid test before they'll let you in, and may accept a PCR or rapid antigen test – for both, always check the standard your destination country requires (importantly, some don't accept home testing kits and require the test to be supervised).
If you have a choice, rapid antigen tests are cheaper and you'll get the results quicker. For each country's requirements, see the Government's foreign travel advice.
You may have a small window from taking the test to departing (for some countries it's just 24-48 hours), so speed is key. But you'll often pay more for faster results.
Bear the following in mind when ordering tests for travel:
Even if you're still eligible for free tests via the NHS, you're not allowed to use these for travel purposes. You'll have to pay for any required tests.

If you see the terms 'rapid antigen' and 'lateral flow', they're the same type of test. In this guide, we use the term rapid antigen test.

Not all PCR or rapid antigen tests meet the same standards. So check the requirements of the country you're travelling to, and make sure you're taking the right test.

There are many private tests now available for those wanting peace of mind, which say they're NOT suitable for travel – always check before you buy.

Many private test providers have dropped their prices since we first wrote this guide, so while we do our best to keep the tables below up to date, it's well worth doing price comparisons before you order a test.

Check reviews online (Trustpilot is a good starting point), as some cheaper providers have struggled with the sheer number of tests ordered, and earlier in the year there were reports of delays.

While we've checked reviews, we can't vouch for service, so doing your own research before buying is a very good idea.

It's worth checking whether your travel provider offers flexibility if your test results are delayed. For example, Jet2 says you can change your booking for free if this happens.

The turnaround time for getting your test result is generally quicker when done at a clinic, but you may pay more for this. Home testing is riskiest for speed as there's extra time needed for posting or dropping off your sample and it getting to the lab.

We've scoured lots of test prices and found they're often cheapest via airlines and tour operators where they've negotiated discounts with private providers, but you need to be travelling with them to get the deals. For example, British Airways and Easyjet told us these deals should be used by their customers only.


If you're booking travel tests, you may want to wait until closer to your trip. There's a risk if you book too early, the rules might change in the country you're visiting. For example, they might scrap tests for arrivals, as the UK has done.

Of course for home testing kits, you've got to factor in delivery times, so be careful you don't book too late.

It's also worth checking the cancellation policy of providers before you book, in case the rules do change. The Department of Health and Social Care told us it was up to individual providers to set refund policies around changes to travel rules.
Cheap PCR 'fit to fly' tests for UK departures
If you need a PCR test, we've two tables - quicker but more expensive tests done at clinics, or scroll down for tests you can do at home...
Need a rapid antigen (lateral flow) test to travel? Jump down to see your options
LOCATION/PROVIDER
COST

RESULT TURNAROUND

Liverpool One and London Waterloo station via Randox Health

£55

By 11.59pm the day after

£65

By 11.59pm the same day

£80

Within 1-3 hours

London (O2 Arena and St Pancras station) via Collinson

£55.20 for Amex cardholders via code AMEX20

Within 48 hours

£69 full price

Belfast, Dartford, Gateshead, London via Express Test*

£59

By 10pm the day after

Bristol, Manchester, Oxford via Express Test*

£69

By 10pm the day after

Boots stores* around the country (see full list)

£79

Within 48 hours

Aberdeen, Burnley, Cardiff, Glasgow, Hatfield, Leeds, London, Northampton, Reading, Southampton via Express Test*

£80

By 10pm the day after
Cheap rapid antigen 'fit to fly' tests for UK departures
If choosing between home testing or going to a clinic, in this case at-home testing can be quicker, providing you order the test in plenty of time – you'll get immediate results and some could have it verified within 30 minutes, but you should check first. We've ordered the tables below by price, with the cheapest at-home tests first, though it's important to note not all countries accept home tests.
LOCATION/PROVIDER

COST

RESULT TURNAROUND

Gatwick via Express Test*
£33 via code LGWBTT2
Within 40 minutes
Glasgow, East Midlands Airport, Liverpool, London, Manchester Airport via Randox Health
£35
Within 60 minutes
Belfast, Birmingham Airport, Heathrow via Express Test*
£35
Within 40 minutes
East Midlands, Gatwick, Heathrow, Luton, Manchester, Stansted, London via Collinson
£32 via discount codes
Within 45-60 minutes

£40 full price

Aberdeen, Bristol, Burnley, Cardiff, Edinburgh Airport, Glasgow, Leeds and more via Express Test*

£50

Within 40 minutes
For all the latest guides, deals and loopholes simply sign up today – it's spam-free!