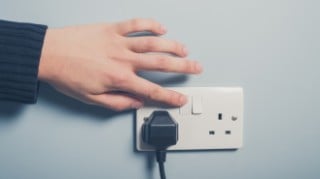 Energy mythbusting
Spend less on gas and electricity
The energy market is in crisis - even after the Government's intervention to lower unit rates on gas and electricity. Using less is one of the only ways to save right now, and there are obvious ways to do this, such as wearing jumpers and turning lights off. But this guide aims to crack the less-obvious energy conundrums, including whether it's cheaper to keep your heating on low all day, and whether painting your radiators black can help.
This guide focuses on some grey areas and a lot of disputed claims around saving energy – if you want help with the simpler stuff, such as turning your thermostat down and cutting shower time, our Energy Saving Tips guide looks at these.

For all the latest guides, deals and loopholes simply sign up today – it's spam-free!
Energy-saving tips 'n' tricks (and how we've answered 'em)
We've answered the questions we can below, but as we are experts on MoneySaving, not the intricate science behind using less energy, on the more techy questions we've sought advice from the specialists at the Energy Saving Trust, and consulted other experts – including British Gas and an independent plumber – while also finding out what MoneySavers on Facebook, Twitter and the MSE Forum have to say.
As is often the case in the world of science, not everyone agrees on every point so there isn't always a definitive answer, but these tips will at least help you make an informed decision.
Here are the key questions you asked, with their answers below.
This is a hotly debated one. According to experts at the Energy Saving Trust, the idea it's cheaper to leave the heating on low all day is a myth. They're clear that having the heating on only when you need it is, in the long run, the best way to save energy, and therefore money. (A timer's best as your thermostat turns your heating on and off to keep your home at the temperature you set.)

The key thing to understand here is that it's all about the total amount of energy required to heat your home.

It's a given that a certain amount of energy is constantly leaking out of your home (how much will depend on how good your insulation is). The Energy Saving Trust says if you're keeping the heating on all day you're losing energy all day, so it's better to heat your home only when you need it.

However, it's not quite that clear-cut. Some specialists disagree – and argue you should keep the heating on constantly for an entirely different reason.

They advocate keeping the heating on low all day, turning all radiator valves up to the max and the boiler down to the minimum, and say the problem with turning the heating on and off is that every time it's turned off, condensation collects within the walls. This condensation can help conduct heat outside the home, they say – meaning you leak heat more quickly and so will use more energy as a result.

MSE Forum feedback: Some complain only having the heating on when required risks you being cold, as it takes time to heat up homes. That may be true, but this is a MoneySaving site, so we're focused on cost. As a balance, you could switch the timer on a little earlier, so the house will be warm when needed, but you're not pumping out energy all day.
For all the latest guides, deals and loopholes simply sign up today – it's spam-free!
Have your say in our forum!