Cheap Northern Ireland Electricity
Compare now to save
Get Our Free Money Tips Email!
For all the latest deals, guides and loopholes - join the 12m who get it. Don't miss out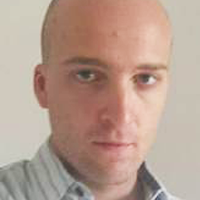 Updated Monthly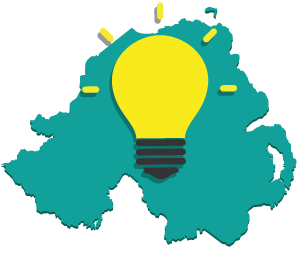 If you live in Northern Ireland and want to switch to a cheaper energy deal, you've fewer options than the rest of the UK. But moving to a different electricity tariff – even with the same firm – could save you £100+/year.
This guide explains how energy switching in Northern Ireland works, plus which grants and freebies are available.
In this guide
You CAN switch and save on electricity in Northern Ireland
About 800,000 households use electricity in Northern Ireland, with just over half on a standard credit meter and the rest on prepay (ie, topping up with a key or card).
Unlike in England, Wales and Scotland, where you can choose from over 60 different energy suppliers and many different deals, in Northern Ireland there are just five domestic electricity firms.
But even though there are few options to choose from, it's well worth checking if you can save by switching. Based on typical use some can save £100+/year switching from the most expensive tariff to the cheapest.
Watch out for security deposits if switching provider. If you're on a credit meter, move firm and choose not to pay by direct debit, most suppliers require a hefty £150-£200 security deposit.
You'll usually get this back after 12 months or when you leave your supplier – whichever's earlier – provided your account has been paid off fully and on time, but it does add to initial costs. See full security deposit info below.
Switch without switching – you can often save even with the same firm
While it's always worth checking if you can save by switching to a different electricity supplier, in Northern Ireland the biggest savings can often be made by switching to your current provider's cheapest tariff, or even staying on the same tariff and simply changing how you pay.
Three suppliers – Budget Energy, SSE Airtricity and Power NI – offer 'online' and 'offline' versions of their tariffs, while Electric Ireland offers an online billing bonus. Being on an online tariff can be much cheaper, though you'll need to receive your bills by email and pay by direct debit.
How to find and switch to a cheaper electricity deal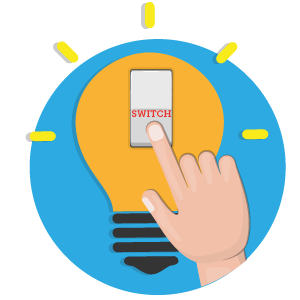 Five different firms provide electricity in Northern Ireland. How much you can save depends on whether you're on a credit meter or prepay, plus where you are and your usage.
It's worth noting customer service data isn't widely available yet for all suppliers in Northern Ireland. In the most recent Which? energy customer-service poll, which looks at overall satisfaction, Electric Ireland received a score of 80%, Power NI scored 66% and SSE Airtricity got 53%.
Compare to find YOUR cheapest price
To find YOUR cheapest deal you need to do a comparison. Unlike in the rest of the UK, in Northern Ireland comparison tools only show you what tariffs are available and how much you can potentially save based on the info you provide – they can't complete the switch for you, so you have to contact the supplier directly.
To compare, you can use the Consumer Council for Northern Ireland's tool. It's free and offers a full market comparison – the Consumer Council is an independent organisation with a legal responsibility to protect consumers' interests.
Alternatively you can try the Power to Switch or Enirgy.info tools. They're free and do a full market comparison – as far as we can tell there's little to choose between them.
How much can you save?
While you'll need to do a full comparison to see exactly how much you can save, here's how the cheapest typical deals on credit meters compare with standard tariffs.
Credit meter electricity tariffs by provider (based on typical use)
Supplier
Cheapest tariff
Cheapest rate (cost/year) (1)
Standard tariff (cost/year)
Budget Energy
Freedom Tariff
£462
£544
Click Energy
Bill Pay 24
£520
£520
Electric Ireland
24 Hour Standard
£488 (1)
£488
Power NI
Energy Online Direct Debit – Monthly

£490

£521
SSE Airtricity
1 Year Home Electricity 20%  – direct debit & e-bill
£424
£531

Tariffs correct as of 26 April 2018. Based on typical usage of 3,200 kilowatt hours (kWh)/year, incl VAT. If you choose not to pay by direct debit, all suppliers apart from Power NI require a £150-£200 security deposit. (1) Comes with a £40 switching bonus.
Unlike in England, Wales and Scotland, prepay users in Northern Ireland don't typically pay much more, so it's not necessarily worth switching to a credit meter (though you can – see how below). Here's how the cheapest prepay deals stack up:
Prepay electricity tariffs by provider (based on typical use)
Supplier
Cheapest tariff
Cheapest rate (cost/year)
Standard tariff (cost/year)
Budget Energy
Standard 24hr Budget Bonus
£533 (1)
£533
Click Energy
Keypad 24h
£520
£520
Electric Ireland
Keypad 24 Hour Standard
£504 (2)
£504
Power NI
Keypad Discount (1)
£508
£521
SSE Airtricity
Keypad Home Energy
£499
£531

Tariffs correct as of 26 April 2018. Based on typical usage of 3,200 kWh/year, incl VAT. Source:

The Consumer Council

. (1) £50 free credit. (2) Comes with £20 free credit.
How to switch to a cheaper deal
Once you've found a cheaper deal, actually switching is straightforward, and there'll be no break in supply. The precise process depends on what kind of switch you're making:
Switching to a different supplier? Contact the supplier you wish to switch to – you can call to switch or do it via its website. It'll sort out all the techy bits (and tell your current supplier you're leaving), then let you know when the switch is completed.

You'll need your meter point reference number if you've a credit meter or your keypad premise number if you use prepay – which can be found on your latest bill. There's a 10-working-day cooling-off period after you've started the switch, and after that you should be all switched over within a further 15 working days.

Switching to a different tariff with the same supplier? Most allow you to apply to move to a new tariff online, or you can do it over the phone – you shouldn't need your meter point reference number or keypad premise number, unless changing meters. As you're already a customer, there's no cooling-off period, and the switch should be quicker.

Changing the way you pay? If you're on a credit meter and want to stick to your current tariff and simply change the way you pay – which can still result in significant savings – simply call your current supplier or do it via its website.
Quick questions
What if I change my mind?
If you change your mind after agreeing to switch supplier, or find a cheaper deal elsewhere, you have a 10-working-day 'cooling-off' period in which you can cancel the switch.
The 10-day period usually starts from the date you sign the agreement, accept the contract over the phone or send an online application form.
If you're just switching tariff with your current provider, you should be able to switch back just as easily – but make sure the supplier won't charge you exit fees before you do.
Changing your payment method back should also be straightforward – although be careful: you may lose certain discounts with particular ways of paying.
Can I change my meter?
You can change from a credit meter to a prepay meter, and it should always be free of charge – just contact your supplier.
If you want to switch from prepay to a credit meter, it depends on your energy provider – it may offer it to you for free, while others may charge a security deposit. Check with your supplier first.
Can I switch if I'm renting?
If you rent your property, and pay an energy provider directly for electricity, you should be able to switch supplier. This is because you have a contract directly with the supplier, so you shouldn't need to get permission from your landlord to switch, though it is a good idea to let them know.
It may be worth checking your tenancy agreement as well. It may say the landlord has a preferred supplier, so you'll have to let he or she know before switching, and you may have to switch back to the preferred supplier at the end of your tenancy.
Of course, even if you can't switch supplier, you should be able to switch to a cheaper tariff with the same provider or change the way you pay to save.
If you pay your landlord for electricity, you may not be able to switch. If you think you're paying too much, it could be worth talking to your landlord – they're not allowed to charge you more for energy than the supplier is charging them. The landlord may also agree to switch if it saves money.
Can I switch supplier if I'm in debt with my current firm?
All electricity suppliers allow customers to switch even if they're in debt, although whether or not you will be allowed to switch depends on how long you've been in debt for. This varies between suppliers.
If you've less than £100 debt, though, you should be able to switch, according to the code of practice for suppliers set out by the Utility Regulator.
Will I have to pay a standing charge?
A standing charge is what you pay to have a gas and electricity supply, and on top of this you pay usage charges. Standing charges are very common in the rest of the UK, but in Northern Ireland standard credit and prepay contracts don't have any standing charges.
However if you are on a time-of-use tariff, such as Economy 7, most suppliers apply a standing charge, in addition to your day and night rate.
Will I be charged a security deposit?
Many suppliers in Northern Ireland can charge security deposits, ranging from £150 to £200, in certain circumstances. These are mainly used for customers with credit meters who don't want to pay by direct debit – according to the suppliers, this is because you'll be paying for energy in arrears.
Below is a list of what each supplier charges:
Budget Energy – £150 security deposit if you choose not to pay by direct debit.

Click Energy – £150 security deposit if you choose not to pay by direct debit.

Electric Ireland – £150 security deposit if you choose not to pay by direct debit.

Power NI – No security deposit, regardless of how you pay.

SSE Airtricity – £125 security deposit if you choose not to pay by direct debit.
All suppliers say they can charge a security deposit if you fail a credit check, if you fail to pay or if you're late paying any money due.
Most suppliers return the security deposit to your account after 12 months, provided accounts have been paid off fully and on time. You can avoid security deposits, for all suppliers, by paying by monthly direct debit or choosing a prepayment tariff.
What if my energy supplier goes bust?
According to the Utility Regulator, if a supplier goes bust, or exits the market, their customers will automatically transfer to Power NI, with no loss of service, in a process called 'supplier of last resort'. This is what happened in December 2016 when Open Electric lost its licence.
Power NI has been chosen as the 'supplier of last resort', as it was previously the only supplier on the market, before it was opened up for competition. The firm is still regulated on prices.
If your supplier does go bust, you'll be placed on Power NI's standard tariff, but are free to switch if you find a better deal elsewhere.
If you're in credit when your provider goes bust, the Utility Regulator says you'll keep it if you're on prepay. If you've a credit meter, it's not as clear. When Open Electric lost its licence, the regulator said it was hoping customers would get their credit back – it's now consulting on what to do should another supplier fail.
You CAN'T save by switching gas
While savings can be made on electricity, unfortunately you can't save by switching gas.
There are only two gas suppliers in the Greater Belfast area – Firmus Energy and SSE Airtricity. Each offers a single tariff – and at the moment there's no difference in price between them.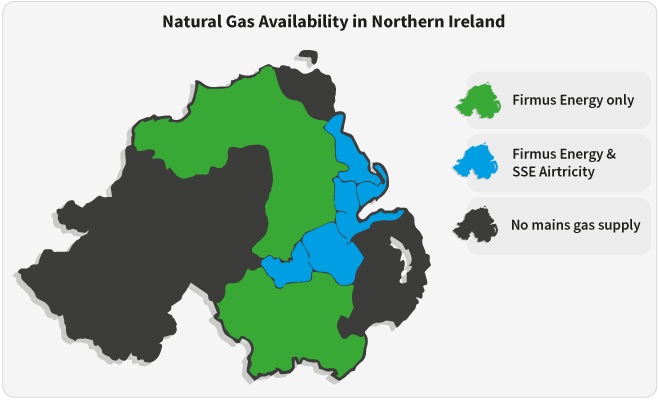 In the Ten Towns area – which includes Londonderry/Derry, Limavady, Ballymena, Ballymoney, Coleraine, Portstewart, Newry, Craigavon, Antrim, Banbridge and Armagh – gas is only supplied by Firmus Energy, so you've no alternative.
If you're not in the Ten Towns or Greater Belfast areas, it's likely you don't have the option to connect to the gas supply – only around 30% of homes are connected.
As there are minimal savings to be made by switching gas, the best thing to do is cut down on usage to save. For tips on saving energy, from putting cling film on windows to making your own sausage-dog draft excluders, see our Insulation and Boilers guide.
There's also little difference in what you'll pay between prepay and credit meters – on average prepay is around £5/year cheaper – which means you generally can't save much switching between the two.
Quick questions
How do I switch gas (even if I can't save by doing so)?
If you live in the Greater Belfast area, you are able to switch gas suppliers, unlike those in the Ten Towns area, who can only receive gas from Firmus.
While switching at the moment might not save you money, if you do change supplier, the process is largely the same as for electricity. You have the same rights, including the 10-working-day cooling-off period, and the same guarantee that the switch will be completed within 15 working days after the cooling-off period.
I'm in debt – can I still switch gas?
For gas, if you've debts of over £100 and haven't paid your bill for more than 28 days, the new supplier is able to transfer the debt from the old supplier if you agree repayment terms. You can pay this by direct debit or via prepayment meter. The new supplier will also allow you to switch if you clear the debt within three working days before you switch.
If you owe less than £100, you can still switch supplier – if you're on a prepay meter you'll simply pay off your debt to the new supplier through the meter, while if you're on a credit meter the debt will be added to your account and you'll need to agree repayment terms.
Haggle or swap supplier to save on heating oil
Heating oil is the most popular heating fuel in Northern Ireland – around 68% of households use oil rather than gas. Using and buying heating oil in Northern Ireland works in much the same way as it does in the rest of the UK. For full help, including brokers and comparison sites, see our Cheap Heating Oil guide.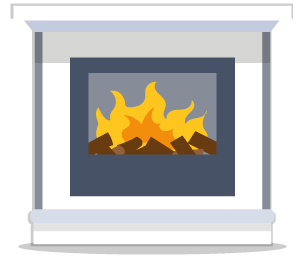 The heating oil market in Northern Ireland is not regulated. However the Consumer Council, along with the Northern Ireland Oil Federation (NIOF), has developed a 'customer charter' that sets out minimum standards of service for consumers. To find a distributor that follows this charter in your area, check the NIOF's directory.
When buying heating oil, it's worth trying a few different suppliers and haggling to find the best available price. Prices are typically quoted per litre for 300 litres, 500 litres and 900 litres, and the more you buy, the cheaper per litre it will be. Be aware though, that the price of heating oil is likely to go up in winter due to higher demand.
Here's an idea of what you're likely to pay, according to the Consumer Council.
Typical heating oil prices
300 litres
500 litres
900 litres
Average
£167
£254
£440
Cheapest
£151
£232
£408
Most Expensive
£188
£271
£461
Quick question
Can I switch from heating oil to gas?
If you're in an area that can be connected to gas, you can contact your area's network owner – for Greater Belfast it's Phoenix Natural Gas; for the Ten Towns areas it's Firmus Energy. It should be free, but you'll need to pay for a new gas boiler and any internal plumbing and radiators that may be needed. Check with your local gas network operator to see if switching is right for you:
Firmus Energy – call 0800 032 4567 or check its website and enter your postcode to see if it can connect you.

Phoenix Natural Gas – call 03454 55 55 55 or head over to its website to check if you can be connected.
If you do connect your home, ensure you pick an installer that is a 'Gas Safe registered installation' company. Phoenix and Firmus maintain a list of such suppliers, or you can find a registered installer for your area on the Gas Safe directory. These installers have all demonstrated that they meet certain standards.
Once you've been connected, you can get your gas supplied by either Firmus Energy or SSE Airtricity, depending on where you live. Phoenix is a network operator and doesn't supply domestic properties.
Energy efficiency grants and discounts
Energy efficiency can help cut bills massively. There are various schemes on offer from suppliers and the Government – depending on your circumstances, you could get anything from a new boiler to better insulation, or a raft of other improvements.
Here are some of the main grants and offers available:
Affordable Warmth Grant. If your annual household income is less than £20,000, you could be eligible for a grant to install a range of improvements, from insulation to heating systems and controls, and even a full conversion from heating oil to gas heating. You can find out more on the NIdirect website, or check you're eligible for a grant by calling it on 0300 200 7874.

Boiler Replacement Scheme. This is open to everyone in non-rented households, with a total annual income of £40,000 or less and who has a boiler that is at least 15 years old. If you're eligible, you can get a grant of up to £1,000 to help pay for a condensing oil or gas boiler, to switch from heating oil to gas, or to switch to a wood pellet boiler. Find out more on the NIdirect website, or check you're eligible by calling it on 0344 892 0900 or register by email.

Energy supplier grants. There is around £7 million in grants available from energy companies. The Northern Ireland Sustainable Energy Programme provides grants for a range of installations, including insulation, heating and efficient lighting. The grants are mainly aimed at low-income households, but each scheme has its own set of qualifying criteria, so check with the Northern Ireland Housing Executive for what schemes are running and how to apply. The programme has recently been extended - it is now set to end March 2019.
How to complain if things go wrong
First complain to your supplier. According to Northern Ireland's code of practice for the energy market, suppliers are required to resolve complaints within three months. We've listed the contact details for each supplier below.
Supplier contact details
Supplier
Phone
Opening hours
Budget Energy
0800 012 1177
Mon to Fri: 8am-9pm, Sat: 11am-3pm
Click Energy
0800 107 0732
Mon to Fri: 8am-8pm, Sat: 9am-4pm
Electric Ireland
0345 600 5335
Mon to Sat: 8:30am-7pm
Firmus Energy
0800 032 4567
Mon to Fri: 9am-5pm
Power NI
0345 745 5455
Mon to Fri: 8am-7pm
SSE Airtricity
0345 601 9093
Mon to Fri: 8am-8pm
You can try calling your supplier initially – though if you get nowhere, try sending a formal email or letter. If the provider doesn't resolve the complaint, or you're not happy with the response, raise it with the Consumer Council – it has legal powers to act on your behalf and investigate your complaint.
While the Consumer Council isn't an ombudsman and can't make a ruling on your complaint, it can advocate on your behalf and work with the supplier to help reach a resolution. Electricity companies are required to respond to the Consumer Council within 10 days – so you should hear back shortly after this.
If that doesn't work, or the Consumer Council was unable to deal with your issue to your satisfaction, you may be able to refer your complaint to the Utility Regulator. The regulator can investigate the dispute and issue binding decisions on each complaint.
We'd usually suggest the free Resolver tool for help managing your complaint against energy companies, however it currently doesn't work with Northern Ireland services – we'll let you know if that changes.