Fibre to the premises (FTTP) broadband explained
How to get FTTP and how to find the cheapest deals
More than 12 million households can get what's known as fibre to the premises (FTTP) broadband, which is touted as more reliable than standard fibre and can offer speeds 30 times faster. We take a look at what FTTP is, if you can get it and how to switch and save.
What is fibre to the premises (FTTP) broadband?

Fibre to the premises (FTTP), also known as ultrafast full fibre broadband, involves laying fibre optic cables directly from the broadband exchange right into your home. It can offer speeds of up to 1,000Mb (megabits per second) – around 30 times faster than standard fibre.
It's available to 48% of households right now, with a target of reaching around 85% of households by December 2026.
Currently most homes are still connected via what's known as fibre to the cabinet (FTTC), which involves running fibre cables from the exchange to a box on the street, with copper wires connecting your home to the box. This offers speeds of up to 80Mb and is available to 97% of UK homes.
The slowest speeds of around 10Mb come from ADSL, which is available to 98% of homes, and only uses copper wires.
See how it works below, and our Broadband Unbundled tool for the top deals across all speeds.

FTTP isn't the only way to get ultrafast broadband. Virgin Media also offers similar speeds. It's not technically FTTP as the cable running from the box into your home is what's known as a 'coaxial' cable (which is mostly made of copper, not fibre). You can get speeds of up to 1,000Mbps, but it's only available to 55% of households – enter your postcode into our Broadband Unbundled tool and it'll let you know if you can get it.

There's also a technology known as G.Fast. It's still FTTC broadband, but it provides a boost which allows speeds of around 100-200Mbps. It's only available to just under three million households though. If you can get it, you should see the faster packages when you do a broadband comparison.

Another way to get ultrafast speeds of around 400Mbps is if you live in a 5G area and have a 5G phone and Sim. You can use this to tether, which essentially means your computer piggybacks off your 5G mobile signal. See our 5G guide for more.

As FTTP continues to be rolled out, Openreach (which installs and maintains the majority of the network) will also look to switch off the old copper network as it'll become too expensive for it to manage. But it won't do this straightaway.

It'll only look to switch off copper in areas where there's at least 75% coverage of FTTP. If you live in an area where Openreach is looking to switch off the copper network, but it hasn't been installed at your address just yet, you'll be able to keep your existing copper set-up until FTTP becomes available to you.
Can I get FTTP broadband?
Openreach runs the largest FTTP network, so we've mainly focused on that here. It's currently available to eight million households – to check if you can get it, use its availability checker (note, it refers to FTTP as full fibre). It'll also tell you if you already have FTTP and the maximum speeds available to you.
If you can get it, you'll then need to find an FTTP provider – see how to find the cheapest FTTP deal. Your provider will need to come round and complete the installation for you, but there shouldn't be any extra costs on top of the usual set-up fees and monthly payments.
If you can't get it just yet, Openreach will tell you if it's likely to be installed in your area soon. It has a roll-out plan in place and aims to reach 25 million properties by December 2026.

There are smaller alternative networks (also called AltNets) that are laying their own cables, but only in very specific areas. For these, it is best to keep an eye on your local news and adverts.
Consider if you really need the fastest speeds
Remember though, just because you can get ultrafast speeds, it doesn't mean you should – as generally the faster the speed, the higher the cost. Standard (10/11Mb) broadband is usually fine for browsing or light streaming for one person, so don't pay more than you need to. Yet if multiple people use the broadband at the same time, or you're a gamer, it's likely worth shelling out for faster speeds.
If Openreach tells you your address isn't part of its plan, then you might be able to sign up to its Community Fibre Partnership if there is enough interest in your area. This essentially means you club together with your neighbours and pay for your own cables to be laid, with Openreach contributing some of the costs.

It'll also advise on any grants you might be able to get to help pay for your part from, for example, local authorities or the Government.

To get an idea of how much it'll cost, register your interest and Openreach will be able to provide a quote for the work that's required to get your area connected.
For all the latest deals, guides and loopholes simply sign up today - it's spam free!
Can I switch providers if I have FTTP broadband?
Yes, if you're out of contract you can easily switch to another provider that supports FTTP, providing it is on the same network (the majority of the biggies, including BT, Sky and TalkTalk, run on the Openreach network).

If your home already supports FTTP, it just means you have the technology that supports 'ultrafast' speeds, but you're not limited to ultrafast packages only. You can have FTTP and still choose to sign up to a standard fibre (around 30Mb) package. It just means it'll be provided to you purely over fibre cables, which should make it more reliable.
The following providers offer FTTP packages on the Openreach network:

Andrews & Arnold
Aquiss
BT
Cerberus
Your Coop Broadband
EE
Cuckoo
Fastnet
Fibre.net
Giganet
Internet Central
LCC Communications
Ogi
Pine Media

Sky
Structured Communications

Syscomm
TalkTalk
Uno
Utility Warehouse
Vodafone
Zen
Quick questions
Separate from Openreach's network, there are now many smaller providers, including...

Zzoomm (various towns and cities)
VX Fiber (Crewe, Stoke-on-Trent and Colchester)
Lightning Fibre (East Sussex, including Hastings and Eastbourne)
YouFibre (various towns and cities, including Durham and Peterlee)

These have laid down their own fibre cables, and they also offer home FTTP packages. They have targeted very specific areas for their installations and don't yet appear on any price comparison websites.

It's difficult to know if one of these smaller FTTP networks exists in your area, but you may spot them doing the work or see a local advert.

If you don't live on a new-build estate, it's likely you had fibre to the cabinet (FTTC) previously, so you'll likely still have the old copper wires running to your property.

Openreach calls these households 'brownfield sites'. In this scenario, Openreach says you'll still be able to access FTTC deals if you want to, which means you can still switch to providers not yet offering FTTP packages, such as Now Broadband, Plusnet and Shell Energy.


If you ONLY have FTTP, where there's no copper wires (common with new-build developments, which Openreach call 'greenfield sites') then you'll only be able to switch between providers that offer FTTP on the same network.

But this list is growing all the time and biggies including BT, Sky and TalkTalk all offer it on the Openreach network – by far the biggest FTTP network – so you should still be able to look around for the best deals.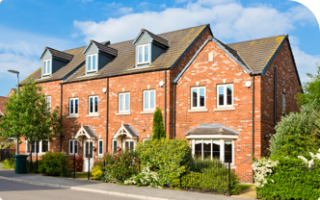 If you live on a new-build development, chances are you'll have FTTP (via either Openreach, Hyperoptic or another full fibre network), or a cable service that offers ultrafast speeds, such as Virgin Media. As a result, there won't usually be any existing copper network in place, so you'll be limited in the choice of broadband provider you can have.
We sometimes hear from MoneySavers saying they've been told they are locked to one broadband provider and unable to look around for cheaper deals, but we checked with the biggest housebuilders who told us this shouldn't be the case...
Barratt, Redrow, Belway and Taylor Wimpey all told us that depending on the network installed (for instance, Openreach), the new homeowner can choose any internet provider that's supported by that network, and you won't be restricted on choice. And as more providers now offer FTTP over the Openreach network, that should become less of an issue if that's your network.
However, if you have Hyperoptic or Virgin Media running to your property, then unfortunately your choices will be even more limited, mostly to that provider – until another network opts to install fibre on your development.
Do let us know if you have any issues by emailing unbundled@moneysavingexpert.com.

Live in a Persimmon or Charles Church development? You may be limited to one provider
If you live on one of these developments, you may only have access to the ultrafast FibreNest network, which is wholly owned by Persimmon and delivered by fibre to the premises. It offers speeds of between 10Mb and 500Mb and costs £14/mth-£45/mth. While it means you can get connected straight away, if you're unhappy with the service, or want a cheaper price, you won't be able to switch away from it.
In time, as the national network expands, new networks may be installed on its developments alongside it, and we've asked Persimmon (which owns Charles Church) to comment on this, but it's yet to get back to us. We'll update this guide when it does.
How can I find the cheapest FTTP deals?
Enter your postcode into our Broadband Unbundled tool to compare FTTP deals. Our tool covers all the major FTTP providers, including BT, Sky, TalkTalk, Vodafone and Zen. Our tool will compare deals across all of the speeds available to you based on your postcode.

However, as FTTP availability is growing all the time, we have to rely on firms letting us know when it has been rolled out to a new area (which often takes months), so there may sometimes be a lag in showing a particular provider or package in postcodes that have recently had FTTP installed.
For all the latest deals, guides and loopholes simply sign up today - it's spam free!
Have your say in our forum!