Guide to 5G
What is 5G, how do I get it and how much does it cost?
Most major towns and cities in the UK now have 5G coverage from at least one network, though it's much less likely away from urban centres. We run through what 5G means for you, including what you need to do to get on it and what it costs.
What is 5G?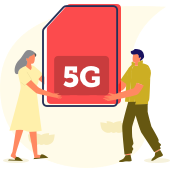 Put simply, 5G is the fifth generation of the technology used to deliver the mobile internet, which allows you to get online on a mobile or dongle without needing to connect to a cable or Wi-Fi.
Networks say it's up to 10 times faster than 4G – and we've already seen real-world examples of it achieving over 400 megabits per second (Mbps), considerably faster than the average fibre broadband speed of 30Mbps.
It won't replace 3G or 4G, but instead will be another 'layer' on top that runs at much higher and faster frequencies. This means more information can be carried, enabling it to deliver lightning-fast speeds.
How can I get 5G?
To benefit, you'll need to have a 5G compatible phone and be on a 5G contract with a network that offers it in your area.
All the big networks offer 5G, but it isn't quite nationwide just yet. Use each network's coverage checker to see if it's available near you.
Some smaller networks also offer 5G
Smaller networks, such as Voxi, Giffgaff, iD Mobile and Lebara, which piggyback on the signal of the biggies, have recently started offering 5G plans. Where it's available will depend on the parent network. See our Piggybacking your phone network guide for which provider each smaller network uses.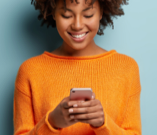 Which phones support 5G?
As you'd expect, the list includes models from the biggies such as Apple, Samsung and Huawei.
A few years ago, manufacturers released 4G and 5G models of the same handset, but generally they now just release a 5G version, eg, all Apple phones since the iPhone 12 have been 5G.
Most mobile networks, including EE, O2, Sky Mobile, Tesco Mobile, Three and Vodafone, offer 5G contract plans, which include the handset. It's important to note that if you have a 5G phone and contract, you'll only actually get the 5G speeds if and when you're in an area covered by it. If not, you'll just get standard 4G/3G speeds.
For a full list of handsets that support 5G and networks that provide 5G Sim contracts, use the filters in our Cheap Mobile Finder tool.

For all the latest deals, guides and loopholes simply sign up today – it's spam-free!
How much does 5G cost?
Deal
Upfront cost
Monthly cost (i)
Data allowance
Total over 24mths

5G – 128GB Samsung Galaxy FE 5G

Three contract (via Fonehouse)
£200
£15
30GB
£560

Handset bought new outright + equivalent 5G Sim (Vodafone)

£529

£10

30GB

£769

Three contract (via Fonehouse)

£185

£15

30GB

£545
(£15 cheaper than 5G)
Handset bought new outright + equivalent Sim (Plusnet)
£439
£10
30GB
£679
(£90 cheaper than 5G)
We've concentrated on the Samsung Galaxy FE here for comparison, though you should always compare the costs of buying your chosen handset outright and pairing with a Sim-only deal, against taking out a contract – as the former can be cheaper.
How to find the best 5G deals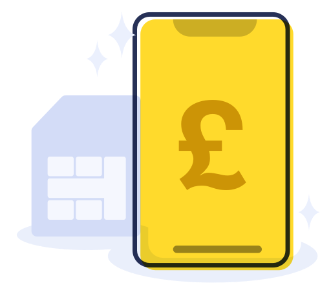 As we've said, upgrading to 5G usually won't come cheap, but we'll help you do it the cheapest way possible...
Use our Cheap Mobile Finder to compare 50+ retailers and resellers to find the right deal for you. Never go direct to a major network as you'll almost always overpay. Sometimes it's cheapest to buy a new phone outright and pair it with a cheap Sim, but right now contracts through resellers and smaller providers smash that method for some phone and allowance combos. Our Cheap Mobile Finder tool has a 5G filter and it will scour the market for you to find the cheapest way to get a new 5G phone contract.


Already have a 5G phone? Many of the top Sim-only deals are 5G-ready. If you already have a phone that supports 5G, you can pair it with a cheap Sim. Use the 5G filter on the results page of Cheap Mobile Finder to compare and find the best 5G Sim deals.

5G networks and phones FAQs
The usual way to get online is to use a broadband connection that is delivered to your home via a telephone line or cable. A Wi-Fi router is then connected to create a wireless signal. A 5G connection uses a mobile network with no need for physical wires, so ultimately they're different concepts.

Yet it's a question some ask as there's a possibility that 5G speeds could rival those delivered by your home connection – Three is already offering its 5G Hub that promises speeds of 100Mbps and Vodafone is also promising faster speeds via its 5G GigaCube. This could result in some ditching their standard broadband, but as firms continue to invest in upgrading wired connections, it's likely a long way off.

With 5G being mainly about speed, Three claims that its 5G network is up to 10 times faster than the current 4G network.

To put that into perspective, mobile-performance monitors Rootmetrics observed a peak 5G performance of 544Mbps in London on the Three network, but said a speed around 200Mbps was the average – that's ultrafast broadband territory.

As 5G is still being rolled out, even if you're in a 5G area the speed you get will depend on a number of factors.

5G officially arrived in the UK at the end of May 2019, though only two networks – EE and Vodafone – initially offered 5G plans. But since then, all four major networks now offer 5G in selected areas, although coverage is not widespread just yet.

We're also still a long way off full coverage, with most providers currently targeting 2022 as the year the whole of the UK should be able to access 5G on its network.
For all the latest deals, guides and loopholes simply sign up today – it's spam-free!
Have your say in our forum!