Stop Smoking
The no-butts MoneySaving guide
Get Our Free Money Tips Email!
For all the latest deals, guides and loopholes - join the 12m who get it. Don't miss out

Updated 6 Jun 2017

When it comes to smoking, there's no time like the present – not least because as well as being extremely damaging to your health, smoking is also extremely damaging to your wealth!
You could easily save thousands, not just on the cost of cigarettes, but also on insurance products. This is the no-butts guide to giving up on the cheap.
How much does smoking cost you?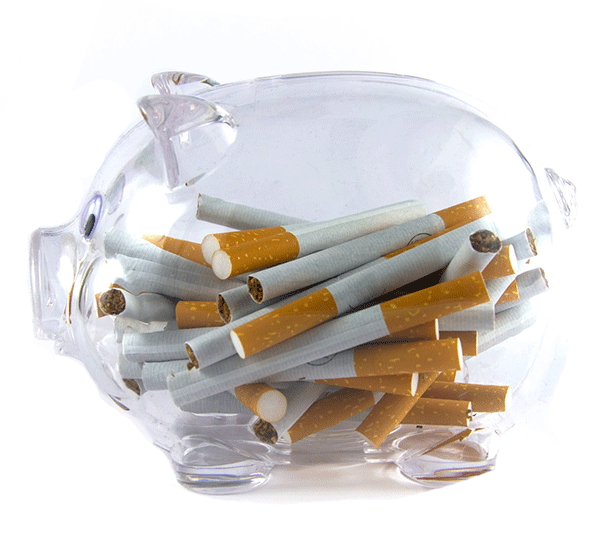 The costs of smoking are staggering. A packet of 20 now costs on average an eye-watering £9.91. This means that even if you just toke on one a day, you could save almost £180 each year. The Office for National Statistics reckons an average smoker puffs on 11 cigarettes a day, so if you're a typical smoker, you could save almost £2,000 a year.
What would you spend that on? The weekly shop? A family holiday? Tell us in the Give Up Smoking forum thread.
Here's the simple rule of thumb to work out roughly how much you spend on cigarettes:
Average no of cigarettes smoked per day x £180 = annual cost
1 cigarette a day is £180
10 cigarettes a day is £1,800
A packet a day is £3,600
Think what you could be spending this on! Use the Demotivator to see how much your habit is costing you.
Further hidden costs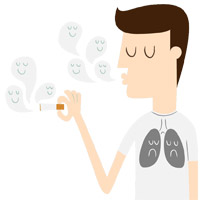 The MoneySaving gain from kicking the habit isn't just about the reduced outlay in newsagents. There's a further, hefty cost to smoking. Many financial products add a huge whack on smokers... and there's a very simple reason why.
Smoking has an impact on any product where the process depends on the likelihood of illness or death. Common medical opinion is that the benefits of exercising, eating well and losing weight pale into insignificance compared to the benefits of quitting smoking, as the risks from most smoking-related illnesses decrease rapidly after quitting.
Let's put it another way...
Smokers are more likely to die or have serious illnesses. So products which pay out on death or illness are a lot more expensive!
So, quit smoking and you'll save money on a mass of products.
The hidden cost could be at least £19k over 20 years!
We've calculated the real cost of smoking by looking at the increased amount smokers have to pay on standard financial products. If you had term assurance, critical illness and private medical insurance, then typically you'd pay over £19,000 more on them as a smoker over 20 years than as a non-smoker.
You should never withhold the fact that you're an ex-smoker, as this could potentially invalidate your insurance. Here's a product-by-product breakdown...
---
Term life assurance – approx non-smoker saving 50%
There are two main types of term assurance, one that covers your mortgage and one designed to pay out a lump sum to protect your family's finances in case you die.
Both only pay out if you die within a fixed term. So if you're more likely to die within the set period of your policy, your costs usually increase.
Total cost of £200,000 policy over 20 years
Price for smoker
Price for non-smoker
Price difference
£6,960
£3,552
£3,408
Prices are for a single person aged 40
However, it's worth noting that whether you smoke or not, some people are paying substantially more than needed on their term insurance. It's easy to slash the cost.
See: Life Insurance and Mortgage Life Insurance for full info.
---
Critical illness insurance – approx non-smoker saving 40%
This pays out a lump sum if you're diagnosed with one of a set list of critical illnesses. There's a big price difference for smokers. The increased cost also reflects the fact that the payment is all in one big lump sum (or a structured payment).
It's worth pointing out that if you have critical illness insurance as well as term life insurance, you can get a much cheaper policy if you combine the two.
Price of £200,000 policy over 20 years
Price for smoker
Price for non-smoker
Price difference
£35,350
£19,397
£15,953
Prices are for a single person aged 40
In general, we're not really fans of critical illness policies, but you'll find some detail in the Life Insurance and Mortgage Life Insurance guides.
---
Private medical insurance – approx non-smoker saving 10%
This provides medical treatment and hospital accommodation. While most polices cost the same for smokers and non smokers, some do cost more.
Providers usually make a detailed analysis of your health, even if it's only via asking you questions over the phone.
Full info: Private Medical Insurance
---
If you smoke once in a year, you're a smoker. So while you may not be spending on cigarettes, you're costing yourself massively on a financial product.
To count as a non-smoker, you need to have been genuinely nicotine-free for at least a year and in some cases up to five years, so always check the policy.

Most policies rely on your honesty when it comes to declaring whether you smoke. While lying is easy, it can be disastrous. So if you're thinking of lying about smoking, don't! If you get a smoking-related illness, it can invalidate all claims, not just smoking claims, and it's potentially fraudulent.
If medical or other evidence of your habit is discovered, your provider can, and probably will, legitimately refuse to pay out and not even refund your premiums. Even people who have mostly, but not completely, stopped smoking may be detected and lose out this way.
The only time smoking pays – annuities
The one time smoking does help you is at retirement if you're planning to use your pension savings to buy an annuity. This is a payment per year for the rest of your life, and as smoking shortens that, you get a better rate. Unsurprisingly, you don't get the benefit after one quick drag, in this case you need to have been smoking for 10 years to count.
This shouldn't be taken as encouragement for anyone to take up smoking – after all, you only get more as you're likely to die sooner. Yet if you are a smoker about to retire, you may just want to wait until the day after getting your annuity to quit!
What to do when you've quit

If you quit smoking, always tell providers, and then do it again after you've been smoke-free for a year. At this point, if you have any of the policies listed above, you should immediately go back and try to get them cheaper.
In fact, the saving is so large, you should put a note in your diary to remind yourself the week before the year's anniversary, so you can get new quotes for all your policies (use the guide links above to find the cheapest).
It's accepted that it's not easy to give up smoking, but it's thought that around 70% of smokers do want to quit. Worse still, a whole industry has now built up around selling highly profitable 'stop smoking' gear, patches, medicines and more. But it's possible to get help, support and aid without spending too much cash.
Resources to help
Quit Kits, mobile apps and more
There's heaps of support available to help you quit, including lots of tips in our Stop Smoking Hub and a Q&A with comedian Al Murray, a Stoptober ambassador (Stoptober is a high-profile quitting campaign, but you can get access to help all year round).
There's excellent free support available from the NHS, including local 'stop smoking' services and a mobile support programme.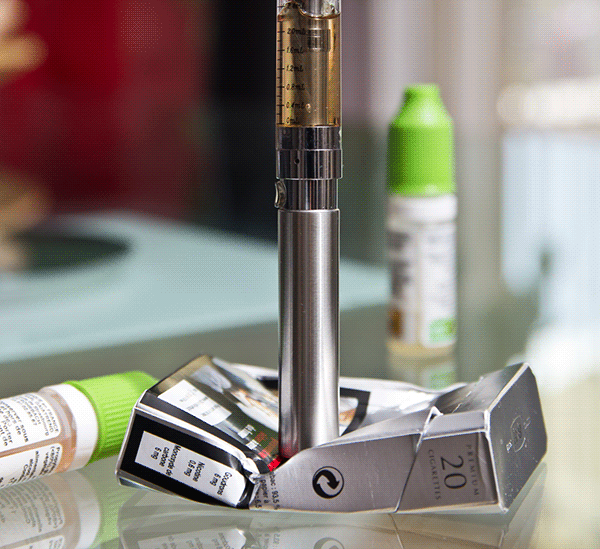 Stop Smoking clinics

These provide free local support from a trained adviser, either in groups or one-to-one and may also supply free nicotine replacement products. Find your nearest.

Mobile support programme

Even if you're unable to get to a stop smoking clinic, the mobile support programme sends help via motivational text messages.

There are also free Quit Smoking iPhone and Android apps. These provide daily tips and support, as well as keeping track of how many days you've been smoke-free.

Quit Kits

These are no longer available in England, but you can still get Quit Kits in Northern Ireland and Scotland.

To find out more, speak to an adviser online or ask at your local GP practice, pharmacy or hospital. You can also call the NHS Smoking Helpline on the following numbers:
Free or cheap nicotine replacement products
Getting 'stop smoking' patches can be costly. They're typically about £10-£13 a week and tend to be used for 10 weeks, meaning a total outlay of over £100. That said, it depends on your will-power, how effective you find them and how long you've smoked. Luckily, there are some easy ways to cut the cost.
Stop Smoking clinics

As detailed above, there are special NHS clinics which may give patches and chewing gum out for free.

By prescription

If the clinic in your area doesn't provide free products, you should be able to get them from your doctor on prescription, which may work out a lot cheaper than buying in the shops. If you pay for your prescriptions (see Cheaper Prescriptions and Medicines) you should be able to get an adequate supply for the £8.60 cost in England (it's free elsewhere).

Buying them for less

The situation changes all the time, online pharmacies can be cheap for buying in bulk. If you find a good supply of legitimate products at a low cost, please report them in the Cheap nicotine replacement products forum discussion.
More free help, support and discussion
As well as products there are many good resources available online for free.
Smoke-free wannabes.

Many MoneySavers are trying to quit, or already have and they gather to support each other and discuss the best low cost methods in the MSE forum. See the Give Up Smoking thread.

Other free support websites.

As well as the official NHS Smokefree website, there are lots of other websites that offer support, including Ash and Quitnet.

Freebies and offers.

Please help others trying to quit by reporting offers in the Stop Smoking forum discussion.