If you click a link with an * to go through to a provider, we may get paid. This usually only happens if you get a product from it. This is what funds our team of journalists, and keeps us free to use. Yet there are two crucial things you need to know about this.
This never impacts our editorial recommendations – if it's in, it's in there because we independently rate it best.
You'll always get as good a deal (or better) than if you went direct.
For a more detailed explanation see How MSE is financed.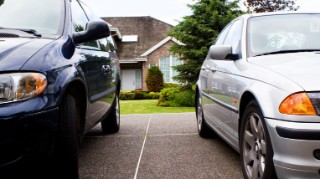 Multicar Insurance
Find the cheapest multicar insurance quotes
If you've more than one car in the household, then it may be worth getting them insured on one policy - this is known as multicar insurance. However, it's not always the cheapest option, so this guide tells you how to check and compare both multicar and single car policies to ensure you're always getting a cheap deal.

We regularly put new offers in the free weekly MSE Money Tips email, so sign up now and join millions of others in saving money.
What is multicar insurance?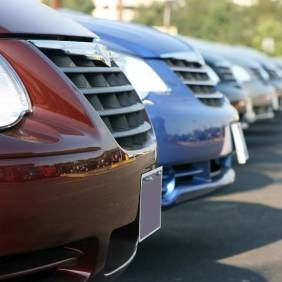 Car insurance, at its minimum, protects other road users if you crash in to them, their car or their property. You can also opt to cover your car if it's stolen, set on fire, broken in to, or if you're involved in an accident.
Multicar insurance policies do exactly the same job, except that you can insure two or more cars on the same policy.
The main reason for doing this is that it can be cheaper having two (or more) cars on the same policy than having each car on its own individual policy.
However, it's not clear cut - sometimes multicar policies will be cheaper, sometimes having each on its own policy will be cheaper. Our guide takes you through it step by step so you can find the cheapest policies.
Should I get multicar insurance?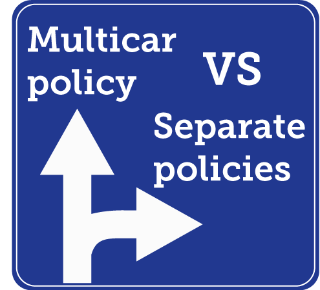 If you have more than one car in your immediate family or household, it's definitely worth checking, and having different renewal dates needn't be a blocker. For some, discounts for adding multiple cars could save £100s, or even £1,000s, but for others it could actually be more expensive.
What tends to happen is multicar newbies get hot offers to suck 'em in, but that advantage can disappear at renewal.
Martin's rule of thumb:

If you've currently got a multicar policy, check separate quotes for each vehicle first – if you've separate policies, check multicar first.
Sometimes getting multicar insurance works...

I saved £500 by sticking both my and my wife's car on a multicar policy.
MoneySaver Kam, via Facebook
And sometimes it doesn't...
Multicar insurer wanted £1,600 for three cars. We shopped around - total with three separate policies, including my son's car, is £720.
MoneySaver Peter, via email
We regularly put new offers in the free weekly MSE Money Tips email, so sign up now and join millions of others in saving money.
How to find cheap multicar insurance quotes
As comparison sites don't offer multicar discounts, you'll need to check the multicar price directly with the insurers below, and then compare those prices with the individual policy costs you get using comparison sites.
Our simple, three-step guide takes you through it...
How does it work if my cars don't have the same insurance renewal dates?
The three insurers above let you set up a policy at your first car's renewal, while the other car(s) stay with their existing insurer, until their renewal.
If you need a multicar quote for several vehicles with different start dates, this is how it could work:
You get cover for your lead car to start in three weeks' time, car two to start in seven months and car three in 10 months. Cars two and three will stay insured with their existing insurer until their current policy ends, at which time they will move across to the multicar policy, for the remainder of the year.
When you pay for the additional car(s) and when the discount kicks in differs between the three providers...
| | | | | |
| --- | --- | --- | --- | --- |
| TABLE_CELL_STYLE | When is discount applied? | When do I need to pay for additional car? | Need to pay back discount if additional car cancelled? | Cars need to be registered at same address? |
| Admiral | At point of quote | When you accept quote or when its cover is to start | Yes (plus admin fee) | No, but must be immediate family |
| Aviva | When cover starts for extra car | When its cover is to start | No | Yes |
| LV | At point of quote | When you accept quote or when its cover is to start | No, but will get less discount at renewal | Yes |
Then, once your multicar policy ends, all cars will then be up for renewal at the same time.
How to compare prices
If you want your multicar cover for all your vehicles to start at the same time, it's simple, you'll just be given one total cost. For different start dates, you'll be given a total price to pay, which'll cover all the cars (you just pay for however long each car is insured for), and you'll also be given an 'annual equivalent price', as if all the vehicles were insured for a full year, to help you compare against other providers.
Step 2. Then check existing policies for discounts
Some other insurers do simply give a reduction for each additional policy added, while keeping the policies separate. This can be an especially easy route if an insurer already covers one of your cars, so check the price when the second car's up for renewal.

These are the insurers we have had confirmation offer discounts for a second car:
Plus, Direct Line* and Churchill offer discounts on your car insurance if you have another policy with them, eg, home insurance.
If you're not already a customer, you can take out two policies in quick succession to get the discount (though only do this if their policies prove cheap in step 3 below).
Step 3. Finally, check separate policies using comparison sites
Sometimes it will work out cheaper to get individual policies for each car, rather than linking them. As no single comparison site captures the entire market and prices vary, combining a number of sites is the best way to make a saving.
It's best to use all four, but if you don't have time, we've ranked them in order of the sites that most often return the cheapest quotes so you've the best chance of bagging the top deal.
When ranking comparisons, we want to get you to use the best ones as quickly as possible. We focus principally on price, as depending on who you are, you can get cheaper quotes on different comparison sites. However, we also factor in 'softer' features to assess the quality of each.

Ranking on price

We analysed the prices of a large range of insurance quotes given by Compare The Market, Confused.com, Gocompare and MoneySupermarket.

Step 1. We check how many times each comparison site returned the cheapest or within £5 of the cheapest quote.
Step 2. We rank the comparison sites based on their 'score' in the first category.
Step 3. We assess how often each comparison gave a unique cheapest quote, ie, not just equal cheapest with a higher-scoring comparison.
Step 4. We alter the order to see if it's possible to increase the speed with which you access the cheapest quotes.

Here are the latest scores

This month's results show that MoneySupermarket gives the cheapest quote 53% of the time.


Get a quote from MoneySupermarket and Confused.com and you'll increase your chances of getting a cheaper quote to 80%.

To improve your chances of getting the cheapest quote 94% of the time, get a quote from MoneySupermarket, Confused.com and Compare The Market. Don't forget to get a quote from Gocompare as well, to improve your chances of a cheap quote.

Follow this order if you're aged 25+, do not have more than three penalty points, are claim/accident free, and it's not a company car (if you're under 25, see our Young Drivers' Insurance guide).

Yes and no. Comparison sites send your details to a raft of insurers, then use the information on your credit file to judge your quote. This leaves a 'soft search' on your file which you can see as a reference if you get your credit report – but this worries many people.

Yet crucially lenders CAN'T SEE these soft searches, so they have no impact on your creditworthiness. The only time a hard search – which lenders can see – may go on your file is if you then go on and actually apply for insurance; specifically 'pay monthly' insurance (because in effect they pay upfront for you and you repay the loan over the year).

More info can be found in our Will buying insurance from a comparison site affect my credit score? guide.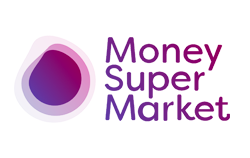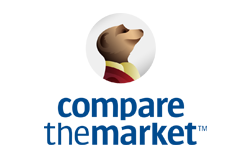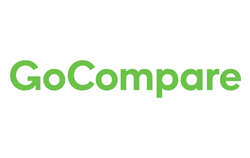 Plus, get a quote from an insurer you won't find on comparison sites...
Comparison sites let you compare 100s of insurers quickly but they don't capture the entire market. For example, one large and often competitive insurer – Direct Line* – only offers its products directly. Get quotes and compare them with your cheapest from a comparison site.
Standalone insurance policies looking like the best deal...?
If getting standalone policies for each car proved to be your cheapest route, check our full Car Insurance step-by-step guide to see if you can drive the cost down further.
You've already done the first two steps of that journey above, so we've linked you directly to step 3 for the next set of tips to try.
We regularly put new offers in the free weekly MSE Money Tips email, so sign up now and join millions of others in saving money.
How to complain about your insurance provider
The insurance industry, and this includes car insurers, don't always have the best customer-service reputation, and while a provider may be good for some, it can be hell for others. Common problems include claims either not being paid out on time or at all, the unfair charges for changing address, drivers, car or exclusions being hidden in small print. It's always worth trying to call your provider first, but, if not, then…
Free tool to help you complain
This tool helps you draft and manage your complaint. It's totally free to use, and it's offered by Resolver, a firm we work with to help people get complaints justice.

RESOLVER – FREE COMPLAINTS TOOL*
If the company won't help, Resolver also helps you escalate your complaint to the free Financial Ombudsman Service.