If you click a link with an * to go through to a provider, we may get paid. This usually only happens if you get a product from it. This is what funds our team of journalists, and keeps us free to use. Yet there are two crucial things you need to know about this.
This never impacts our editorial recommendations – if it's in, it's in there because we independently rate it best.
You'll always get as good a deal (or better) than if you went direct.
For a more detailed explanation see How MSE is financed.
Multicar insurance
Find the cheapest multicar insurance quotes
If you've more than one car in your household, then it may be worth getting them insured on one policy – this is known as multicar insurance. However, it's not always the cheapest option, so this guide tells you how to check and compare multicar and single-car policies to ensure you're not paying more than you need to.

What is multicar insurance?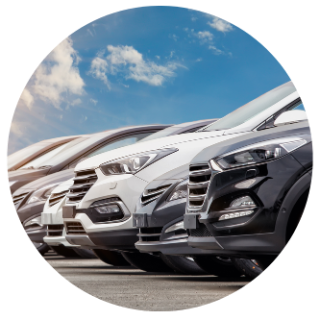 Car insurance, at its minimum, protects other road users if you crash into them, their car or their property. You can also opt to cover your car if it's stolen, set on fire, broken into, or if you're involved in an accident.
Multicar insurance policies do exactly the same job, except that you can insure two or more cars on the same policy.
The main reason for doing this is that it can be cheaper having two (or more) cars on the same policy than having each car on its own individual policy.
However, it's not clear-cut – sometimes multicar policies will be cheaper, and sometimes separate policies will be cheaper. Our guide takes you through it step by step so you can find the cheapest policies.
We regularly put new offers in the free weekly MSE Money Tips email, so sign up now and join millions of others in saving money.
Should I get multicar insurance?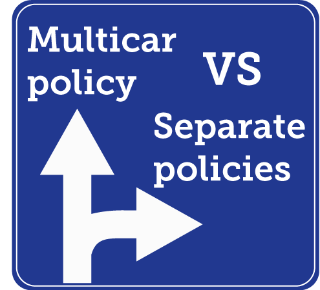 If you have more than one car in your immediate family or household, it's definitely worth checking, and having different renewal dates needn't be a blocker. For some, discounts for adding multiple cars could save £100s, or even £1,000s, but for others it could actually be more expensive.
What tends to happen is multicar newbies get offered hot deals to suck 'em in, but that advantage can disappear at renewal.
Martin's rule of thumb of what to check:
If you've currently got a multicar policy, check separate quotes for each vehicle first – if you've separate policies, check multicar first.
Sometimes getting multicar insurance works...

I saved £500 by sticking both my and my wife's car on a multicar policy. MoneySaver Kam, via Facebook
And sometimes it doesn't...
Multicar insurer wanted £1,600 for three cars. We shopped around – total with three separate policies, including my son's car, is £720. MoneySaver Peter, via email
How to find cheap multicar insurance quotes
As comparison sites don't offer multicar quotes, you'll need to check the multicar price directly with the insurers below, and then compare those prices with the individual policy costs you get using comparison sites.
Our simple, step-by-step guide takes you through it...
Warning! Changing details between quotes could invalidate your insurance: Small tweaks to your mileage or job title are likely to be okay, but no matter how tempted you are to say someone else is the main driver, or to pretend you have no points, or to underestimate your mileage deliberately to get a cheaper premium – don't. You must be completely honest or it could invalidate your insurance and even lead to prosecution.
How does it work if my cars don't have the same insurance renewal dates?
With most of the insurers above you set up a policy at your first car's renewal, while the other car(s) stay with their existing insurer until their renewal at which point they're moved on to the multicar policy.

Aviva works slightly differently. You can still get a multicar quotation and set up a policy at your first car's renewal but you'll you need to contact it nearer the start date for the additional car(s) to be added.
If you need a multicar quote for several vehicles with different start dates, this is how it could work:
You get cover for your lead car to start in three weeks' time, car two to start in seven months and car three in 10 months. Cars two and three will stay insured with their existing insurer until their current policy ends, at which point they'll move across to the multicar policy, for the remainder of the year.
Then, once your multicar policy ends, all cars will then be up for renewal at the same time.
How to compare prices
If you want your multicar cover for all your vehicles to start at the same time, it's simple – you'll just be given one total cost. For different start dates, you'll be given a total price to pay, which'll cover all the cars (you just pay for however long each car is insured for), and you'll also be given an 'annual equivalent price', as if all the vehicles were insured for a full year, to help you compare against other providers.
Step 2: Then check existing policies for discounts
Some other insurers will give a reduction in price for each additional policy you add, while keeping the policies separate. This can be an especially easy route if an insurer already covers one of your cars, so check the price when the second car's up for renewal.

These are the insurers that have confirmed that they offer discounts for a second car:
Plus, Direct Line* and Churchill offer discounts on your car insurance if you have a policy for another type of insurance with them, for example, another car, or home insurance.

If you're not already a customer, you can take out two policies in quick succession to get the discount (though only do this if the insurer's policies prove cheap in step 3 below).

Sometimes it will work out cheaper to get individual policies for each car, rather than linking them. As no single comparison site captures the entire market and prices vary, combining a number of sites is the best way to make a saving.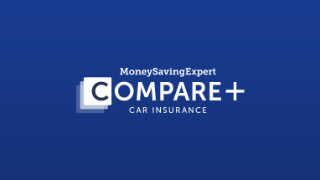 Our new Car Insurance Compare+ tool is designed to take the hard work out of finding the cheapest quote – you fill in one form (with MSE cost cutting tips as you answer) which will show your cheapest insurers from one comparison as a benchmark. It'll then give you personalised tips to cut costs further and whether to try other sites to boost savings.

Alternatively, below is our current order of which sites to try and in what order (see how we pick our order explanation for why), though the difference in pricing is often small, so if any perks really appeal, as long as you're trying a couple, go for those you like most.
Site
Official perk info & MSE's analysis

Try as many as you can, in this order...


Compare The Market*

Official perk info: Meerkat Movies and Meals. A year's 2for1 on cinema tickets and meals on selected days of the week.

MSE perk analysis: For those who'd use it, and go to the flicks and restaurants, this perk can be worth £100s. However, instead you could grab other perks as you can use our trick to get Meerkat Movies and Meals for £1 for a year.

See our full Compare The Market perk analysis.





MoneySupermarket*

Official perk info: Price match + £20 Amazon, Sainsbury's, Just Eat or Argos gift card.

MSE perk analysis: If you buy a policy through MoneySupermarket and that same day you find a like-for-like policy with the same insurer cheaper elsewhere (either from the insurer or on another comparison site), MoneySupermarket will refund you the difference in cost, and will give you a £20 gift card on top.

See our full MoneySupermarket perk analysis.

Confused.com*
Official perk info: ONE out of a... £20 Halfords voucher | Hello Fresh recipe box | £20 Shell Go+ fuel credit | 12 IMO 'triple foam' car washes.

MSE perk analysis: The highest value is the car washes, if you'd use them all, as they can cost £5 each elsewhere so it's worth £60.

See our full Confused perk analysis.

Then, to boost chances of finding a cheap quote further, try...

Quotezone* – another comparison site, and you get access to Rewards+ within 60 days after buying a policy. It includes discounted tickets at selected Cineworld and Odeon Cinemas.
Gocompare – a big comparison site which currently gives £250 'free' excess cover with every purchase.
Direct Line* – an insurer, rather than a comparison, but you won't find its quotes on any comparisons, so it's worth trying in case it's cheaper for you.
Struggling to find (affordable) cover?
If you've had a string of claims or accidents, you have a medical condition that affects your driving, or you've four or more points on your licence, you may find it hard to get an affordable quote from a comparison site. Some may find it hard to get cover at all.
If no or few insurers are quoting on the sites above, or premiums are coming back too high, consider enlisting the help of a broker. Search the British Insurance Brokers' Association website to find someone who can help.
Standalone insurance policies looking like the best deal...?
If getting standalone policies for each car proved to be your cheapest route, check our full Step-by-step Car Insurance guide to see if you can drive the cost down further.
How to complain about your insurance provider
The insurance industry, and this includes car insurers, doesn't always have the best customer-service reputation, and while a provider may be good for some, it can be hell for others.
Common problems include claims not being paid out on time or at all, unfair charges for changing address, driver or car, or exclusions being hidden in small print. It's always worth trying to call your provider first, but, if not, then…
You can use free complaints tool Resolver. The tool helps you manage your complaint, and if the company doesn't play ball, it also helps you escalate your complaint to the free Financial Ombudsman Service.
We regularly put new offers in the free weekly MSE Money Tips email, so sign up now and join millions of others in saving money.