If you click a link with an * to go through to a provider, we may get paid. This usually only happens if you get a product from it. This is what funds our team of journalists, and keeps us free to use. Yet there are two crucial things you need to know about this.
This never impacts our editorial recommendations – if it's in, it's in there because we independently rate it best.
You'll always get as good a deal (or better) than if you went direct.
For a more detailed explanation see How MSE is financed.
Insurance when moving home
Make sure you're protected during your move
Making sure you have the right insurance in place when you move home can give you peace of mind during a stressful and expensive time. This guide talks you through what insurance you'll need, and what additional cover you might want to consider, to ensure you're protected from exchange to the day you move in.
What insurance do I need when moving home?
Moving is stressful enough without having to worry about your belongings getting lost or damaged in transit as well. Having the right insurance in place can give you peace of mind that if anything goes wrong you'll be protected financially.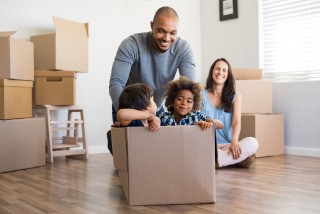 You should really already have your personal belongings covered by an existing home contents insurance policy.

And happily, this home contents policy is likely to cover you when moving home. So if your existing policy does include removals, it'll typically cover accidents, losses, or damage to your furniture and belongings.

However, there will likely be restrictions. For example, most insurers will only cover belongings moved by a professional removals company (rather than in your own car, or by a 'man with a van'). And, in some cases, you'll only get damage cover if your fragile items are packed by a professional, too.

If you don't already have home contents cover in place, you could rely on the insurance that is offered by many professional removals firms – we've more on this below.

Do I need removals insurance if I already have home contents insurance?
Most home contents policies will cover you for your move – but not all do. So first off: double-check your existing policy to see whether you're protected.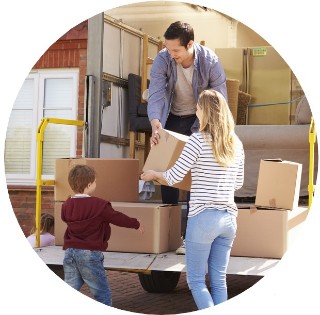 You should be able to find this out from your policy documents. Look out for names such as 'contents cover when you're moving home', 'goods in transit cover', or 'removals cover'.

If you are already covered by your home contents policy, you shouldn't need to get any additional insurance elsewhere.
But if you aren't covered by your home contents insurance policy, or you don't have one, you may be able to access cover through a removals service. Most professional removals companies will have liability insurance, which covers loss and negligence. However, this will be limited, so check the terms and conditions carefully.
If you're already protected under your current home insurance, check the level of cover (and importantly, the exclusions).
Look out for:
The type of removals service you can use. Usually, your move will be covered by your home insurance if you use a professional removals service. But some insurers will also have additional rules, such as valuables must be packed by the movers. You likely won't be covered by your insurance for a DIY move (such as moving in your own car, or hiring a 'man with a van').


Value limits. Your insurer will likely have a limit on the amount it is willing to pay out for belongings damaged or lost during a move. Check for the total limit, and whether there are any single-item limits, to make sure the amount of protection you have is high enough to replace all your possessions, should the worst happen.


Exclusions. Some insurers don't cover theft or accidental damage of expensive items such as jewellery or watches during a move. It may be that you want to keep both financially and sentimentally valuable items with you when you move. And you may also need extra insurance if you're moving a bike, or particularly valuable documents.
For extra peace of mind, if you are unsure of the value limits of your current policy, or what is excluded from cover, speak to your insurer first. You may also want to speak to the removals firm to see if it can arrange some additional insurance for you if it's not possible with your insurer.
Will my existing home insurance policy cover me for my new home?
Your current home insurance policy won't automatically cover you at your new address, but you can often ask to transfer it over.
Be aware though: if you choose to transfer your existing home insurance policy to a new property, your premium will usually change in price, and you'll have to pay an admin charge too.

This is because there are a number of factors that affect the price of your policy, including (but not limited to) the area's crime rate, the value of the property, and any flood risk. Plus, if you get any new furniture or electrical goods for your new home, this can have an impact on the amount of contents cover you'll need.
For this reason, it makes sense to seek fresh quotes for cover at your new home to compare costs – see our Cheap home insurance guide for full step-by-step help. If you can get a policy cheaper elsewhere, you can cancel your old cover and take out the new insurance (make sure to factor in any cancellation fee for the old policy too). See more on cancelling cover and when's best to do it below.
Can you cancel home insurance if you move?
In some cases, your insurer might not be able to cover you at your new address (or might not be able to provide the same level of coverage) – for example, if there have been issues with subsidence at the property in the past.
If this is the case, it's a matter of getting quotes and a fresh policy for your new home – for the full lowdown on this, see our Cheap home insurance guide.
You'll also need to cancel your old policy.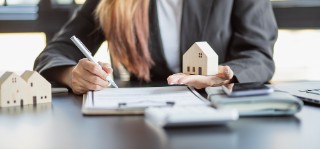 Each insurance provider will have its own process for ending a policy, yet it's usually just a case of making a phone call and explaining that you're moving. For more detail on the process, head to our full Cancelling your insurance guide.

It makes sense to cancel your old home insurance policy when you stop being legally responsible for it (usually, once you've exchanged contracts with the buyer). However, it's sensible to make sure there's some overlap, so you're still covered even if there are delays during the home moving process. So it may be better to wait until you're in your new home.

When should you start your new home insurance policy?
You'll need to have buildings insurance cover in place for your new address from the day you exchange contracts, even though you might not move in on that day, as that's when you become legally responsible for the property. If you don't, you risk your mortgage not being approved – and you won't be covered if there's any damage to your new home. For help with working out the level of buildings cover you'll need at your new property, see our Calculating rebuild costs guide.
This might mean that you're insuring both your old and new homes at the same time. If your new home is going to be empty for a period, ensure you tell the insurer this too. Most home insurance policies specify you need to tell your provider if the property will be unoccupied, due to the increased risk of a break-in or undetected problems, such as leaks.
What other insurance might I need for moving to a new home?
While making sure you have insurance in place for your new home, and ensuring that your belongings are covered for the actual move, are the most important steps to take, there are certain common circumstances that may mean additional cover could be useful too.
You may want to consider: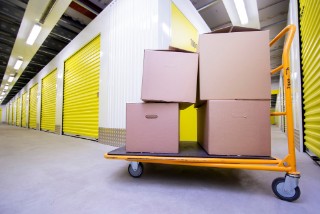 Cover for belongings in storage. If you're planning to put some of your furniture or belongings into storage when you move, consider taking out additional cover to ensure they're protected.


Life insurance. You may already have life insurance cover in place – often it's a requirement from mortgage lenders.


Mortgage life insurance. This covers your mortgage repayments should you die before paying it off – though it's not always necessary if you have life insurance already. Read more on how mortgage life insurance works in practice.


Mortgage payment protection insurance. This covers your mortgage payments if you unexpectedly lose your job, or you're unable to work due to a serious injury or illness.

Home insurance for new-builds
Developers must, by law, provide a warranty on new-build homes. But you'll still need to get home insurance on top of this.

The new-build warranty covers you for any defects or structural damage to the home typically over a 10-year period. However, a new-build warranty provides no protection in unexpected emergencies such as a storm, fire or burglary.
This means it's important to ensure you have buildings and contents insurance in place, even if you have a warranty.
Arranging cover for a new build should be no different from buying it for any other home. The only challenge may be getting an online insurance quote – sometimes the home may not have been added to the Royal Mail database, so won't be found when insurers try to look it up.
In this scenario, it's best to speak to a broker or pick up the phone and talk to some insurers.
New home insurance FAQs
Once contracts have been exchanged, the buyer becomes legally responsible for the property – including if anything goes wrong. So, it's the new buyer's responsibility to ensure proper insurance is in place from this point.

Yes, but if you're now renting it out you'll need landlord insurance (and buildings cover) as a minimum. Tenants will usually take out contents insurance to cover their belongings.

You'll also need to arrange cover for your new property.

If you want to be covered by your home insurance, you will usually have to use a professional removals company, rather than doing the move yourself – or hiring a 'man with a van'.
More home insurance tips
We've a whole host of home insurance top tips and tricks to get cheap cover. Below is a quick round-up of where we'd suggest you head to next...

Suggestions for you
Have your say in our forum!