If you click a link with an * to go through to a provider, we may get paid. This usually only happens if you get a product from it. This is what funds our team of journalists, and keeps us free to use. Yet there are two crucial things you need to know about this.
This never impacts our editorial recommendations – if it's in, it's in there because we independently rate it best.
You'll always get as good a deal (or better) than if you went direct.
For a more detailed explanation see How MSE is financed.
Home improvement loans
Find funding for your renovation projects
Turning your property into your dream home can be equal parts exciting and expensive. Luckily there are ways to help support your renovation dreams, even if you don't have the cash upfront. This guide looks at the pros and cons of home improvement loans, alongside some of the alternatives.
What is a home improvement loan?
A home improvement loan, also called a home renovation loan, allows you to borrow cash to pay for renovations to your property, such as a new kitchen, accessibility modifications, or new appliances.
There are two main types of home improvement loan: unsecured or secured (which we'll explain in more detail below). Both let you borrow a lump sum that you pay back in monthly instalments, plus interest.

A home improvement loan is packaged as a product to help towards the cost of making changes to your home, but in reality, it's often just another name for an unsecured personal loan. This means you don't necessarily have to spend the loan on home improvements (though there will be some restrictions to how you can use the funds).
As with any loan, only take one out if you absolutely need to, plan and budget carefully, borrow as little as possible, and repay as fast as you can. For this and more loan need-to-knows, see our main Cheap loans guide.

What are the different types of home improvement loans?
There are two main types of loans you can take out for home improvements, depending on the scale and cost of your project. However, the second option, secured loans, can be a financial nightmare – so think carefully before taking out one of these.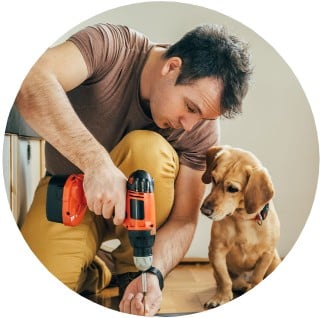 Unsecured personal loans. For those looking to borrow smaller amounts, over shorter periods of time. These are much less risky than secured loans, as if you're not able to make the repayments, you won't lose your home.


Secured loans. Designed for those looking to borrow larger amounts (usually over £25,000). However, these loans come with much more risk, so think twice about this form of borrowing.

Secured loans, as the name suggests, are 'secured' against a high-value asset – usually your property. This means that if you don't pay it off, you could lose your home, and see it repossessed. Also, secured loan rates are often variable, meaning the amount you pay back each month could change, making budgeting far harder.
How to pick the right home improvement loan

A personal loan will be much cheaper and less risky than a secured loan. But if you wouldn't be able to borrow as much as you need with a personal loan, and so you're leaning more towards a secured loan, make sure to read our Secured loans guide before making your mind up for certain. And bear in mind too that it will usually be cheaper to remortgage to free up cash than to take out a secured loan.
Also consider the other alternatives that are available first, before making a final decision on a home improvement loan, whichever the type.

How do home improvement loans work?
The process of applying for and then using a home improvement loan works just like most personal loans:
Compare your options (and check your eligibility). We show you how to find the right unsecured personal loan for you in our full Cheap loans guide. If you're after a secured loan, see our Secured loans guide.


Apply. You'll need some basic identity documents, as well as proof of income. Your application will then be reviewed by the lender alongside your credit history. Many lenders should let you know their decision within five working days, but some will be able to let you know instantly.


Receive the money. Once your application has been approved, you should get your home improvement loan in your account within a few working days (but in some cases, you may even get the money on the same day).


Start your improvements. Use your money to invest in your home.


Repay the loan. You'll pay back the loan in monthly instalments, usually by direct debit. Many lenders will let you pay off your loan early or defer payments, but you may face extra charges for doing so.
What are the pros and cons of home renovation loans?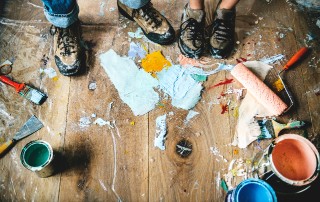 Home renovation loans aren't right for everyone, so it's worth weighing up the pros and cons before you decide.
These are some of the main advantages and disadvantages you might want to think about:
Pros
You can choose how you want to spend the money.
Home improvements can be a good investment and may increase the value of your home.
You'll often get the money within a few days of approval.
Loans can be an effective way to budget for projects you can't afford in full upfront.
Cons

You'll pay back more than you borrow because of interest.
You'll only be able to access the best rates if you have a good credit history.
Loans secured against an asset, such as your home, come with additional risk. You could lose your home.
If you struggle with repayments, you can be hit with penalty charges.
Home improvements won't always increase the value of your property.
Other factors to consider when applying for a home improvement loan
Before you decide whether a home improvement loan is the right way to fund your project, it's worth considering the following:
Interest rate. As with most loans, you'll end up paying back more than you borrow: exactly how much more will depend on the interest rate you're offered.
How much you need to borrow. If you're looking to fund a smaller project, it may be cheaper to consider an alternative form of borrowing, such as a 0% credit card. Here, ensure you can use a credit card to pay for the goods and/or services that you need.
The monthly payment amounts and how long you repay for. Will the payments be affordable in the long term? What if your circumstances change? Consider too that the shorter the loan term, the less interest you'll pay.
Your credit rating. The better your credit history, the better the rates you can access. If you've got a poor credit rating, you may find that an alternative is better.
For all the latest deals, guides and loopholes simply sign up today – it's spam-free!
FAQs
Am I eligible for a home improvement loan?
If you're over 18, a UK resident, and have a decent credit score, it's likely that you could be eligible for a home improvement loan.
Each lender will have its own specific eligibility criteria, for example when it comes to income or credit history, so it's worth checking if you qualify first. To do this, you can use our Loans Eligibility Calculator, which will show which unsecured personal loans you're most likely to be accepted for, without affecting your ability to get credit in future.
It's also worthwhile checking your credit report, to make sure it's in good shape, before you go ahead and apply.
Can I add to my mortgage for home improvements?
Yes, you may be able to remortgage your property and use the extra funds to pay for home improvements.
However, some lenders have restrictions on how you use the money released by remortgaging, and this could include renovations. If you're thinking about remortgaging to pay for home improvements, it's important to talk to your lender first.
For more information on how remortgaging works, read our full guide to remortgaging.
Can I get a home improvement loan if I have bad credit?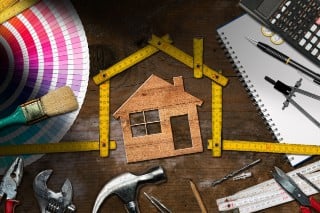 Yes, it is still possible to get a home improvement loan if you don't have a great credit score, but your options will be more limited. You're also likely to be offered a more expensive than average interest rate. This is because lenders see you as more risky to lend to.

As above, it makes sense to check your credit history and use an eligibility calculator before you apply, to get an idea of what loan products you might qualify for.
It may also be worth thinking about an alternative way of funding, or, if you don't need to start your renovation project straightaway, taking some time to build up your credit score.
Bear in mind too that if you have a county court judgment, you may find you aren't eligible for any loan, but there are ways you can rebuild your credit score.
What are my alternatives to getting a home renovation loan?
Home improvement loans aren't the only way to fund renovation projects. Depending on the scale of the project and your own circumstances, you might also consider one of the following options:
Home equity loan. A home equity loan is a secured loan that allows you to borrow against any increased equity that has built up in your home since you bought it. Make sure you read our guide to secured loans before deciding on one of these.


Remortgaging. It may be possible to remortgage your property and use the extra funds to pay for home improvements.


0% credit card. If you're looking to fund a smaller project, a 0% credit card could prove cheaper than a loan – as you won't have to pay any interest for a set period of time (sometimes up to two years). You'll also get additional protection with Section 75 – though consider first whether you can use a card for what you need.


Saving and paying upfront. You could use a top savings account to begin building up some cash to pay for the works. Want to get into the savings habit but need some help getting started? See how to start saving.
Depending on your circumstances it could also be worth looking into whether you're eligible for any grants from the Government or charities. These are sometimes offered to low-income households in need of essential white goods, those with disabilities looking to make accessibility modifications, or those looking to improve the energy efficiency of their home.
Can I get a joint home improvement loan?
Yes, it is possible to apply for a joint home improvement loan, and applying as a pair may mean you're eligible to borrow a larger amount. However, you will both have to pass eligibility checks to be approved.
Do I have to spend the money on home improvements?
There will be certain restrictions (such as no gambling, or using for business purposes), but once the money is in your account, it's yours to spend as you like. This means that if your project ends up costing less than you expected, you can spend the rest of your home improvement loan elsewhere. However, it's crucial to carefully budget and plan your borrowing, not to spend willy-nilly, and to repay what you owe as quickly as possible.