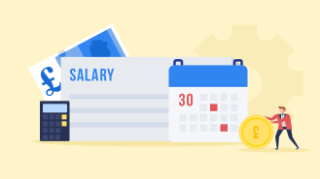 Salary Advances
Access your salary as you earn it – an alternative to payday loans?
A host of companies are now offering to let you access part of your salary in advance – though for a fee. This guide runs through how best to use these salary advances, how they work, and how much they cost. For many, this could be a cheaper substitute for a payday loan, though some of the same money management dangers remain.

For all the latest deals, guides and loopholes simply sign up today - it's spam free!
What is a salary advance?
Salary advances – sometimes known as payroll borrowing – are a relatively new form of borrowing where wage advance companies work with your employer to let you access part of your salary as you earn it, rather than having to wait until your payday.
Your employer needs to be signed up with a company which offers this for you to be able to access it, but once it is, you can access your salary in advance whether you're paid weekly, fornightly, four-weekly or monthly.
It's billed as an alternative to payday loans, though the difference is that it's your own money you're 'borrowing'.
As these are salary advances rather than loans, it's not counted as credit, so you're not credit checked, and you don't pay interest. Instead, you pay a fee each time you access your salary early.
There's no chance for you not to repay, as the salary advance company sits on the payroll between you and your employer. So when you get paid, the payroll lender gets its money back – and the amount in your pay packet will be lower, as you took some early.
Here's an example of how it could work...
It's a new work week, and Walter Waiter earns £9 an hour working at a restaurant. He does a 10-hour shift on Friday, then looks at his salary advance app a few hours later. He can see he's earned £90 for the shift, and that £40 of it is available for him to access (his employer limits him and his colleagues to 40% of their salary as an advance).
Walter takes £30 of that £40 available as he needs to top up his electricity meter that day. However, he's OK for the rest of the week and doesn't take any further advances. On his weekly payday next Thursday, he's paid his full salary, less taxes and other deductions, and also minus the £30 he took as an advance, and the £1-2 fee he paid to access the advance.
Should you use these companies? Here's Martin's view...

'If you do it, only do it in a real emergency'
"Salary advances, though they're a very good alternative to payday loans, are not without their own issues. There's a moral hazard here which means the easy accessibility of the cash could lead to people letting go of their budgeting and using this too often.
"Be warned against doing that – it's far better to be in control of your finances than to need a system like this and pay for it. That's in spite of it being far cheaper than other alternative forms of quick finance (although not cheaper than a 0% credit card facility).
"It's very important to make a pact with yourself that if you're going to do this you'll only ever do it for real emergencies – a smashed window in your house that needs fixing, a locksmith to get in. Not new shoes, not a party you want to go to. And generally not for paying your bills, because bills are something you should be budgeting and planning for anyway.
"So I would certainly think if you were having to use a salary advance more than a couple of times a year there's an issue going on. Don't fall into the psychology of 'easy access means I have more money'. Ultimately, it doesn't give you more money. In fact, each time you use it, you pay a fee, so you actually get less money."
The eight salary advance need-to-knows
The key difference with a salary advance is that you're borrowing from your own pay packet, so there's no interest, and it's not really counted as a loan. The other two are counted as borrowing and will have interest rates associated with them. Here's how payroll loans and payday loans work...

Payroll loans. These are very similar to salary advances, in that you get them through companies your employer has signed up with, and repayments are made through your pay packet. However, these are loans, often for £100s or £1,000s and taken over a long time period, just as any other personal loan. And, just like any other loan, you do pay interest on them – though the rate is likely to be lower as there's less chance of you not repaying.


Payday loans. We've all heard of these. Payday lenders offer you loans over a month (or a few months), generally for low amounts, and for a very high rate of interest, generally charging 1,200% interest. The idea's similar to a salary advance, in that you're meant to repay the amount borrowed the next payday. But these loans have no link with your employer, and they've often been lent unaffordably, leading people into never ending cycles of debt.

If your employer hasn't signed up to partner with one of these wage advance companies, then you won't be able to use one to access part of your salary early.

There aren't a huge number of employers signed up, though if you're in the hospitality, retail or healthcare industries, your employer's more likely to offer salary advances through one of these companies.

In the short term, if you're in need of cash and your employer's not signed up, you'll need to find another way to get or borrow it. Our Alternatives to Payday Loans guide could help here.

In the longer term, you can contact your company's HR department and encourage them to sign up with one of the companies above. There are usually low costs for your employer, so they may be receptive.

All these companies limit you to advances of 50% of your salary or less. This is to ensure that you don't borrow more than you're actually going to get in your pay packet, as most of them use your pre-tax earnings to work out how much you've earned since the start of the month. So they need to ensure there'll be enough left in your pay to cover the tax and national insurance (and any other deductions) that your employer may need to take off when they do the monthly payroll.

However, 50% is an absolute maximum. Your employer may set a limit on the percentage of your salary you can advance, or the number of times per month you can use the scheme.

You should also try and minimise the amount you borrow and the number of times you need to borrow. Before taking an advance, think whether it'll leave you short of cash after payday, and whether this is just the start of having to take salary advances month after month.

This is still a new area, so there aren't many companies out there which offer this as a service to employers.

If your employer does offer it, know that each time you use it, you'll pay a fee to do so. These are the current fees charged by three big companies that offer this:

Salary Finance – £1.49 per advance
Wagestream – £1.75 per advance
Hastee Pay – First £100 of advance free, then 2.5% of what you borrow (min £1)

When you log in to the salary advance company's app or online portal, you'll be able to see how much cash is available to you from work you've already done in this pay period.

When you request cash, it comes from the salary advance company, which essentially lends it to you until the next payday (and adds on its lending fee). When your employer does the payroll, it'll take off your usual taxes and national insurance, then pay the salary advance company back for the loan and fee you took, then it'll pay whatever's left to you.

Having said that, some employers are now choosing to fund the salary advances themselves, and are paying the salary advance companies to use the software that allows them to do this. But it's not a service offered by all salary advance companies, and it doesn't make a difference to you as a borrower who is providing the money.

As we said above, there's no chance for you not to repay, as the salary advance company sits on the payroll between you and your employer – it always gets paid first.

Taking a salary advance is unlikely to help if you've got problems with debt, as you're not getting extra money, you're just getting the same money a little earlier.

In fact, repeated use of these schemes may exacerbate debt issues, leaving you unable to pay what you owe at the right time.

So if you've multiple debts, don't fall into using salary advances. Instead, get free one-on-one debt-counselling help may be suitable. Try Citizens Advice, StepChange or National Debtline. They're there to help, not judge.

Full info in Debt Help, plus see our Persistent Debt guide if your credit card providers have recently written to you asking you to pay more.

Just as you can spend your salary on anything you want, you can spend a salary advance on anything you want too.

However, it's best used only in an emergency (car repairs, washing machine replacement etc) rather than as part of your normal budgeting. Remember, you're borrowing from future you, and future you will not be happy if you've done it frivolously.

On the face of it, there's very little that can go wrong here. You make a conscious choice to take some of your salary early, and then it's taken out of your pay packet on payday, so the amount you get then is less.

However, because salary advances aren't loans, they don't have to be regulated in the same way. So when you take an advance, you're not credit checked and there's no affordability check (though employers can limit the amount and number of times you can take cash).

They're also not reported on your credit file, so if you're applying for credit, other lenders won't be aware that you're taking these advances and may give you credit when you really can't afford to be taking it.

So for the most part, it's down to you to be sensible with this. Bear in mind that because they're not regulated, you won't be able to complain to the Financial Ombudsman Service if things do go wrong.
Which companies offer salary advances?
There are a fair few companies offering this now – but you don't get to choose which you go for, as you can only use companies your employer has partnered with (if, indeed, it's partnered with any). These are the major players...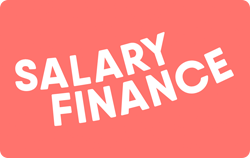 This site boasts a good line-up, with employees from many NHS trusts, and stores like Dunelm who can use its salary advance facility.
Like with many of the salary advance companies, Salary Finance lets you keep track of how much you're earning in real time, as well as how much is available to borrow, you just need to log in on its website.
Note that not all companies signed up to Salary Finance offer advances. Many sign up for other services, such as loans that charge interest and are paid back through the payroll. Make sure you're using the "Advance" part of its site. If it's not there, it's likely your employer doesn't offer it.
Salary Finance also has guides, tips and tools to help you budget, and will signpost you to savings and insurance providers too. If you've money to spare and want to start saving, then it'll help you save straight from your pay packet.
How to sign up: Find your employer on the Salary Finance website
Fees to borrow: £1.49 per advance, paid on each payday
Maximum borrowing: 50% of salary (but employers can set this lower)
Maximum withdrawals: 3/mth (but employers can set lower if they want)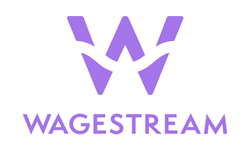 This is one of the larger sites with more than 165,000 people able to access their salary early through its app. Big companies involved include Bupa, Café Rouge, David Lloyd Leisure, Holiday Inn Rentokil and many NHS trusts.
Wagestream has an easy-to-use app and says a lot of people who use it do so primarily to track their wages. It's especially popular with those who do shift work, and who get variable pay because of it.
It also lets users save money directly from their salary, and has financial education resources, for example, help on how to decode your payslip, or how to start saving.
How to sign up: Employer emails a link to download the app
Fees to borrow: £1.75 per advance, paid on each payday
Maximum borrowing: 50% of salary (but employers can set this lower)
Maximum withdrawals: Set by employer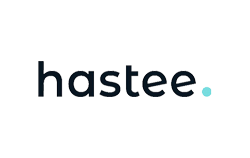 Hastee Pay is generally one of the more expensive options, as it charges a percentage fee of the amount you get advanced rather than a flat fee. Though if you only need £100, or a little over that, then it's one of the cheapest options.
Firms it's partnered with include the Mitchells & Butlers pub chain and some NHS trusts. If you need an advance, use the app to see how much is available to borrow. You can then request up to that amount, and it'll be transferred by Faster Payments to your bank account.
How to sign up: Get an invitation code to download the app from Hastee Pay
Fees to borrow: £100/mth free, then 2.5% (of what you borrow, min £1)
Maximum borrowing: 50% of salary (but employers can set this lower)
Maximum withdrawals: Unlimited, but employers can set a limit
For all the latest deals, guides and loopholes simply sign up today - it's spam free!