Stop Spam Texts
Beat unsolicited marketing SMS
Spam texts are a modern scourge, plaguing our mobile phones with unwanted adverts, often from dodgy companies. Yet it is possible to fight back, report them and minimise the number you get.
This guide explains how to identify the three main types of unwanted texts and how to deal the problem - including the four numbers that can beat 'em.
What type of text is it?
There are three types of spam message – each needs to be dealt with differently so it's important you identify which it is.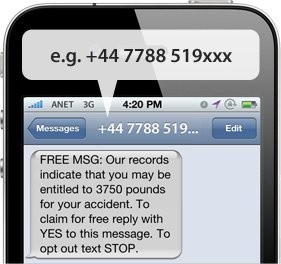 Spam texts
These usually message randomly generated numbers, advertising services such as accident 'ambulance chasers', PPI claims handlers or debt write-off firms.
How to spot 'em: They usually come from an 11-digit mobile number and the company isn't identified.
How to stop 'em: Read Stop Spam Texts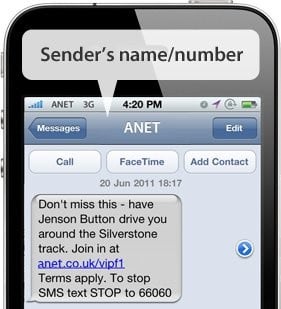 Legitimate marketing messages
These should include the name and contact details of the sender. You will usually have given consent for them to be sent, though possibly unknowingly.
How to spot 'em: Firms will identify themselves within the body of text or in the sent-from number (this will show as text). If not, it's breaking regulations and can be considered spam.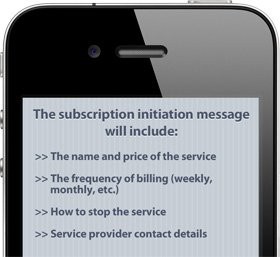 Premium messages
Again, these are services you have agreed to but you may be unaware that by buying a service, or game, on your mobile you're getting a regular, charged text.
How to spot 'em: It will be from a four, five or six-digit number and will bill you for receiving the message.
How to stop 'em: Read Stop Premium Texts
Spam texts: NEVER reply
These are messages you've never asked for and don't want. They're likely to be generic, not targeting you personally, though it depends on the company.
Spammers frequently change these messages in order to try and evade detection, resulting in a large number of variants.
Increasingly, these messages are sent by computers to masses of randomly generated numbers. They use multiple pay-as-you-go Sim cards which will often only be active for a week or two. It's a scam aiming to obtain genuine personal details. The GOLDEN rule is...
Do NOT reply, at all, ever - do NOT text STOP!
These texts WANT any response to confirm you are a real person. Some even try to trick you by saying "text 'STOP' to be removed from the mailing list". IGNORE THIS! (Of course, it can be difficult to split the legit from the not-legit.)
Any numbers that are confirmed are likely to be sold on to injury claim specialists, PPI reclaiming firms or other unscrupulous marketeers who may further spam you with unsolicited calls and texts. Ensure you don't click on any links within the text either.
Quick questions:
After an accident, an insurer may ask you if it can pass your details onto a claims management firm, who'll then text you.

However, if this is the case, your insurer should have informed you that it's passed your details on. Even if it doesn't, the claims handler MUST clearly identify where it got your details. If they won't give this information, you shouldn't proceed.

The buying and selling of your information itself is illegal if you haven't given permission. Solicitors, claims management firms and anyone else who buys this data is supposed to make sure it has been obtained legitimately.

Not doing this could breach the Privacy and Electronic Communications Regulations, the Data Protection Act and for legal firms, the Solictors' Regulations. Unfortunately, as companies don't tend to keep all the paperwork, the information trail has been very difficult for the Ministry of Justice to follow, so often action can't be taken.

The whole area is a bit of a black hole, and some spammers profit from it.

It's possible you've inadvertently opted into (or failed to opt out of) a marketing list, so make sure to check privacy policies when buying products or signing up to anything. These can be tricky, as companies often bury this information, so always check the small print.

If you've been liberal in handing out your mobile number online then it may make its way into unscrupulous hands. So avoid posting it on sites like Facebook, Twitter, LinkedIn, our MoneySavingExpert.com forum or elsewhere – even in pages you may think are private. And when filling in online forms don't give your mobile number unless absolutely required.
What do I do if I get one?
There are three steps you can follow when it comes to spam messages. The first two tackle the wider problem – they won't completely stop them but the more of us that do this the more it helps to reduce spam in the future. The third should help stop repeated targeting from a particular advertiser.
1. Use the four numbers that can beat spam texts
The first option is to report it to your network provider. The big networks have a simple, FREE method to help you do this.
Just forward the message to 7726 (spells SPAM), making sure it includes the senders' number.
2. Report it to the Information Commissioner
The second option is to report it to the Information Commissioner's Office, which can fine firms up to £500,000 for the most serious breaches of the Privacy and Electronic Communications Regulations (PECR), which govern spam texts. In 2013, a pay day loans company was fined £175,000 after it was found to be sending millions of unlawful spam texts.
The ICO can look at texts sent within the UK or on behalf of a UK company. Unfortunately, some messages are sent by companies outside the UK or through anonymous pay-as-you-go Sims, which means they are difficult to prevent or punish, and difficult to stop.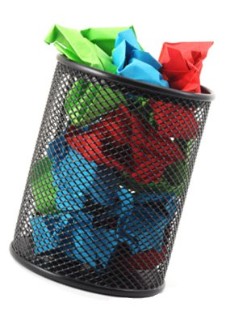 However, you should still make a complaint to ICO. It can then investigate the matter, and penalise firms if it thinks rules have been broken and they are based in the UK.
It looks at every complaint and the more detail you provide, the better. Check the ICO's website for information about recent investigations before making a complaint.
If you get one of these texts, you should record exactly what the text says and the number it was sent from, then complain to the ICO via:
Online: File a report
Telephone: 0303 123 1113
3. Block the number
The most direct way of ensuring you don't get any more messages from a particular number is to simply block the number. Doing so would also block calls from said number.
Unfortunately many companies use multiple Sims to send spam, so blocking one doesn't necessarily mean you won't hear from them again. If you do it to every sender you get something from it will at least give them one less channel through which to contact you.
The method for doing this varies depending on the device you're using. See instructions for iPhones, Android phones (though the process may vary slightly form handset to handset) and Windows (Lumia) phones.
For all the latest deals, guides and loopholes simply sign up today - it's spam free!
Legit marketing messages: Opt out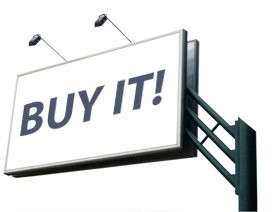 You get legitimate marketing messages when you fail to tick or untick a box (whether on purpose or by accident) and allow companies to send you marketing messages or give your details to third party operators.
If legit, the text will always include the sender, in line with regulations. If you don't know who the message is from, then BEWARE, it's probably SPAM!
How to stop them
Firstly, text 'STOP'. Firms are legally obliged to pay attention to this. However, make sure you are 100% certain it is a legitimate marketing message, or you may get even more spam. If that doesn't work, try the website of the company named in the message. You should be able to find an option to opt out of receiving its texts. If not, phone the firm and request it stops.
If that doesn't work, complain to the Information Commissioner, who can punish the firm with fines. To complain to the ICO:
Online: File a report
Phone: 0303 123 1113
Stopping instant messaging spam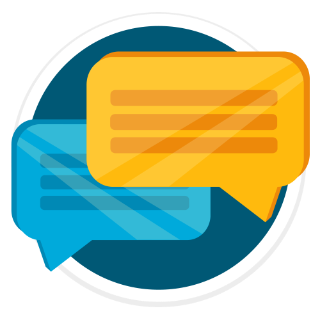 Many increasingly use instant messaging services like WhatsApp and Viber as an alternative to texting – and inevitably, a deluge of spam's followed suit.
Dealing with it can require a different approach though – it tends to be less targeted, and because these services operate via third parties and Wi-Fi, reporting the number to your network wouldn't necessarily stop them.
However, the nature of many instant messaging apps means anything sent should have a number attached to it, so reporting it to the Information Commissioner's Office may still be useful.
There's currently no specific procedure for reporting spam on WhatsApp or Viber, though you can contact their general support teams and those of any other apps to let them know about it.
To try and stop any further messages, they suggest blocking the number within the app – instructions on how to do this can be found on the WhatsApp and Viber websites. For other apps and services, see their respective FAQs/websites.
For all the latest deals, guides and loopholes simply sign up today - it's spam free!
What if I need a help with a claim or debt?
Many of these companies charge for services which you can do yourself, such as reclaim PPI, write off your debts and get a tax rebate.
CPP reclaiming

Up to 7m people were mis-sold credit card & identity theft cover by banks and CPP. Letters have been sent out including claims forms for getting the money back and our Reclaim CPP Card Protection guide includes step-by-step instructions on how you can get your share of the £1.3bn redress pot.

PPI reclaiming

For most people, this can be done for free, without giving up any of your compensation, using the template letters available in our full PPI Reclaiming and Credit Card PPI Reclaiming guides.
Write off your debts

This is almost impossible. If you need help with problem debts, you should contact a free debt-help agency such as Citizens Advice, StepChange or National Debtline. Full info in our Debt Problems guide.

Accident compensation

This is difficult to do by yourself. But by the same token, firms using unsolicited texts are unlikely to be the best route.

If you want to pursue an accident claim, try speaking to your insurer, or seek advice from Legal Aid or Citizens Advice. For a full list of authorised and regulated claims management firms, see the Ministry of Justice.

Tax rebates



In 2012/13, HMRC announced 3.5 million people were due a tax code rebate as they'd overpaid, sometimes for years (see the MSE News Story 5.5m paid wrong tax in 2012/13).

Almost instantly, firms popped up offering to do it for you for a slice of the dosh. Yet you can easily do it yourself at no cost. See our Free Tax Code Calculator for a step-by-step guide on checking if you're owed and how to get it back. Reclaiming successes of £1,000 are common – and some get even more.
Payday loans

The texts will offer instant access to cash for a short term at extremely high interest rates. These should only be used as a very last resort. See the payday loan guide to find out more. Alternatives include 'Bad Credit' Credit Cards and Credit Unions. If you need help with managing debt, visit our Debt Problems guide.
For all the latest deals, guides and loopholes simply sign up today - it's spam free!