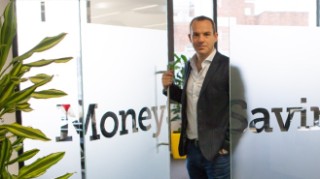 Fake Martin Lewis ads
Including binary trading, energy suppliers and PPI reclaim scams
Warning! MSE founder Martin Lewis's face has been plastered all over the internet, seemingly advertising binary trading, energy products, PPI reclaim companies and mortgage brokers. NONE of these scam ads is genuine. Martin never endorses products – and nor does MSE – so don't be fooled.

We've seen them on Facebook, MSN News, Twitter, Instagram, Yahoo and many others including Google ads. Someone even created a fake Martin Lewis Facebook account and used it to message some of our users privately.

Martin made an agreement with Facebook to fight scam adverts after settling his campaigning defamation lawsuit against it. Facebook has now launched a new unique-to-the-UK scam ad reporting tool and dedicated team, and donated £3m to fund Citizens Advice Scams Action, a new anti-scams project now providing one-on-one help to those worried they've been scammed.
But the scammers are still out there, and it's no wonder they're trying to leech off us: Martin's and MoneySavingExpert.com's reputations as trusted sources are well-known. But it's not just about our reputation – it's about protecting you from falling for these ads and potentially losing £1,000s. In this guide we'll show you examples of the dodgy ads and tell you what we're doing about them and what to do if you've been conned.

A new scam-ad alert system has been launched by the Advertising Standards Authority (ASA). This allows internet users to report scam ads appearing in paid-for space online to the ASA, which will then send an alert to advertising platforms and publishers with details of the scam. Read more in our Scam-ad alert sytem MSE News story.
Some have lost £1,000s
We've heard awful stories of people losing £1,000s because of these sickening ads.
One user told us she had actually invested in a binary trading scheme...
... because it was supposedly recommended by Martin.
I only pursued it because I thought it was recommended by Martin.
And another agreed to pay £9,500 for a new boiler after...
... seeing an alleged Martin Lewis-endorsed advert.
To be clear, when we say Martin and MSE never endorse products, we mean we don't put our name or logo to anything. Yes, we mention individual products and services on our site, but we don't 'support' them. Our aim is to relay facts. You, our users, remain our priority. For a full understanding of how we operate, see our Editorial Code.
If you want to know what Martin or MSE thinks about a subject, come to our website or sign up to our newsletter – all our information is thoroughly checked and verified and, most importantly, is unbiased – don't just take what these false advertisers say at face value.
Here's a message from the man himself:
Martin on LIAR ads...
Beware LIAR facebook and other ads
Embedded YouTube Video
Where we've seen fake ads
So far, we've seen false ads online using Martin's name, face and reputation on:
Facebook (including private messages from a fake Martin Lewis account)
Twitter
Instagram
MSN News
Sky Sports News online (via sponsored content by Outbrain)
Yahoo
Google ads
Remember, if you see an ad with Martin that does not link back to MSE, it's fake. The quotes are fake. The tweets claiming to be from Martin's account are fake. All the companies Martin's allegedly advertised have used Martin's name falsely and without his permission – even if a product relates to subjects MSE normally covers, such as energy or PPI.
Martin never, ever endorses individual products in that way.
For more information on how to spot and avoid scams in general, see our Scams guide.
The most convincing ads that'll lose you the most money...
The following false ad has a number of incarnations, two of which are below. One purports to be an article on our own website and one on the BBC's. These ads are some of the most dangerous because the binary trading sites they link to can lose you the most money. See why below.
The ads have been seen on Facebook and Yahoo – read our Yahoo fake ads news story on when, quite astonishingly, a fake Martin ad appeared next to a Yahoo article about these fake Martin ads.
If you look closely, you'll see from the URL that this is NOT a real MSE page. Plus, even though this particular company calls itself Bitcoin Code, it's got nothing to do with the cryptocurrency and is instead just another binary trading site.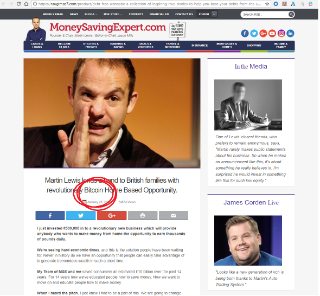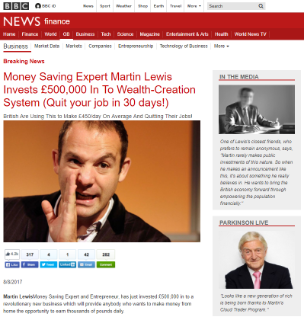 Look trusted and genuine? NO. These unscrupulous ads link Martin to binary trading (aka auto trading) sites Bitcoin Code, Bitcoin Trader, Cloud Trader, Blazing Trader, Stern Options, PlusOption and Tesler 2. They have nothing to do with Martin or MSE. The ads promote companies that will totally rip you off – DON'T touch them.
We've had countless enquiries about them. Most are unsure about their authenticity and whether binary trading is a worthwhile investment. Some who fell victim have lost £1,000s.
Of course, we can't tell you how to invest, but the Gambling Commission and City of London Police have both issued warnings about binary trading. In October 2017, police raided 20 London offices where binary trading companies were allegedly based.
Binary trading isn't regulated by the Financial Conduct Authority (FCA), which means if things go wrong, you won't be able to seek help from the Financial Ombudsman Service or the Financial Services Compensation Scheme. If you lose money (most do), you've no way to get it back via regulatory protection. In fact, in June 2017 the FCA warned that Stern Options was operating "regulated services" without the required authorisation, and strongly advised against dealing with unauthorised companies.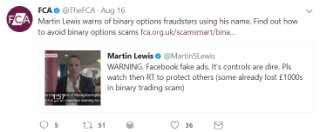 On 3 January 2018, the FCA released a list of 94 binary trading firms that don't have FCA authorisation. The list includes two companies which have falsely used Martin's name (Stern Options and PlusOption), and can be found here. The FCA says that if any of the firms are "genuinely operating from within the UK [it] will consider taking enforcement action through the courts to stop their illegal activity".
Key ads to be aware of
The number of companies Martin's allegedly endorsing is growing all the time. Often, these firms disappear (with your money) only to pop up again with a different name and website, but with the same people and software behind them. As we've said, these companies should not be touched with a 10ft bargepole.
Here's a list of all the companies we've seen that falsely use Martin's name and even pretend to link back to MSE – we've purposefully not linked to these as we don't want to send anyone their way. If you've seen Martin being linked to any companies not listed here, please get in touch with us via fakead@moneysavingexpert.com.
Most of the images below are screenshots we've been sent, so apologies the quality isn't up to scratch.
Binary trading & auto trading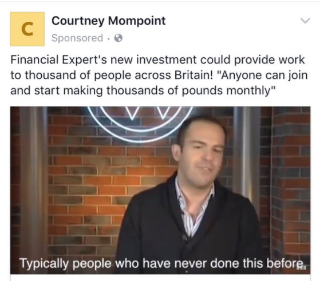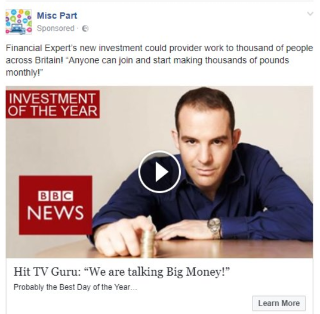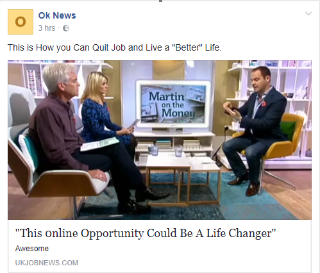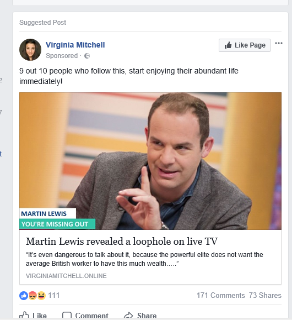 We've been notified by MoneySavers about other companies falsely using Martin's face and name to advertise binary trading schemes, but unfortunately don't have the screenshots to show you.
Energy suppliers
The companies below may be genuine, but they are falsely trading off Martin's name and we've had a number of reports their work is shoddy and that they massively rip off their customers. We suggest you stay away from them.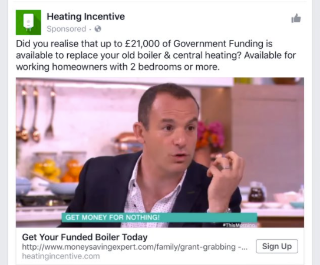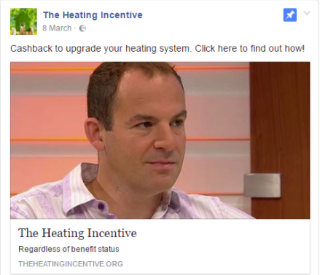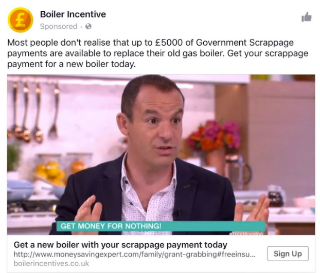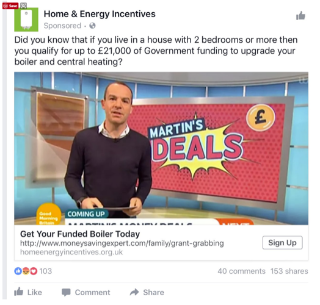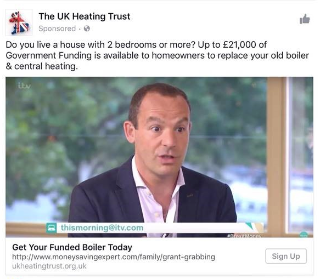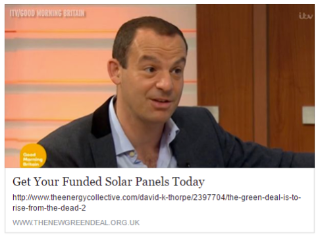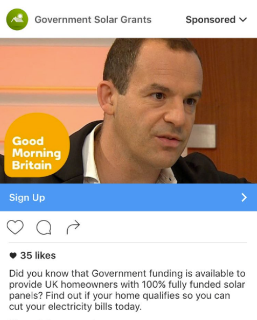 Reclaim PPI/bank charges
As you probably know, Martin and MSE have campaigned for years to help users reclaim mis-sold PPI. Although the deadline to reclaim has now passed, he would never have told you to pay for this service because you can get it for free – see Reclaim PPI for Free. Again, some of these companies used Martin's name and photo without his permission – don't go near them.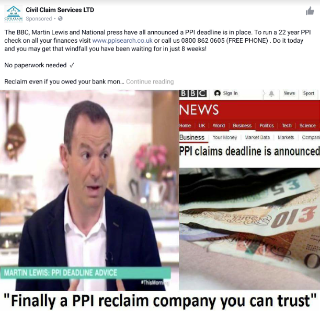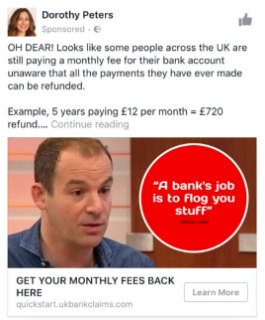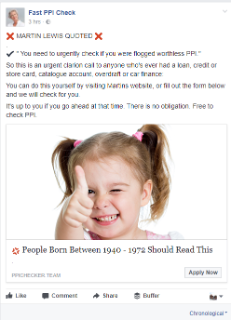 Mortgage & insurance brokers
Again, although mortgage brokers don't scream "scam", these companies have all used Martin's image without his consent. Stay clear of them.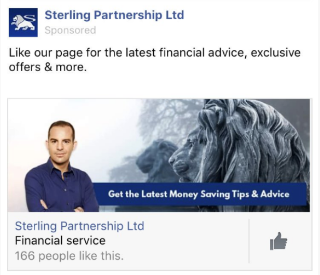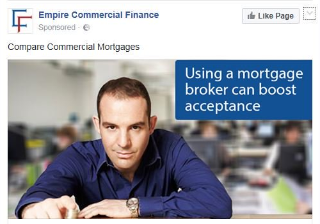 Beware of door-to-door and cold-call scammers
Unfortunately, Martin's face isn't just being falsely used online. There's also a whole host of cold-call companies and door-to-door salespeople posing as MoneySavingExpert and dropping Martin's name into their sales pitch.
Once again, we NEVER cold call, whether it's on your doorstep or over the phone. See what happened when one of our news reporters called one of these fraudsters back...
What we're doing about it
It's true that MSE and Martin don't advertise, endorse or promote individual products on Facebook or similar sites. However, we do use Facebook to draw attention to our news stories, good deals and to our site.
Whenever we see a fake ad, we ask the host – such as Facebook or Google – to take it down immediately. At the same time, we will tell the company in question to remove any mention of Martin or MSE straightaway. We rarely get a response – a few are based abroad and most ignore any correspondence.
Often, despite our best efforts, nothing is done about it, and the ads remain in the public domain. In April 2018, Martin sued Facebook in a landmark campaigning defamation lawsuit after 1,000s of scam adverts appeared on the site abusing his name or image. He settled the lawsuit in Jan 2019 after agreeing with Facebook on a major two-pronged action plan to fight the problem; that it would donate £3m to set up a new anti-scams project and create a scam ads reporting tool supported by a dedicated team, unique to Facebook in the UK.

As a direct result of the lawsuit, in July 2019, Citizens Advice Scams Action launched, providing one-on-one help for consumers who are worried they're being scammed and those who have already lost money.

Facebook also launched its new tool, which will help users flag ads easily and quickly and alert a new, dedicated team of specialists to review and take down violating ads and investigate trends.
We have also made inroads with other major tech companies, including Google and Verizon (which owns Yahoo). We report any ads we suspect to be shown by these companies, though it's a lot more difficult to tell whose ads they are.
We've also told the UK's national reporting centre for fraud and cybercrime, Action Fraud, and registered complaints with the Advertising Standards Authority (ASA) which looks at the evidence we've gathered and decides whether or not to investigate. In October 2017, the ASA banned fake Facebook 'Martin Lewis' ads, because they breached three rules in the Committee of Advertising Practice code.
What to do if you've been scammed
If you've been taken in by one of the many false ads out there, you're not the first and you are not alone. Here's what to do:
If you've already responded to a scam, end all further communication immediately.

Call your bank directly and cancel any recurring payments.

Report the scam to the police through Action Fraud on 0300 123 2040, or report a scam anonymously on its website.

If you wish to seek further advice, contact Citizens Advice Scams Action through the website, or call its online scams helpline on 0300 330 3003. Alternatively, you can contact the Financial Conduct Authority's helpline on 0800 111 6768.
You can find all this advice and more in our full Scams guide.
Thanks to all the MoneySavers who've warned us about these fake ads so far. If you have been taken in by a fake advert and want to tell us about it, please let us know at fakead@moneysavingexpert.com, and remember to include a screenshot where possible.
This is the first incarnation of this guide. Please give us feedback, suggest improvements and share your tips in the fake Martin ads forum thread.