If you click a link with an * to go through to a provider, we may get paid. This usually only happens if you get a product from it. This is what funds our team of journalists, and keeps us free to use. Yet there are two crucial things you need to know about this.
This never impacts our editorial recommendations – if it's in, it's in there because we independently rate it best.
You'll always get as good a deal (or better) than if you went direct.
For a more detailed explanation see How MSE is financed.
What is an eSim?
Should I get one and will it save me money on my mobile bill?
eSims have been around for more than a decade, but it's only recently they've become more widely available in the UK. Yet most UK firms still don't fully support them. Where they really shine is if you're planning a trip abroad. We take you through what an eSim is, how you can get one and whether it'll save you any money below.

This is the first incarnation of this guide. We'd love to know of your experiences with eSims, or if you've any feedback or questions we've not answered. Let us know in the What is an eSim? forum thread.
What is an eSim?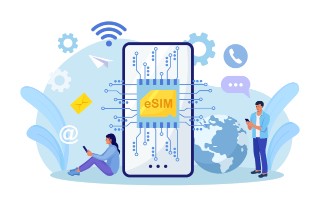 An eSim is a virtual version of the Sim cards we usually have in our phones and means an 'embedded' Sim. It controls our calls, texts and data, but it's all digital. Instead of a physical card, there's a tiny chip built into the phone or other compatible devices such as smartwatches or tablets that support these virtual Sims. You can buy eSims online and activate it by scanning a QR code, and it starts working right away.
eSims aren't that common in the UK right now (see which providers offer them), but top international eSims can work out cheaper for roaming outside the EU – and you don't need to change your UK number. Read Martin's story of trying an eSim below (spoiler: it worked well and was far cheaper).

Which phones are eSims compatible with?

There are loads of smartphones available right now that are enabled for eSims. Most Google Pixels and Apple iPhones have been compatible since around 2018, while Samsung's flagship phones launched since 2020 can use eSims.
We've listed the most popular models below:

iPhone XR
iPhone XS
iPhone XS Max
iPhone 11
iPhone 11 Pro
iPhone SE 2 (2020)
iPhone 12
iPhone 12 Mini
iPhone 12 Pro
iPhone 12 Pro Max

iPhone 13
iPhone 13 Mini
iPhone 13 Pro
iPhone 13 Pro Max
iPhone SE 3 (2022)
iPhone 14
iPhone 14 Plus
iPhone 14 Pro
iPhone 14 Pro Max

Note: On iPhone 13 and 14 models, you can have two eSIMs activated at the same time.

Google Pixel 2 (only phones bought with Google Fi service)
Google Pixel 2 XL
Google Pixel 3
Google Pixel 3 XL
Google Pixel 3a (not including phones bought in Japan or with Verizon service)
Google Pixel 3a XL
Google Pixel 4

Google Pixel 4a
Google Pixel 4 XL
Google Pixel 5
Google Pixel 5a
Google Pixel 6
Google pixel 6a
Google Pixel 6 Pro
Google Pixel 7
Google Pixel 7 Pro

Samsung Galaxy S20
Samsung Galaxy S20+
Samsung Galaxy S20+ 5g
Samsung Galaxy S20 Ultra
Samsung Galaxy S21
Samsung Galaxy S21+ 5G
Samsung Galaxy S21+ Ultra 5G
Samsung Galaxy S22
Samsung Galaxy S22+
Samsung Galaxy S22 Ultra
Samsung Galaxy Note 20

Samsung Galaxy Note 20 Ultra 5G

Samsung Galaxy Fold
Samsung Galaxy Z Fold2 5G
Samsung Galaxy Z Fold3 5G
Samsung Galaxy Z Fold4
Samsung Galaxy Z Flip
Samsung Galaxy Z Flip3 5G
Samsung Galaxy Z Flip4
Samsung Galaxy S23
Samsung Galaxy S23+
Samsung Galaxy S23 Ultra
An eSim could save you cash when travelling outside of Europe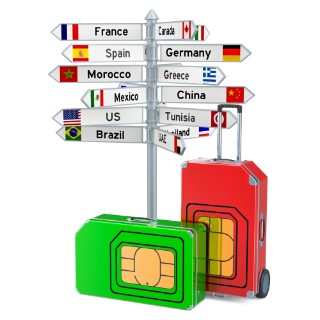 While eSims aren't hugely beneficial for day-to-day UK use yet, and likely not worth it if you're travelling within Europe for a short holiday (due to cheaper roaming in the EU), for a trip further afield they can be a good option.

If you're travelling outside of Europe, international eSims can be much cheaper than using your provider's roaming add-ons, which can cost up to £8 a day depending on your provider and where you are roaming (see our provider-by-provider breakdown of non-EU roaming charges).

Just buy an eSim for the country you are visiting online in advance, adjust your phone's settings and it gives you a data allowance overseas (you can use internet-based apps such as WhatsApp for calls and texts). And to be clear, this is to use alongside your physical UK Sim card, meaning you don't need to change your number while abroad – and will still receive calls and texts, though you may be charged by your home network.

Prices can vary hugely and it's impossible for us to give an extensive comparison of eSims as there are so many different providers and combinations depending on where you are going and how much data you need. But to give you an idea of pricing, in the table below we've shown the prices from the biggest eSim providers for the USA and India for around 10GB of data, which should be more than enough for most (they don't generally come with calls or any texts).
Note: We've little feedback on these firms, so can't vouch for how good the coverage or data speeds are.

| | | |
| --- | --- | --- |
| eSim provider | USA | India |
| Airalo* | $26 (£20) for 10 GB for 30 days | $27 (£21) for 10 GB for 30 days |
| easySim | £20 for 10 GB for 30 days | £49 for 10 GB for 30 days |
| Holafly | $64 (£49) for unlimited data for 30 days (1) | $44 (£34) for 6GB for 15 days (2) |
| Nomad | $20 (£15) for 10 GB for 30 days | $27 (£21) for 10 GB for 30 days |
What's more, they're far more convenient than other ways to beat roaming charges, such as grabbing a local Sim, which involves finding a local phone shop when you get to your destination, swapping out your UK Sim, getting a new number and making sure you don't lose your original precious tiny piece of plastic before you get home.

"As I was going out of Europe for just under 10 days, I picked a one-month 10GB eSim for £18. My own network charges well over £6 a day for a 500MB daily data limit. I was a touch trepidatious about whether it would work, if the signal would be good (as it could only connect to two networks rather than all) and how it would work with messaging.
"The whole experience on my Android phone was easier and simpler than I expected. I loaded up the eSim at the airport just before leaving so it wouldn't start working too soon. Though I now realise I could've done it earlier, as once it's set up it's very simple to switch between your normal Sim and eSim.
"The set up took about six minutes. I found the instructions pretty simple for this eSim and suspect anyone used to playing with their phone settings could do it (I didn't even need to call upon Mrs MSE's tech-savvy help), though those who aren't tech-confident may struggle.
"Once I was abroad, after a little confusion that there was no homepage indication that a different Sim was being used (I found myself flipping to the eSim app, waiting to see if it was using up megabytes – after a couple of minutes it started to register) it was easy. I got a strong 4G signal virtually everywhere, and used the internet with the freedom and speed of home. The 10GB limit lasting my whole time away smacks the bottom of a 500MB daily limit, as you don't need to worry about busting it with one download.
"WhatsApp worked fine for me – no issue that it wasn't the Sim which is my phone number – even to make calls home without a problem. I didn't receive any calls during the week away, so can't say how that would have been (most unexpected calls are usually work calls and everyone knew I was off). Overall, a very simple experience. Then when I got home I just switched the phone settings back to my normal Sim in seconds.
"Of course this is just one trip with one eSim, but so far it's a thumbs up."
Finding the best international eSim for your travels

There are now several international phone carriers that support eSims and many apps offering global eSim plans, as well as comparison websites. We've listed a few of the comparison sites to help you find an eSims – though be aware, feedback is scant, so we don't know how good they are.
If you're really keen to have a local phone number for making calls and texts, there are apps available that let you buy a temporary local phone number and that runs on Wi-Fi or data. One example is Hushed, which you can download and install for free, giving you a temporary phone number from £1.50 for a week or from £3 for a whole month.
Travelling in Europe? Most are better off roaming with their current provider
If you're going to Europe for a week or less, for most pay-monthly customers, an eSim is unlikely to be cheaper, because many UK providers still allow you to use your UK allowance of minutes and data within the EU for a nominal daily fee – and some don't charge you anything extra at all.
For full info, see our guide to Cheap mobile and data roaming.
For all the latest guides, deals and loopholes simply sign up today – it's spam-free!
How to use an eSim as a secondary Sim for roaming: step by step
Some may be daunted by the prospect of using an eSim, concerned they may not set it up correctly leading to exorbitant roaming charges. We've tried to simplify the process for you below, though do bear in mind that all smartphones and eSim providers will have slightly different ways of doing this.
Step 1: Find an eSim
First compare providers to find the best price for your needs. You'll be able to select your destination, the length of time you'll need the data for (for example, for a two-week holiday, you'll likely pick a 15-day eSim) and the amount of data you want (anything from 1GB to unlimited).
Once you've purchased your eSim online, wait to receive the QR code (or other similar instructions) to download and install the plan to your smartphone.

Step 2: Change your data roaming settings in your phone and make your eSim the default for data
This part is key – make sure you change the data settings on your phone, so that the eSim is the default for data. You'll need to find the eSim you've installed, then select that and allow data roaming – see our full instructions by type of phone.

That's because your eSim data won't work without being able to roam because eSim providers have relationships with numerous local mobile operators, so it needs to be able to connect you to the best one for your location.
For your physical UK Sim, make sure you switch data roaming off, but you can still leave this as your primary number for voice calls and texts (do check costs for making and receiving calls and messages).
So remember, your eSim data plan should have data roaming switched on and your home (primary) data plan should have data roaming switched off.
Step 3: Once abroad, you can access the internet and make and receive calls using WhatsApp, Skype, Facetime etc

You should then be able to access the internet wherever you are and can use data to make calls and send messages via internet-based apps linked to your primary UK number, such as WhatsApp, Skype and Facetime, without incurring any roaming charges from your home network.
Whether you get charged for receiving calls or sending texts while abroad is down to your individual home network provider and calling plan. So check before you go and, to be safe while abroad, only answer calls you get through apps that use an internet connection rather than a mobile network.
For all the latest guides, deals and loopholes simply sign up today – it's spam-free!
Which UK providers offer eSims?
Only five UK mobile providers offer eSims at all, including the big four (EE, O2, Three and Vodafone) and small provider Lycamobile, and only two of these let you switch directly to an eSim without first switching to a physical Sim card. This defeats many of benefits of getting an eSim, so right now it's unlikely to save you any time, hassle or money moving your current UK call and data plan over to an eSim.
While UK providers are not fully supporting eSims right now, they can still be a good idea if you're travelling abroad.

| | | | |
| --- | --- | --- | --- |
| Network provider | Can I switch to eSim without getting a physical one first? (1) | Available on pay monthly? | Available on pay as you go? |
| EE | | | |
| | | | |
| | | | |
| Three (2) | | | |
| | | | |
The benefits of using an eSim

eSims offer additional flexibility over traditional physical Sims – the key benefits include:
You can switch between different providers and data/calling plans. eSims can let you switch between providers and change your data/call plans without the need to remove an old physical Sim and replace it with a new one. Yet not all UK providers offer eSims, so you can't take full advantage of this just yet.


You can store up to five eSims on one phone at a time. You can have more than one eSim from more than one network on your phone at once – but you'll only be able to use one at a time, unless your device allows a dual-Sim (see below). This is handy if you travel regularly to the same destinations and want to have multiple eSim plans stored on your phone.


You can use two data/calling plans at once with a dual-Sim. Some smartphones allow you to have two active data/calling plans at the same time: one on the eSim and the other on the physical Sim (or two eSims). This is different to having multiple stored eSims, as dual-Sim functionality allows you to use two different plans at once – good if you want separate lines for personal and business use, or for an expat who may regularly visit their 'home' country.


Installing and activating an eSim is simple. While physical Sim cards need to be physically inserted into your phone for them to be activated, an eSim can be activated just by scanning a QR code, and usually starts working immediately.
How can I switch my existing Sim to an eSim?
First, you need to check your phone is compatible with an eSim. If it is, and you're on a pay-monthly plan with one of the providers in the table above, you should be able to request your Sim be switched to an eSim. If you're on pay-as-you-go, you'll currently only be able to do this if you're with Lycamobile.
Your network provider will then email or post you a QR code, which you scan using your smartphone. Simply follow the instructions on your phone to activate the eSim on your device. It'll usually be done instantly, but it can sometimes take a few hours.
Swapping your physical Sim for an eSim shouldn't affect your existing contract, but do check this with your mobile provider first.
Have your say in our forum!