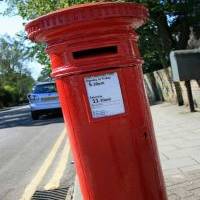 Stamp prices are rocketing by up to a staggering 17% next month.
Standard first class prices will climb from 36p to 39p and second class stamps from 27p to 30p from Monday 6 April. The biggest price leap is for large-letter first class stamps - up 9p from 52p to 61p.
Yet stock up now and provided the stamps only say 1st or 2nd (not the price itself), you'll inflation-proof your postage costs as they'll still be valid after April's increases.
What's more, High Street chemist Superdrug is offering 5% off all first class stamp sales in-store until Tuesday 24 March, though there's a 72-stamp limit per transaction.
Here's a selection of stamp prices:
Book of 4 First Class for large letters: Superdrug price: £1.98. Normal price: £2.08. Normal price from April: £2.44
Book of 6 First Class: Superdrug price: £2.05. Normal price: £2.16. Normal price from April: £2.34
Book of 12 First Class: Superdrug price: £4.10. Normal price: £4.32. Normal price from April: £4.68