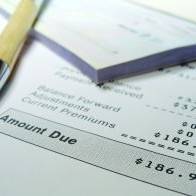 Many council tax bills are set to rise in April despite some employees facing pay freezes or cuts.
Figures confirmed by the Government today reveal that from next month the average band D council tax bill in England will rise by £41 a year to £1,414, compared to £1,373 in 2008-09. This is up 3% on average.
In Scotland, all council tax payments have either been frozen or cut.
The Government stresses the increases in England are the lowest in 15 years. In addition, some councils, such as Westminster, have made no increase whatsoever.
Yet the Conservatives point out many households could face a dramtic fall in income this year. Only this week, the Retail Prices Index, a key measure of the cost of living, and used by many firms to determine pay increases, dropped to 0% for the first time in half a century. Many economists predict the Index could soon be negtive, which would take the economy into deflation, where the cost living falls.
Shadow local government secretary Caroline Spelman is quoted as saying: "At a time when millions of workers are facing pay freezes or unemployment this year, it adds insult to injury to drive up bills by a further £41 a year, on top of previous years' rises."
Local Government Minister John Healey says: "Most councils across the country are tightening their belts, which is exactly what the public wants to see. Today's figures show that the vast majority of local authorities have kept increases to a minimum.
"With a tough economic year ahead councils will need to do even more to control costs and I remain ready to be tough with capping powers to protect council taxpayers from excessive increases."
It's thought hundreds of thousands of households in England and Scotland are paying too much anyway because they are in the wrong council tax band. Those affected are owed thousands in backdated pay outs.
Many people who have challenged their banding have received £1,000s in compensation. Find out how to Check and Challenge your Council Tax Band.