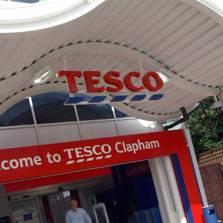 Tesco plans to open 30 bank branches by the end of the year as it seeks to increase its share of the personal finance market.
The supermarket giant, which already has six million personal finance customers, has also confirmed it plans to launch a current account within the next two years.
Branches will be based within existing stores. It currently has one branch in a Glasgow store and plans to open similar centres in Blackpool, Coventry and in a store near Bristol, over the next month.
The supermarket giant has yet to decide where the remaining branches will be based.
Branches will sell its existing range of credit cards, insurance, loans and savings products. They will eventually offer current accounts and, possibly, mortgages.
Tesco says it's yet to decide for certain whether to start selling homeloans, but it is considering the option.